Cat Larose
Cat is a baker, writer, and performance artist. They live on the Maine Coast with two cats, one partner, and a trusty rusty bicycle.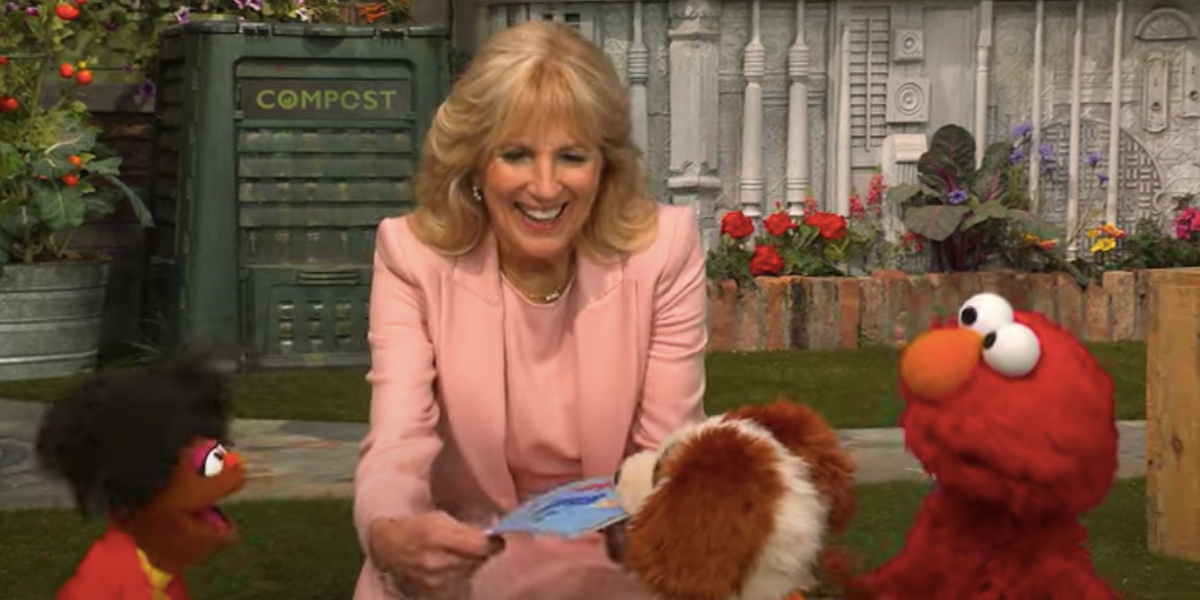 Sesame Street/YouTube
First Lady Dr. Jill Biden made a visit to Sesame Street this week and conservatives pleased.
The word of the day was "kindness." Dr. Biden helped the Sesame Street cast learn about being respectful of others and doing nice things.
She reminded the Sesame Street characters to be kind to "people, animals and the environment" and even stressed "it's important to be kind to monsters."
Sesame Street regulars Gabrielle and Elmo joined her in watering some plants and playing fetch with a dog. Elmo gifted Dr. Biden a hand-drawn picture.
All, said Dr. Biden, were examples of kindness.
Check the video out below.
Both Dr. Biden and Sesame Street posted the prerecorded video on Twitter.
The video is short and wholesome, but some responses online to are a little less than kind.
Reactions to the video were generally positive...
Some folks on the left replied with how some policy items would be a kindness.
Conservatives on the other hand took Dr. Biden's video as an opportunity to spread some unkindness.
Many were not thrilled about Dr. Biden's choice to visit Sesame Street.
This person thought teaching kids about kindness is "indoctrinating" them with a liberal agenda.
Are they stating conservatives are inherently unkind?
Some folks thought it was a good moment to try to dunk on President Biden.
Others used it as an opportunity to spread some conspiracy theories and misinformation.
Dr. Biden and Sesame Street probably didn't expect kindness to be such a controversial topic.