On Wednesday, March 12, Republican Congresswoman Liz Cheney of Wyoming was removed from her leadership position in the House of Representatives because she refused to go along with Donald Trump's false claims he won the 2020 election.
Trump lost both the popular vote and electoral college by decisive margins.
Meanwhile, many other Republicans have doubled down on the ousted President's conspiracy theories since he still enjoys a wide following among the Republican base.
For instance, George P. Bush, the grandson of former President George H.W. Bush and son of former Presidential Candidate Jeb Bush, took to Twitter to say he supported Cheney's removal.
Unfortunately, in his tweet, the young Bush committed a spelling error that caught Twitter's attention.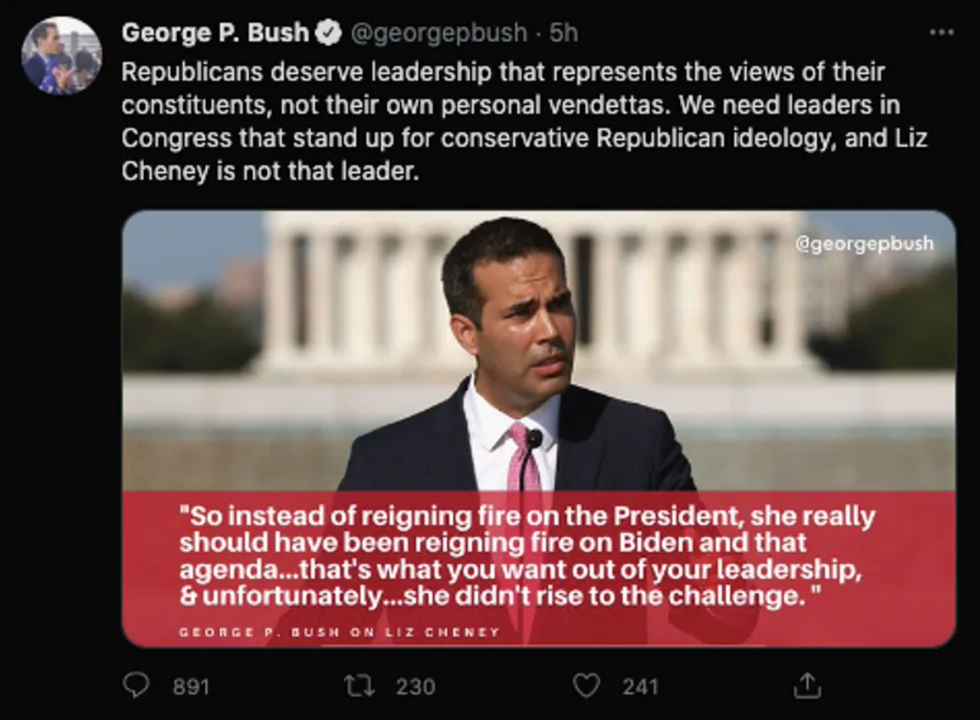 @georgepbush/Twitter
In his tweet, Bush used the wrong form of the word "raining," resulting in an embarrassing mistake.
Many online mockingly wondered what George P. Bush could possibly mean.
There were others online who felt the actual content of Bush's tweet was more embarrassing than his accidental mistake.
The embrace of Trump by a member of the Bush family—who have long been a staple of the Republican party and Trump critics—is the latest sign of the party's continued fealty to Donald Trump.
Bush would later return to Twitter to correct his mistake...but the damage had already been done.
And the new version changed reigning to training.
It seems some Republicans—like George P. Bush—will compromise any of their beliefs and integrity for continued popularity among a base focused on White nationalism, White supremacy and QAnon conspiracy theories—the core of Trump's support.
George P. Bush seems to think "conservative idealogy" is about denying the truth if you don't like it and making up facts when the real ones are inconvenient.
Perhaps he needs to learn a lesson or two from Liz Cheney.