Tag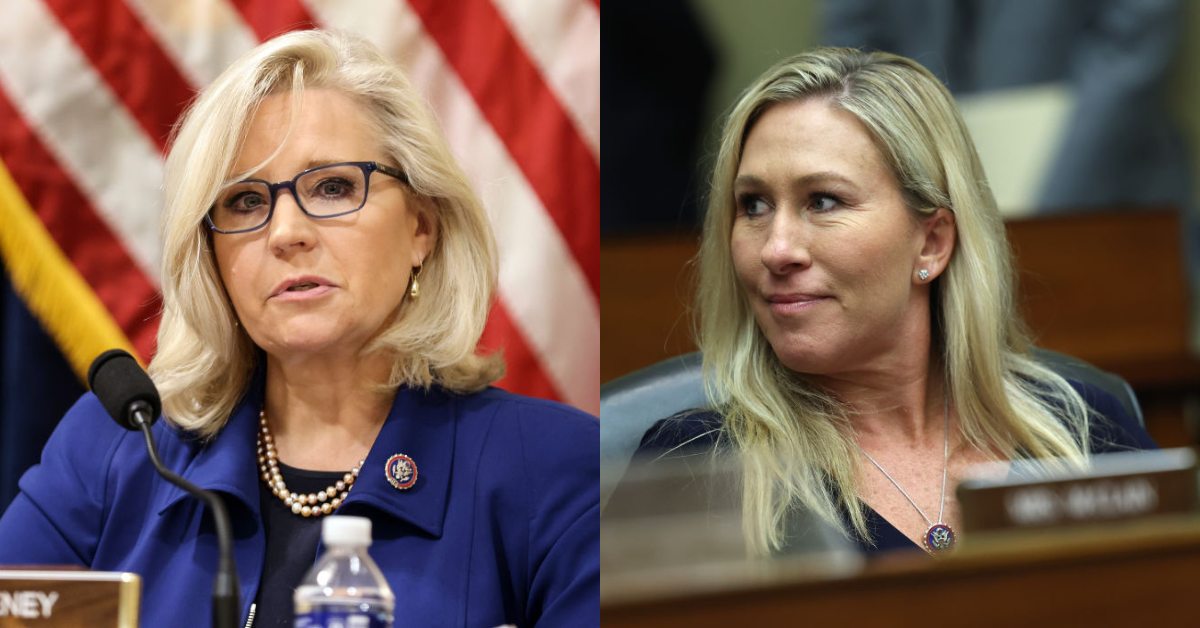 Oliver Contreras/Pool/Getty Images; Kevin Dietsch/Getty Images
Former Wyoming Republican Representative Liz Cheney criticized Georgia GOP Representative Marjorie Taylor Greene for calling for red states to secede from the United States and suggesting a "national divorce" is in order.
Greene claimed "everyone" she talks to believes the country "need[s] to separate by red states and blue states and shrink the federal government" to escape "sick and disgusting woke culture issues" furthered by Democrats' "traitorous America Last policies."
You can see what Greene wrote below.
Greene—a vocal supporter of the January 6 insurrection—was criticized for similar behavior before, particularly after she polled her Twitter followers in October 2021 on whether they thought the U.S. should "have a national divorce."
People condemned Greene's words at the time and noted the American Civil War broke out after an alliance of Southern states chose to secede from the rest of the Union on the grounds ending the enslavement of Black people would have destroyed Southern economies.
Greene's tweet soon attracted the attention of Cheney, who felt it prudent to educate Greene on "the governing principles of America."
Cheney wrote:

"Our country is governed by the Constitution. You swore an oath to support and defend the Constitution."
"Secession is unconstitutional. No member of Congress should advocate secession, Marjorie."
You can see Cheney's tweet below.
Many appreciated Cheney for speaking out and joined her in condemning Greene's remarks.

Others criticized Greene more directly.

Cheney—who was ousted by her own party and later lost her re-election because she pushed back against former Republican President Donald Trump's lies that the 2020 general election was stolen—has long made clear she is no fan of Greene.
Last year, Cheney said she would "much rather serve" among the ranks of national security minded Democratic women than with fellow Republican women Greene and Colorado Representative Lauren Boebert.

Cheney said she is in much better company with Democratic women even though "on substance certainly [she has] big disagreements with the Democratic women [she] just mentioned."