Two 72-year-old women got the shock of a lifetime when their genealogy reports showed they were switched at birth.
---
Denice Juneski and Linda Jourdeans were born on December 19, 1945 at Bethesda Hospital in St. Paul, Minnesota - Denice Mary Mayer at 2:17 a.m. and Linda Jean Nielsen, 31 minutes later.
Two 72-year-old women have just learned they were switched at birth. For seven decades, Denice Juneski and Linda Jo… https://t.co/RBhMCEkzxz

— Boyd Huppert (@Boyd Huppert) 1528687628.0
"It's a crazy thing," Juneski said. "People just automatically assume they got the right family."

Juneski ordered a DNA test through 23andMe so she could glean more information about her health history. When the results came back, Juneski saw that her DNA "didn't match anybody" in her family, so she redid the test.
The results were the same - her DNA belonged to people unfamiliar to her. In fact, her DNA matched a family that lived 40 miles away in Hammond, Wisconsin.

"Either 23andMe made a mistake," Juneski concluded, "or I was switched at birth."
Juneski's DNA profile was a match to Jourdeans, whose family Juneski contacted after her realization. "We believe you've been switched at birth," Jourdeans daughter and son-in-law told her.
@BoydHuppert Heartfelt piece made me sad but happy at the same time. Well done Boyd!

— Janis Cook (@Janis Cook) 1528729094.0
We take our families for granted, can you even imagine finding out you've been living someone else's life?

"I did my DNA right away, because I've got to see this on paper," Jourdeans said. Her suspicions were confirmed, and the mystery of how the two were placed with the wrong families may never be solved.
"We'll never know" how it happened, Linda said, "and I'm sure the nurses are dead that probably took care of us."
Photographs also hinted at that something was amiss. Jourdeans was the only redhead in her family, while everyone else was blond.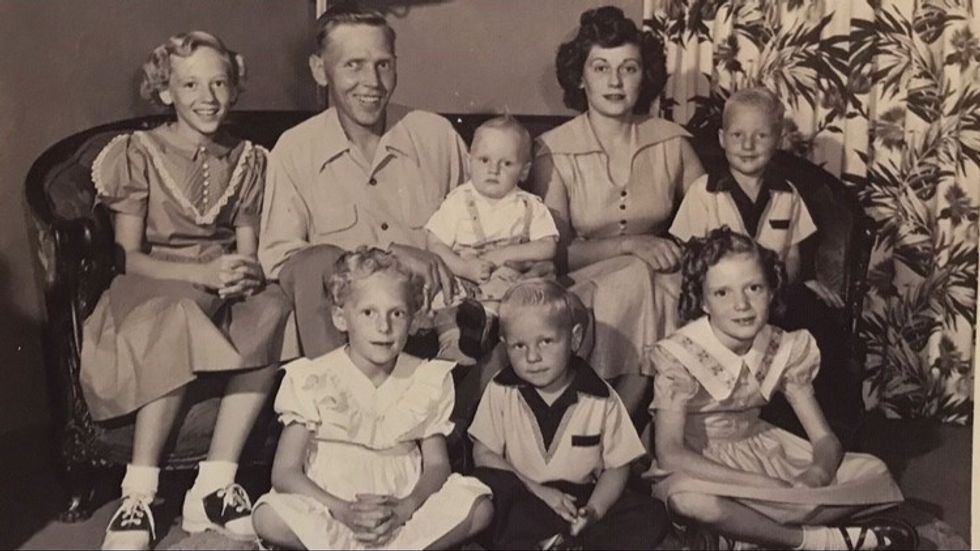 Linda Jourdeans (lower right) was the only redhead in her family. Linda Jourdeans
Juneski, on the other hand, was the only blond child in a family of brunettes and redheads, and, unlike the rest of her family, Juneski wasn't athletic. "Sometimes I had that sense that I didn't quite fit in," she said. "I was really supposed to be another person."
"For years, her father played baseball around the Twin Cities, including a stint with the St. Paul Saints," reported KARE11 in Minneapolis. "Her brother was a ballplayer, too. Denice's sister is in the Minnesota Softball Hall of Fame."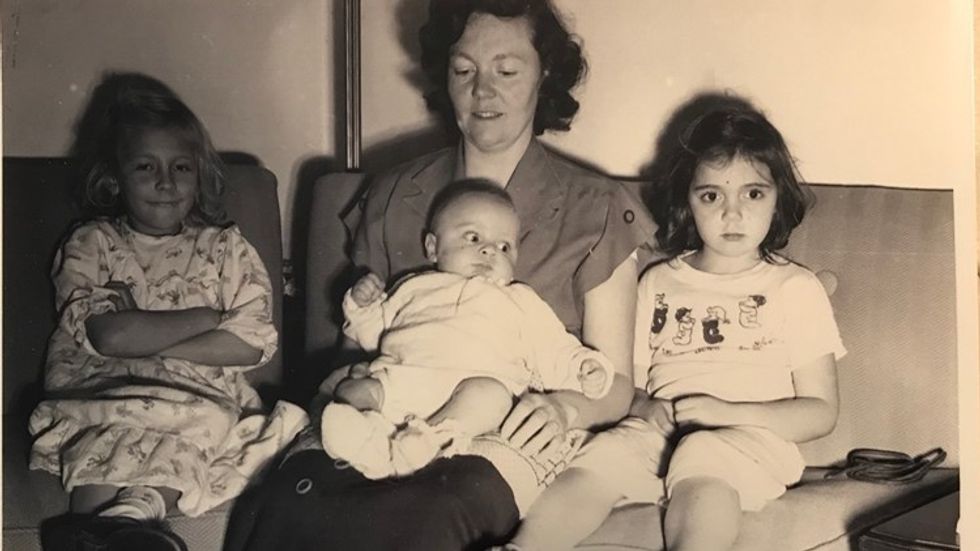 Denice Juneski (far left) was the lone blonde in her family.Photo furnished by: Denice Juneski
Since meeting in April for the first time, Juneski and Jourdeans have become close friends, as anyone in this situation likely would, after all, this is one heck of an unusual bond.
They even visit Marianne Mayer, one of the birth mothers who is now 99 years old, in her nursing home. "I consider it a gift," Juneski said.
The other mother, Rochelle Nielson, died at age 42 decades ago. "She's been gone so long," Jourdeans said, adding that having the opportunity to spend time with a new mother is "unbelievable."
Mayer enjoys the visits, and gets the birth switching story retold to her whenever the two visit.
"Now you have more grandchildren - red haired ones," Juneski likes to tell Mayer.
"They've begun meeting the families to which they should have belonged," noted KARE11. "Later this month, members of both families plan to attend a reunion where the introductions will continue."
You can watch the full news report here.