The holidays are supposed to be a time of happiness and celebration, but that sadly isn't the case for many, particularly those who have difficult family relationships.
For instance, a teen named Flynn, who goes by the username snooppii on Reddit, came out as gay to his "very religious family" a few years ago and hasn't "been allowed home since."
Fortunately, for every bigoted, hateful group of people in the world, there's an equally loving and accepting individual looking to make up for it.
---
When one of Flynn's instructors, Professor Jones, found out he couldn't go home for the holidays, he sent the student a text message that made all the difference. Flynn posted the text exchange to the sub-Reddit "HumansBeingBros," and it immediately went viral.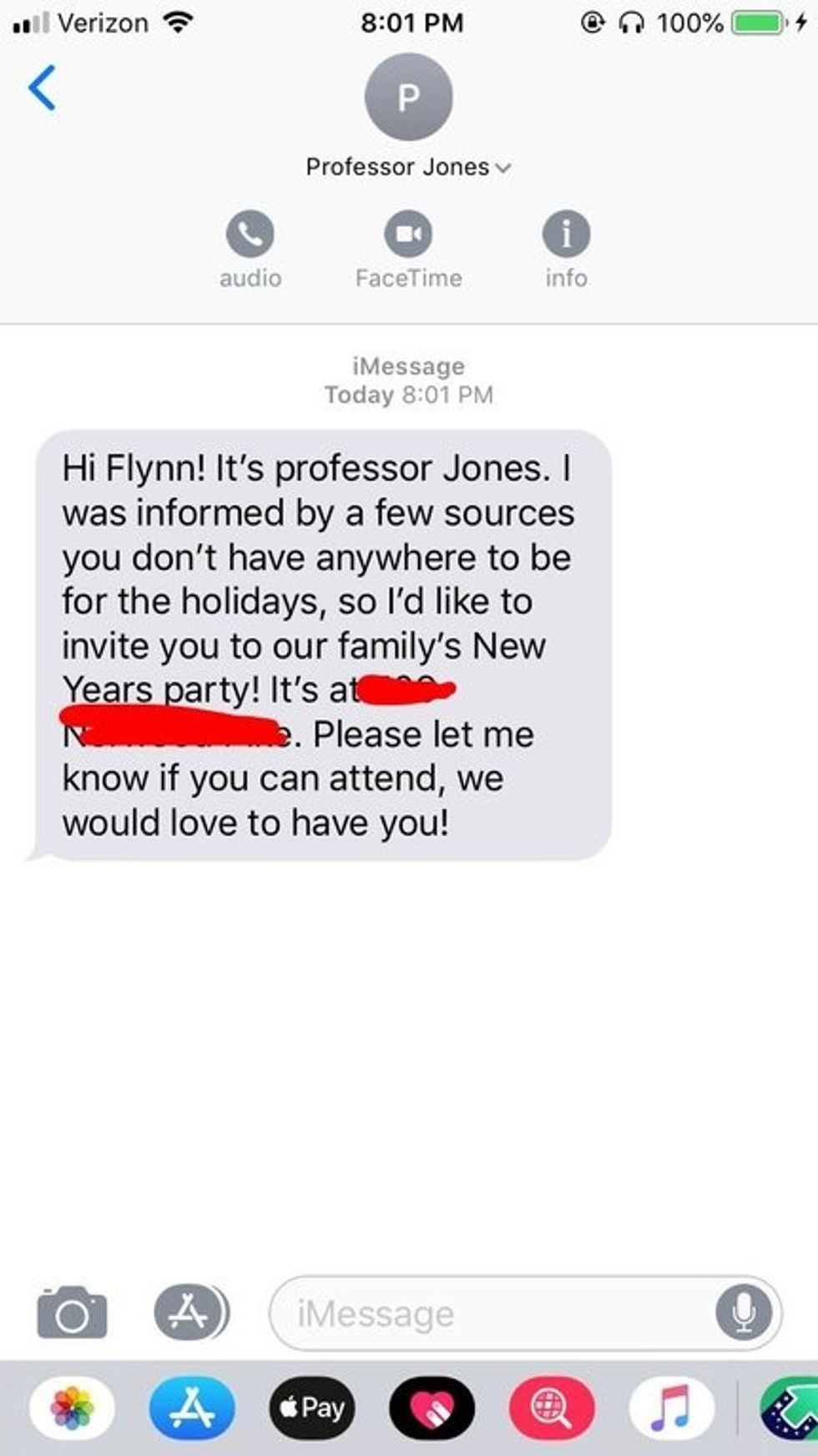 Reddit: snooppii
Professor Jones wrote to Flynn:
"Hi Flynn! It's professor Jones. I was informed by a few sources you don't have anywhere to be for the holidays, so I'd like to invite you to our family's New Years party! It's at _____. Please let me know if you can attend, we would love to have you!"
In the title of his post, Flynn let readers know his response:
"I came out to my very religious family a few years back and haven't been allowed home since. I just got this from one of my professors and had to share it with you guys. I'm 100% going!"
Reddit users like reddit_lurker17sent Flynn their support as well:
"That's very sweet of your professor! It's always sad when acquaintances are more compassionate than the family members who are supposed to love you and give you support."
cschmidt0525couldn't believe any parent would be so heartless:
"As a parent, I'm really sorry that you can't have the basic love and support any child deserves to have. It's great that you have someone in your life like this professor. Wishing you all the best and I hope you have a blast this New Years!"
roofied_elephantsummed up Professor Jones's behavior perfectly:
"100% bro"
thatcbcboffered Flynn a spot at her family table as well:
"Tennessee based supportive older sister here if you ever decide you want a sibling! Offer comes with a free brother in law, two adorable nieces, and a nephew."
Many moms likeBluenotesBbjumped in to make sureFlynn knew he was loved during the holidays:
"Hey....another mom here extending love and acceptance. Like the mom above, I am also a message away. Your parents have no clue what they are missing."
gwaydmsdidn't understand how a family claiming to be Christian could shut out their own son:
"As a Christian I don't believe in treating people badly in general. I have gay family members and friends, and don't understand how people who follow Jesus, who showed love to the outcasts and marginalized of society, would approve of rejecting a child for being gay. May God bless you, and turn your family's hearts to acceptance."
blubberfeetwas also there to offer his support:
"Hey i just read the situation. It amazes me how families can just do to without a shread of doubt. Im not a parent at all and i dont think ill ever be. If you need a little or big (dont know your age. Im 22) brother just message me. I hope things get better. If not let me punch them in the face and scream at them abit."
Though everyone wished there had been no reason for it, rant404 couldn't help but point out that Flynn's post rallied huge amounts of love to his side:
"This post created such a wholesome thread of wonderful caring responses."
eryncole47summed it up pretty well:
"A small glimmer of hope. I love this. I hope you have a great time at the party!!!!!!!!"
We're really glad Flynn had a place to go this holiday season, and we hope to hear about more people like Professor Jones as 2019 begins.