Perhaps the greatest tragedy a parent can face is losing their own child.
It's even more devastating when that child is young, with years of life ahead of them, potential snuffed out.
---
Sable Paige Gibson, a fourth grade student at Western Row Elementary in Mason, Ohio, died Wednesday after she went into cardiac arrest mere days after she was diagnosed with flu and strep throat.
Mason City Schools commemorated Sable's life in a post to Facebook:
"Please join us in keeping the Gibson family in our daily thoughts and prayers as they navigate these very difficult days. Their youngest, fourth grader Sable, passed away last evening after being diagnosed with strep throat and influenza on Tuesday morning which lead to cardiac arrest Tuesday afternoon."
"We also lift up all of Sable's classmates, teachers and support staff. We have additional counselors at Western Row today who are working with any student who may need help processing. It's moments like these that we come together as a community to walk alongside one another and care for each other."
"Memorial service arrangements are pending, and we will keep you informed as we learn more."

In a separate letter home, officials with the school district asked parents, teachers and students to wear pink in Sadie's honor, according to WSAZ.
Tributes soon poured in for the young girl.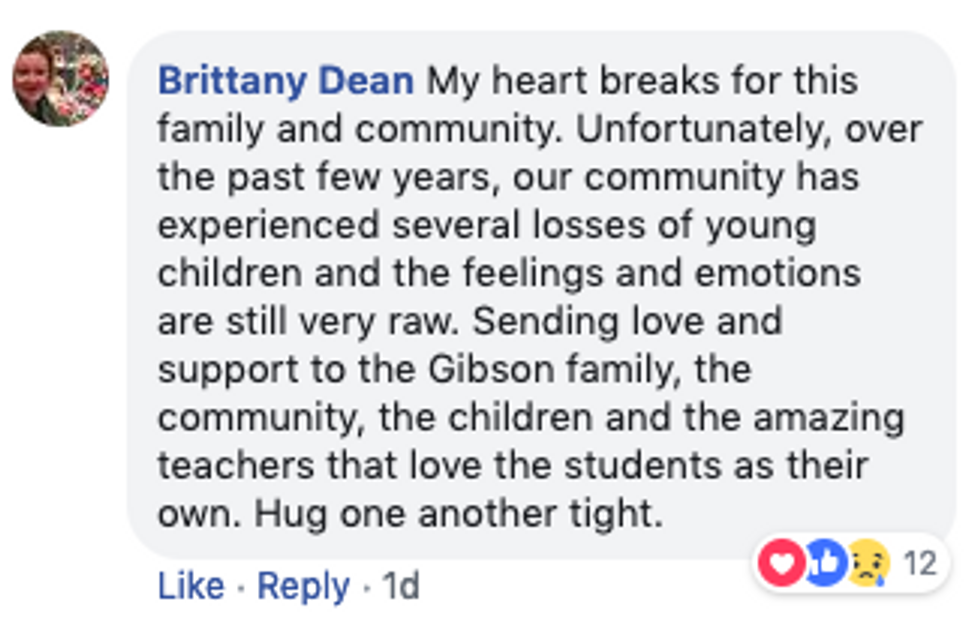 Mason City Schools/Facebook

Mason City Schools/Facebook
Mason City Schools/Facebook
Mason City Schools/Facebook
Sable's mother, Holly Rauch Gibson, posted a tribute of her own to her Facebook page.
She wrote:
"It is with shattered hearts that we share that our sweet Sable Paige took her first steps into Jesus' arms tonight. Our sweet baby girl was diagnosed with strep throat and influenza Tuesday morning that lead to cardiac arrest that afternoon."
"She was airlifted to Cincinnati Children's Hospital but it was too late. Our hearts are completely broken."
She added:
"We will share funeral details when we have them."
"For now we are trying to live out what we say believe, and stand on the hope of life and peace that we have in Jesus. Please, please, please pray for our family in this dark time. We can't imagine our lives without our baby girl."
"Thank you to the hundreds of people who have texted, called & visited. We love you."
The community rallied around the grieving mother.
Holly Rauch Gibson/Facebook
Holly Rauch Gibson/Facebook
Holly Rauch Gibson/Facebook
Holly Rauch Gibson/Facebook
Our thoughts are with the Gibson family.