Things have not been so peachy ever since Elon Musk completed his $44 billion acquisition of Twitter last week and became the sole director and CEO of the social media platform.
The Tesla CEO and founder of SpaceX was scrutinized after firing Twitter's previous chief and other top officials and laying off 25% of the staff.
He is now getting a lot of flak after proposing to charge Twitter users with verified accounts a $19.99 monthly fee so they could keep their blue check signifiers.

The blue checkmark is typically associated with celebrities and other influential figures.
While many view it as a status symbol, the checkmark confirms the platform has verified the authenticity of the person or company using the account and it is used to prevent the spread of misinformation and imposters.
Twitter is free for all users; however, it introduced a new price tier subscription service last June called Twitter Blue, which charges $4.99 a month for additional features like editing tweets in addition to the verification feature.
Amid speculation that verified users would soon be required to pay a recurring $20 fee to keep their blue checkmarks, famed horror novelist Stephen King decided he was having none of that.
Early Monday morning The Shining author tweeted, "$20 a month to keep my blue check? F**k that, they should pay me."
King then hinted at peacing out if Musk successfully implements the monthly charges.
"If that gets instituted, I'm gone like Enron."


@StephenKing/Twitter
Musk, who is always keen on monetization, laughed off King's declarative tweet and attempted to barter with the author over the fee.
Bewildered users threw some major shade at Musk.
When a user asked why King was so opposed to the monthly fee since he could afford it, the author maintained:

"It ain't the money, it's the principal of the thing."
Plenty of supporters backed King's argument.
In a follow-up tweet, Musk defended his position by referring back to his plan to remove bots on the site, saying:

"I will explain the rationale in longer form before this is implemented. It is the only way to defeat the bots & trolls."
He announced the adjusted price point for Twitter Blue subscribers on November 1:

"Twitter's current lords & peasants system for who has or doesn't have a blue checkmark is bullsh*t."
"Power to the people! Blue for $8/month."
@elonmusk/Twitter
He also mocked people who balked at the $8 fee by pointing out people happily spend just as much on Starbucks.
The shade continued: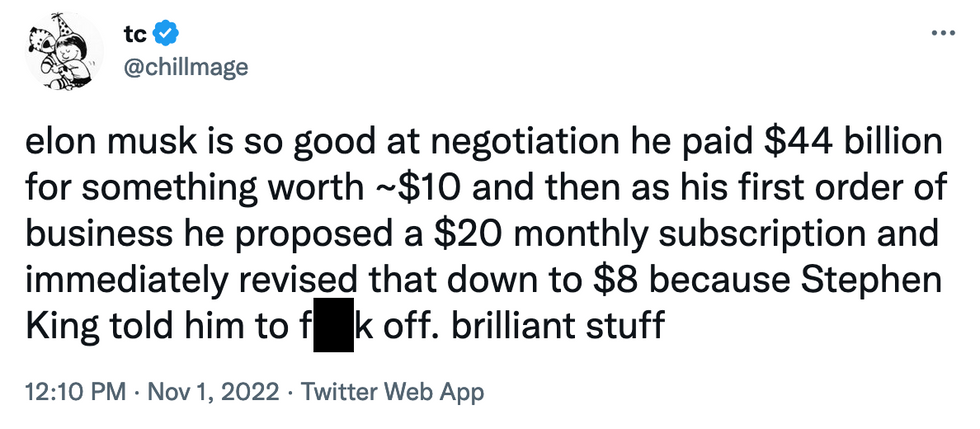 @chillmage/Twitter
In his Twitter acquisition plans, Musk endeavored to:
"make Twitter better than ever by enhancing the product with new features, making the algorithms open source to increase trust, defeating the spambots, and authenticating all humans."
On Tuesday, the billionaire said that subscribers with blue checkmarks will have access to additional features like a priority in replies, mentions, and searches.
They would also be able to post longer videos and audio and would see half as many ads.

According to US News, a recent poll indicated that more than 80% of Twitter users said they would not pay for the verifying checkmark.
Some 10% said they were willing to pay $5 a month.