Drew Barrymore's Wikipedia page was temporarily updated with a photo reflecting Hollywood's resentment over her crossing the SAG/AFTRA picket line to resume production on her eponymous talk show.
Last week, the Santa Clarita Diet actor announced that The Drew Barrymore Show would would begin airing in September amidst the ongoing strike.
Although she said her work as a performer in the show was not violating strike rules because it was under a different SAG/AFTRA contract than the one being disputed, industry peers felt her decision was a betrayal of the cause.
To reflect that frustration, a photo of her on Wikipedia was changed to feature an inflatable rat, known as Scabby the Rat, which is commonly used in the U.S. to symbolize union protests until disputes are resolved.
The updated page, which has since been restored, referred to Barrymore as a "strikebreaking scab rat."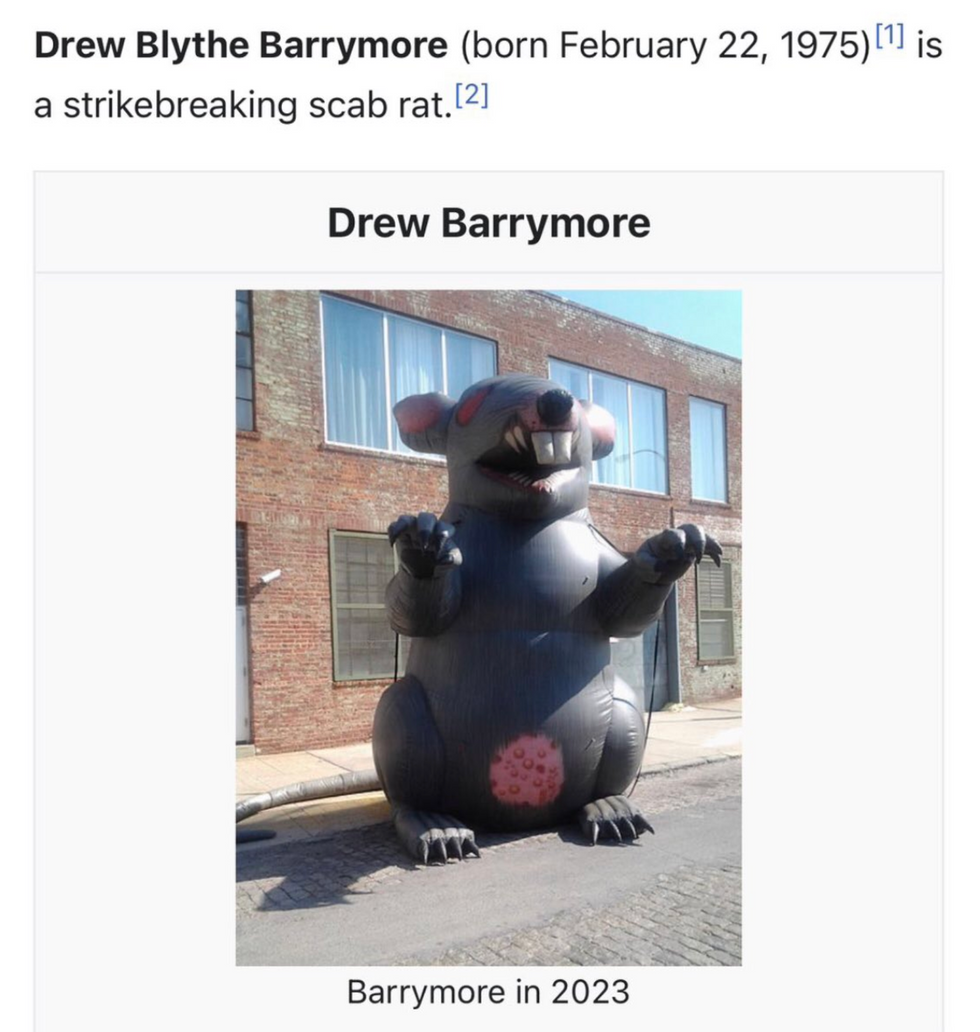 @JoshuaPHill/X
In her announcement last week, Barrymore reiterated that filming for her show last season wrapped on April 20, prior to the strike, so the production never had to be shut down.
However, she declared she was:
"Making the choice to come back for the first time in this strike for our show, that may have my name on it but this is bigger than just me."

She doubled down, saying, "I own this choice."

Barrymore added that her show would abide by the strike rule of not promoting or discussing any struck work represented by the Alliance of Motion Picture and Television Producers (AMPTP), which includes major movie studios, broadcast TV networks (including CBS, which distributes The Drew Barrymore Show), and streaming services.

Although Barrymore asserted her return to the talk show was compliant with SAG/AFTRA strike rules, the Writers Guild of America (WGA), who initiated a strike in May to secure rights protection and stronger contracts, said:

"Any writing on 'The Drew Barrymore Show' is in violation of WGA strike rules."
Her announcement drew scrutiny from industry peers and fans, which culminated in Barrymore's "strikebreaking scab rat" appellation on Wikipedia.

The screenshot for her updated Wikipedia page was shared by @JoshuaPHill, who posted it on X (formerly Twitter), on Tuesday.

Users shared their observations.

The whole situation is tricky.

According to the free encyclopedia site:
"Anyone can be bold and edit an existing article or create a new one, and volunteers do not need to have any formal training."
Wikipedia stated that it "currently has 46,149,792 users who have registered a username," but added that "an unknown but relatively large number of unregistered Wikipedians also contribute to the site."
They also said contributions come from a wide range of demographics, including but not limited to scholars, insiders, archivists, and evil-doers—also known as spammers and vandals.
Barrymore's Wikipedia page no longer features Scabby the Rat's image, but her bio does mention her controversial decision to continue broadcasting the fourth season of her show, which is expected to start on September 18.