One of the more fun affects of the launch of the Disney + streaming service is that it's got people reminiscing about their favorite old Disney shows.
People are sharing the memories that make them laugh, make them cry, and—in the case of Life With Derek—make them ask some serious questions about why Disney was out here serving up some serious brother/sister romantic tension like an incesty subplot was no big deal.
---
For those of you unfamiliar with the show, it follows a sort of Brady Bunch trope. A woman with kids marries a man with kids and the new siblings hash out their power dynamic with hijinks and shenanigans.
The plot focuses on Derek, the teenaged son, and Casey, the teenaged daughter. The two bantered and battled back and forth on the Disney channel from 2005-2009, but the show is actually a Canadian sitcom.
Maybe the slight cultural differences account for the now-super-obvious romantic tension between two characters who were supposed to be siblings, at least by marriage?
Because yeah... it's clear that showrunners didn't shy away from the tension. You can't tell us the music placement in this scene wasn't absolutely on purpose.
We're not imagining things.
nah Canada needs to answer for this one https://t.co/MGvMDyczVP

— If Beale Street Could Twerk (@If Beale Street Could Twerk) 1579529388.0
The tension was so obvious that many fans of the show totally shipped Derek and Casey together as a couple during the time the show ran. Turns out the fans weren't the only ones to support #Dasey.
The show's creator, Daphne Ballon, told a fan on Tumblr that she absolutely understood people shipping the couple.
The actors themselves have even stated that they felt Derek and Casey should have ended up together. Michael Seater (Derek) said as much to MTV in 2016. Ashley Leggat (Casey) said the pair ending up together would have been a natural progression of their relationship.
So this is definitely not something people were just imagining, but it is something that younger or more casual viewers may not have noticed at the time... which is leading to a lot of blown minds on Twitter now that the show is a trending topic.
Let's take a peek at some of the chatter.
Life with Derek really was incest propaganda

— 𝐒𝐈𝐌𝐎𝐍𝐄 (@𝐒𝐈𝐌𝐎𝐍𝐄) 1579675961.0
life with derek isn't on disney plus cuz they know what they did

— kristy conrad (@kristy conrad) 1579500022.0
I saw life with derek trending and I thought it was either going on disney+ or getting rebooted only to find out th… https://t.co/Z9W0RVdodP

— stephanie ✨ (@stephanie ✨) 1579611747.0
Y'all Millennials had Life with Derek with the impending incest and we had Brady Bunch with Greg and Marcia 😳 https://t.co/0jnCwQYXj5

— Mr Brooklyn (@Mr Brooklyn) 1579606629.0
Y'all barely finding about the suggested incest in life with Derek? I thought that's what made the show sksksk https://t.co/MwRf7BE2mn

— PEOPLE YOU KNOW (@PEOPLE YOU KNOW) 1579600971.0
Life With Derek walked so step sis porn could run https://t.co/tuiLeUb2mo

— Sav (@Sav) 1579626313.0
seeing so many tweets about life with derek and it's unlocked a part of my childhood that was buried DEEP

— emma🌟 (@emma🌟) 1579697024.0
I'm shocked that everyone is now noticing the sexual tension between Casey and Derek in Life With Derek. Eight year… https://t.co/lDctWo7zMu

— Ivan Maina (@Ivan Maina) 1579626017.0
@KingMerlen and then you remember the michael seater and ashley leggat were totally down for the incest reading of… https://t.co/Lk5mFxZ6pE

— 𝕞𝕒𝕣𝕔 𝕤𝕥𝕒𝕒𝕝 𝕖𝕟𝕥𝕙𝕦𝕤𝕚𝕒𝕤𝕥 (@𝕞𝕒𝕣𝕔 𝕤𝕥𝕒𝕒𝕝 𝕖𝕟𝕥𝕙𝕦𝕤𝕚𝕒𝕤𝕥) 1579632205.0
Ashley and Michael even spoke up about it again just yesterday!
I love the yearly nostalgic Life with Derek trend that happens. BTW I still go down with this ship. #LifeWithDerek… https://t.co/e3gtR96kl0

— Ashley Leggat (@Ashley Leggat) 1579619053.0
Trailblazers https://t.co/ioKpdADWep

— Michael Seater (@Michael Seater) 1579618510.0
#Dasey fans may not get to see the two as a couple any time soon, but that doesn't mean they can't still watch the actors work. Life With Derek may be over, but both stars have kept busy.

Michael Seater moved on from playing lovable but annoying Derek to playing James Gillies—a brilliant and murderous sociopath who torments authorities and kills just for funsies in Victorian-era Toronto—on the long-running show Murdoch Mysteries (available on Hulu.) Seater also has a film on Netflix called Sadie's Last Days On Earth.
Ashley just debuted a horror film at Frightfest called One In Two People.
Now, how about those Greg and Marcia Brady rumors...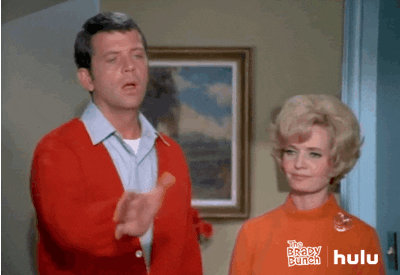 Giphy
**