An animal loving student claims her trio of pets have shown how four legged babies can become the best of friends as her dog, cat and rabbit play happily together and even share a bed.
After successfully bonding her West Highland terrier Sam with her cat Rafa when he was a kitten, Michelle Borraz ignored her doubters and introduced long-haired rabbit Kaninchen to the pack.
Michelle insists the unlikely trio soon became buddies.
"They're the best of friends. I should know, at least once a week they all enjoy a snuggle in my bed!" she said.
"At first we were worried Sam might be a bit rough with Kaninchen, but if anything it was the other way around. If Kaninchen isn't happy she lets the others know with a strong thump."
Longing for a dog throughout her childhood, Michelle's wish was finally granted when her family moved to a garden flat and brought Sam into their new home when she was 16.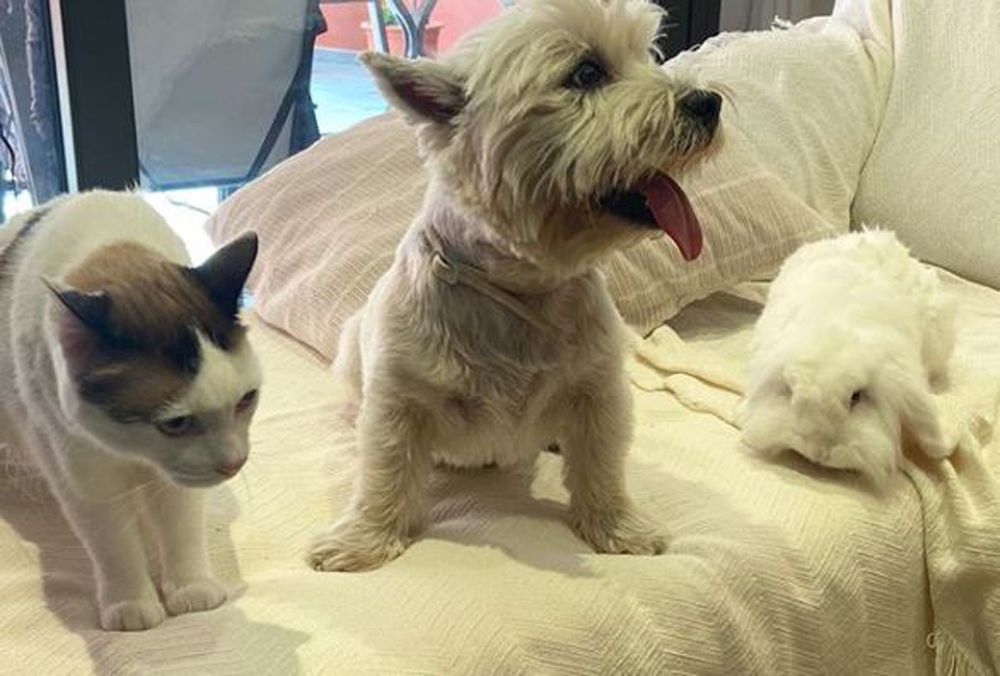 Kaninchen, Rafa and Sam (PA Real Life/Collect)
"My parents only ever wanted a Westie and he was treated like a prince," she said.
But all that changed in 2016, when Michelle's mom, Giselle, found an abandoned kitten on her way home from work.
With no sign of the mother cat, Giselle took the kitten back to the apartment calling him Rafa.
"He must have been less than a month old – he was that tiny. We wrapped him in blankets to keep him warm and got some cat milk for him," she said.
"We weren't sure if he would make it, but he fought on."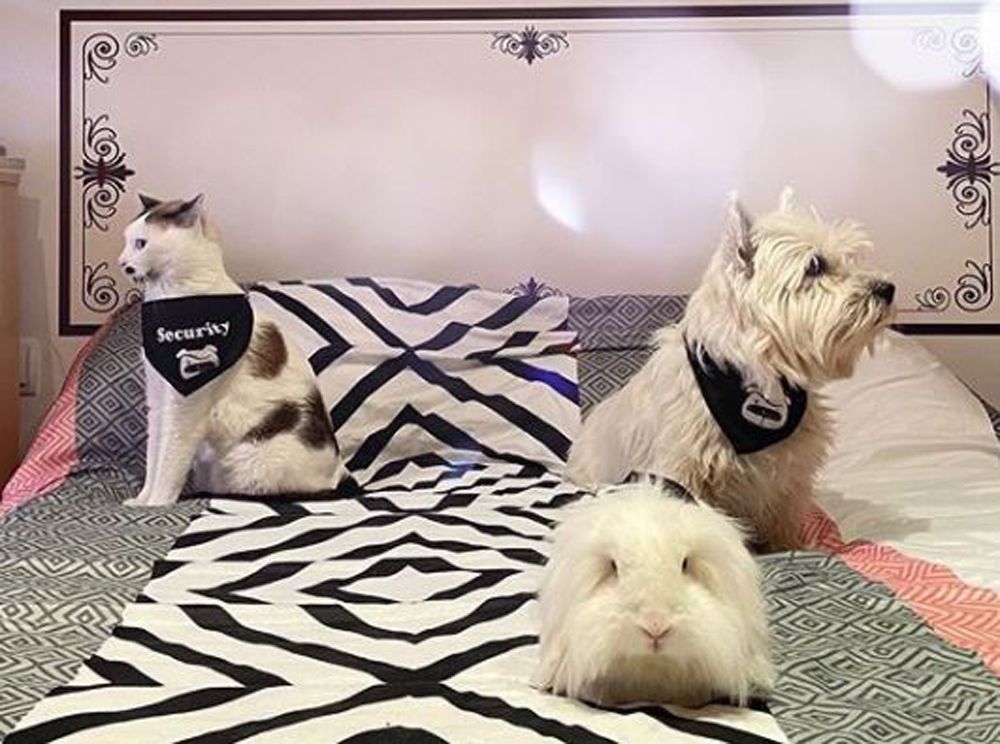 Rafa, Kaninchen and Sam (PA Real Life/Collect)
While the family doted on the tiny bundle, Sam was less enthusiastic about sharing his humans with another animal.
"He was used to having all the attention for himself," Michelle recalled.
"Suddenly we were all tending to this poor kitten and he was not happy at all."
But, two months after bringing him home, Rafa was in fine fettle and as tall as his doggy roommate with whom he became the best of pals.
"They run around the house chasing each other now," laughed Michelle. "And if they're not chasing each other, they're chasing their tails."
"Growing up with Sam as a big brother, Rafa shows signs of being more like a dog than a cat."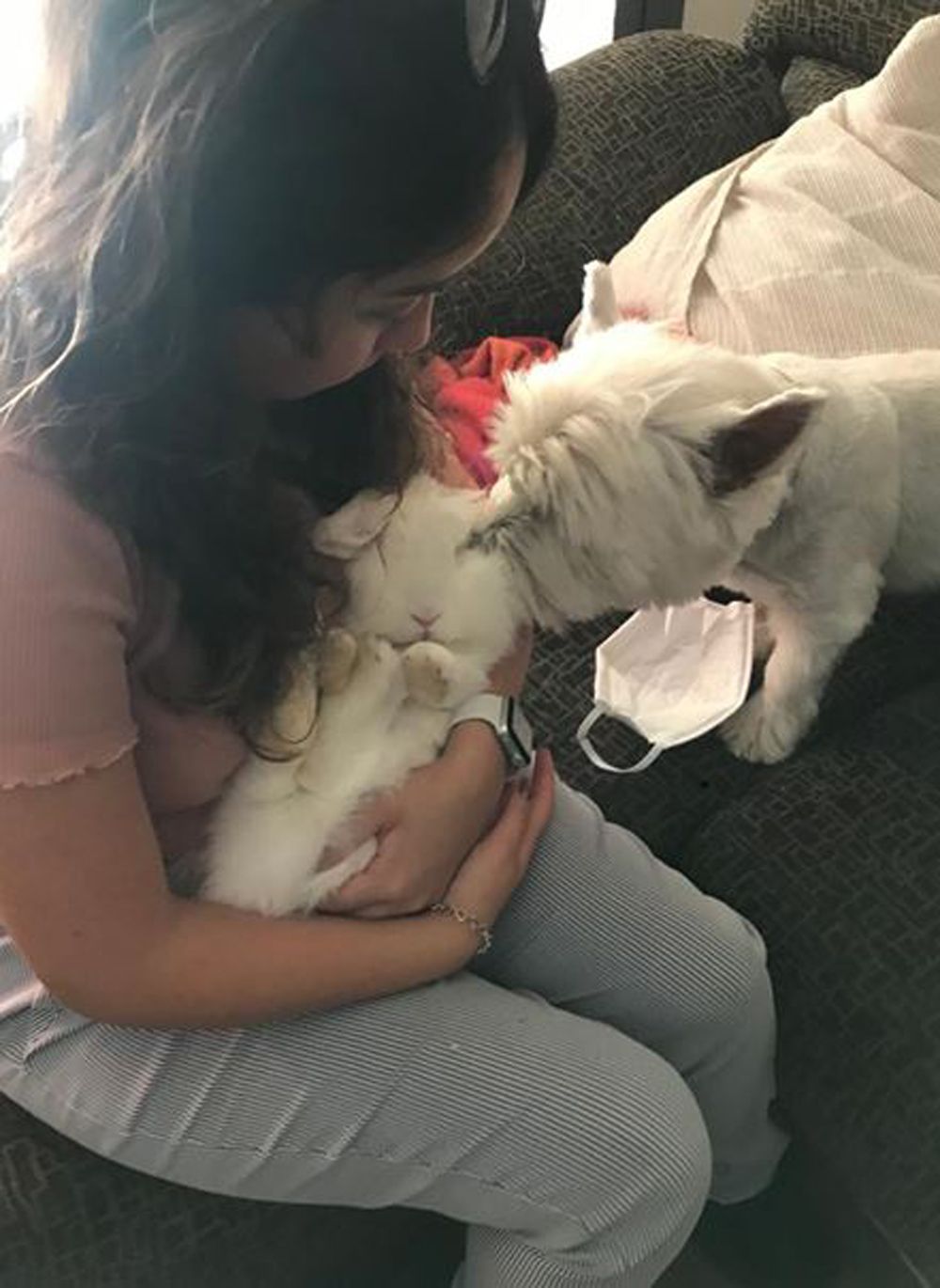 Michelle with Kaninchen and Sam (PA Real Life/Collect)
"As soon as someone's at the door he comes running over to see what's happening and loves playing fetch with a ball!" she said.
In September 2017, Michelle bid farewell to her furry friends, while she joined a six-month educational exchange at the Bauhaus-Universität Weimar university in Germany.
But they gave her a hero's welcome when she returned home to Barcelona the following year bringing a new addition to the cuddly clan.
"When I got to Germany, I was really quite lonely and missed my pets more than I thought I would," she said.
"I was out and about one day when I saw an advert for a house bunny that need rehoming. I enquired inside and told the man I'd take her right away."
There was just one problem the bun was named Sam.
"I knew I couldn't have two pet Sams in my life, so I called him Kaninchen, which is German for rabbit," she said.
Unable to hop on a plane with a bunny, Michelle travelled all the way home from Frankfurt to Barcelona via Paris and the South of France by train taking more than 15 hours.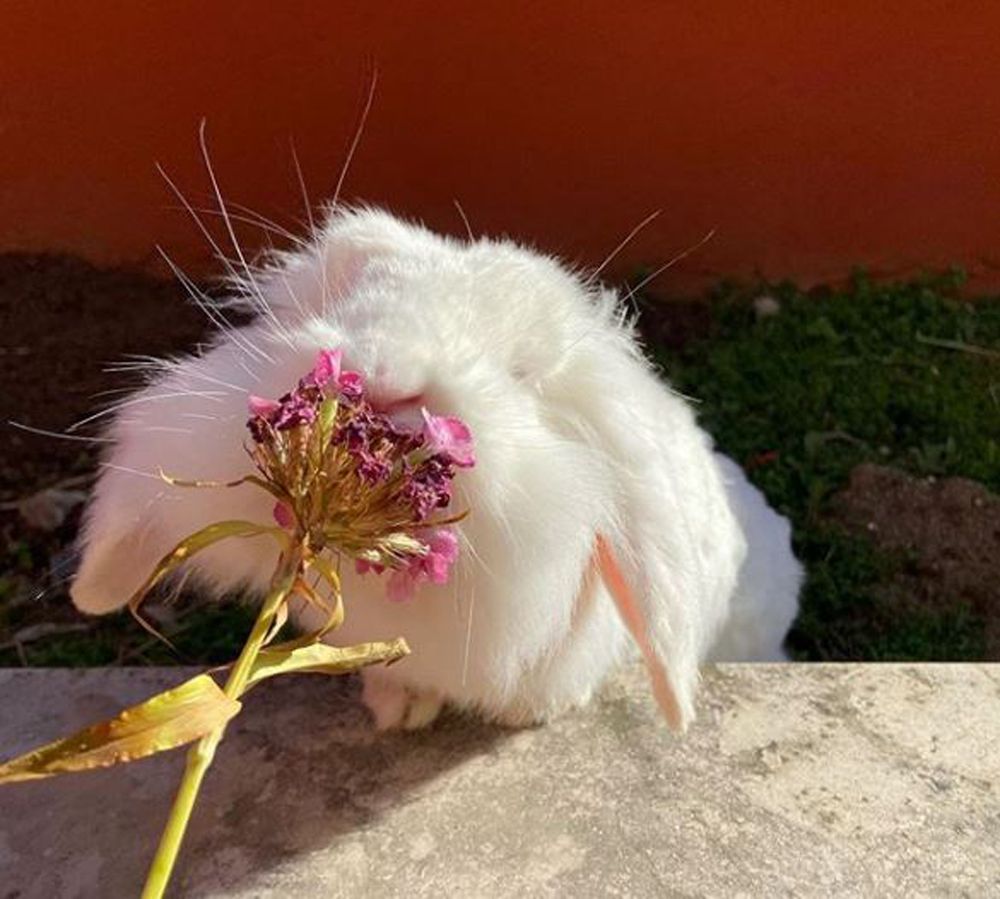 Kaninchen (PA Real Life/Collect)
"My parents thought I was mad for bring Kaninchen back," she said.
"They were worried about how Sam and Rafa would take to him, too – we all were. We kept Kaninchen separate from the others for a few days in the garden."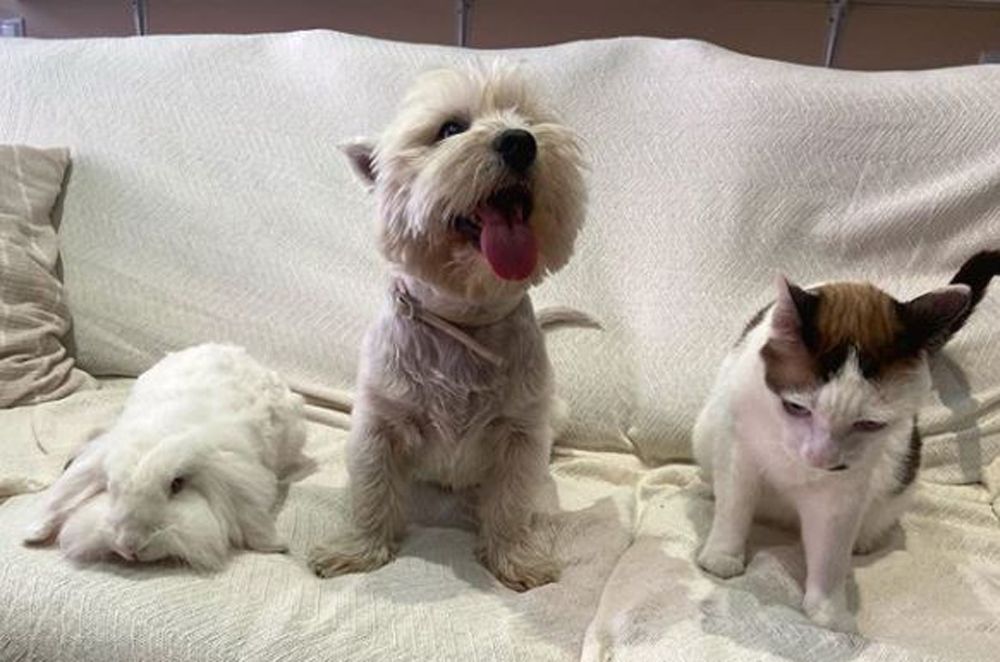 Kaninchen, Rafa and Sam (PA Real Life/Collect)
"Sam and Rafa were curious, but soon got used to the new presence in the apartment," she said.
And, after a week apart, the trio were properly introduced.
"They were all a bit apprehensive at the start," said Michelle. "But, by the end of the day, they were all running around wild in the garden."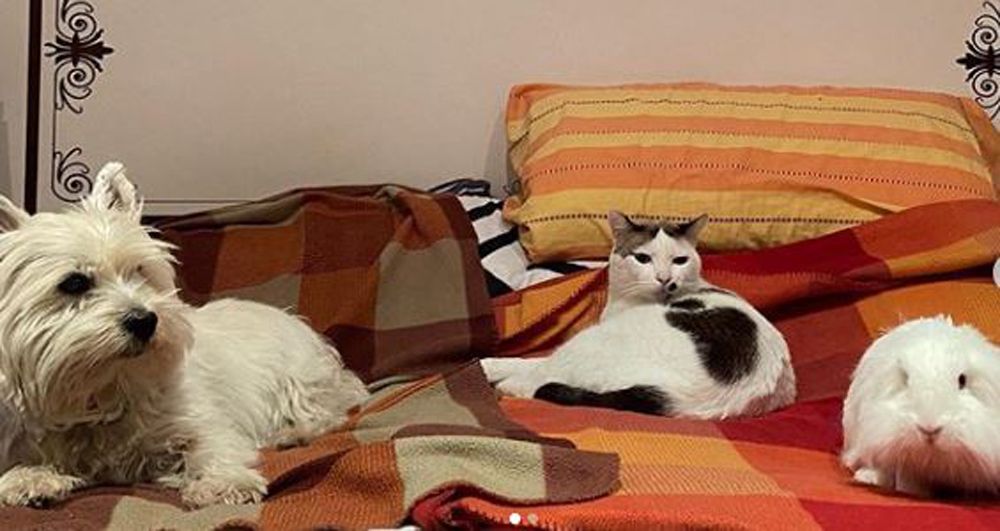 Sam, Rafa and Kaninchen (PA Real Life/Collect)
Now the trio are as close as triplets, according to their owner.
"They really do love each. Sam has a stuffed carrot he loves playing with and he and Kaninchen are constantly playing tug of war with it, as the bunny tries to steal it. It's very funny to watch," she said.
"They run around the house chasing each other and even share a bed. Seeing them all sleeping together is just the sweetest thing. Sam plays the role of big brother so well. If either of the others has a poorly stomach or an infection he won't leave their side."
After Spain went into a national lockdown because of the pandemic in March this year, Michelle spent more time than ever with the threesome.
With her studies on hold, she took copious endearing snaps of her potty pets and uploaded them to Instagram.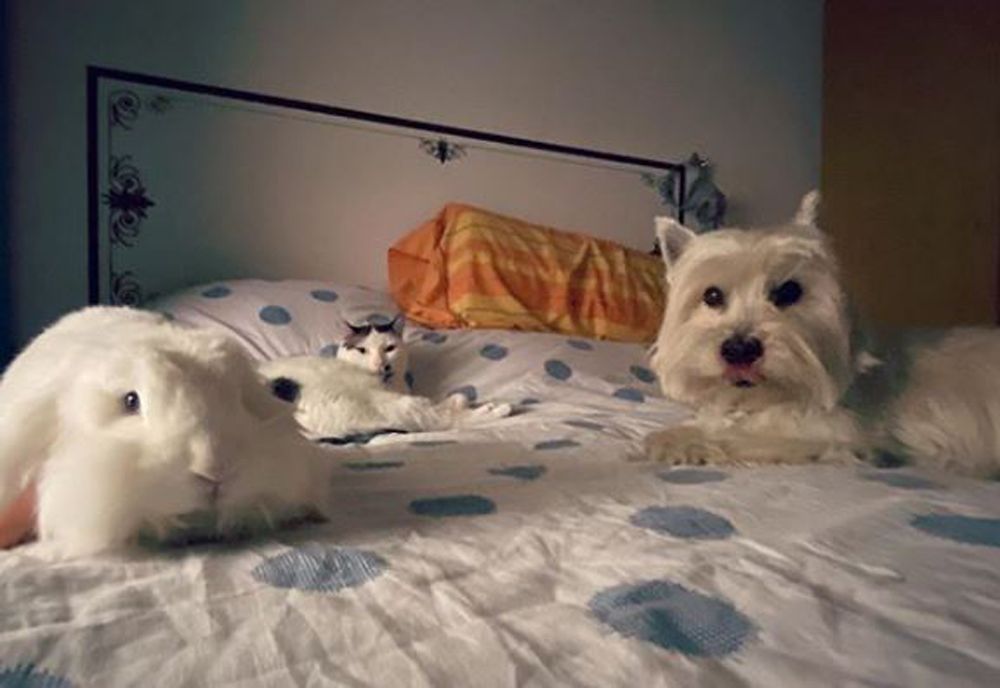 Kaninchen, Rafa and Sam (PA Real Life/Collect)
"Like so many people, I had a lot of time on my hands, so started taking pictures of them all," she said.
"I liked them so much that I started sharing them on Instagram for others to enjoy. Now my animals have a small following of 700 or so and the feedback from the community has been nothing but positive."
Studying full-time since September, Michelle is determined to keep Sam, Rafa and Kaninchen's growing fanbase updated.
"It doesn't take long to snap a quick photo and upload it to Instagram," she said.
"I try and do a couple a week and knowing it is bringing people a little bit of joy makes it well worth it."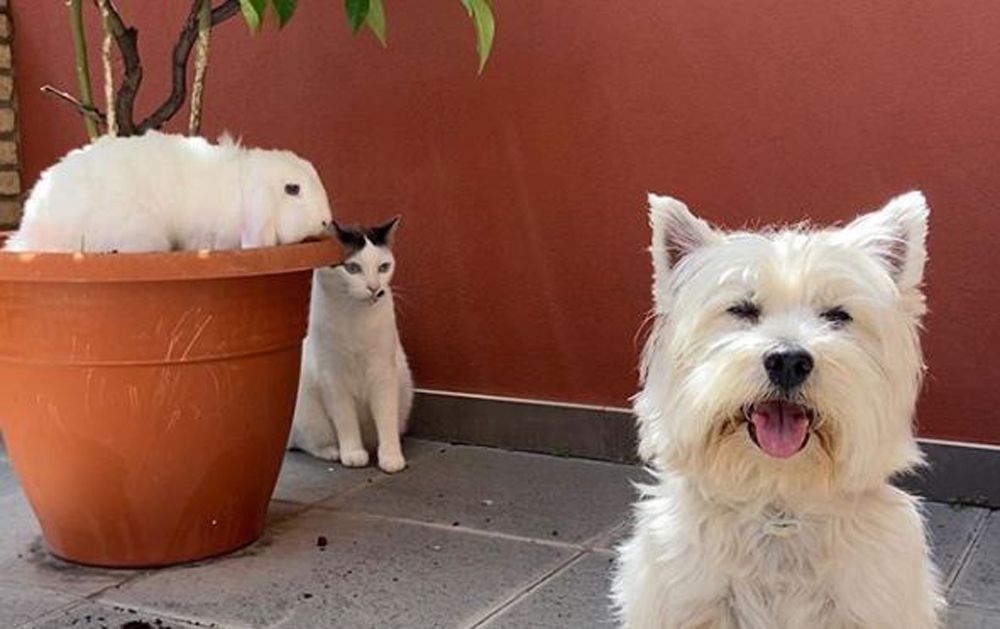 Kaninchen, Rafa and Sam (PA Real Life/Collect)
"Anyway, who can complain about having to photograph these three cuties?!"
To keep up with Sam, Rafa and Kaninchen's latest antics, follow them on @blanquitospeludos