In Seabrook, Texas, a Black man was brutally beaten by a white man in what can only be called a hate crime.
Elliot Reed was riding his bike, as he does every day, and stopped on a corner to take a break.
On Friday, Oct. 29 at the intersection of Lakeside Drive and Hampton Strings Drive, a neighbor just a few blocks from Reed's home began antagonizing him.
Reed told ABC13 News what happened:
"He's just looking at me at the stop sign."
"He said, 'You need to get out of this neighborhood because you're making a lot of people nervous.'"
"He said I need to get off this neighborhood."
"He said, 'You don't live [here], and if I catch you, I'm gonna do something to you.'"
At first, Reed ignored the man yelling from his truck about 50 feet away. Reed decided to start recording when the man, who's been identified as Collin Fries, exited the car and began shouting the n-word.
Police reports said several bystanders saw Fries chase Reed from the street onto the sidewalk and punch him.
Reed said:
"The last thing I remember is hitting my head and I went out."
Angie Reed, Elliot's wife, said:
"When I walked into the hospital and [saw] him I started crying."
"The nurses started crying."
Angie continued:
"It was the witnesses who told the police that he was hit about 12 times after he was already unconscious."
Reed needed more than a dozen stitches for his face. He also had a broken tooth, fractured cheekbone, and a burst blood vessel in his eye. His right eye will need more surgery.
The Reed's believe he was attacked because he is Black.
Fries has been charged with a misdemeanor aggravated assault. ABC13 reports that the police have yet to submit evidence that Reed sustained substantial bodily injury, making the charge only a misdemeanor.
The statement from the police said:
"We are still in the initial stages of the review of this incident."
"What happens with regard to whether a charge is increased or a hate crime enhancement is added, will depend upon the totality of the evidence."
Reed claims to never have met Fries before this encounter, but Seabrook police chief Sean Wright said they don't believe this to be a hate crime because of previous "conflict" among neighbors.
Reed wants the charges to be raised to a felony at least:
"I don't feel safe in my own neighborhood where I pay taxes and am a law-abiding citizen of Seabrook."
Reed said he feels he's been traumatized.
Others on Twitter are outraged that the police do not consider this a hate crime.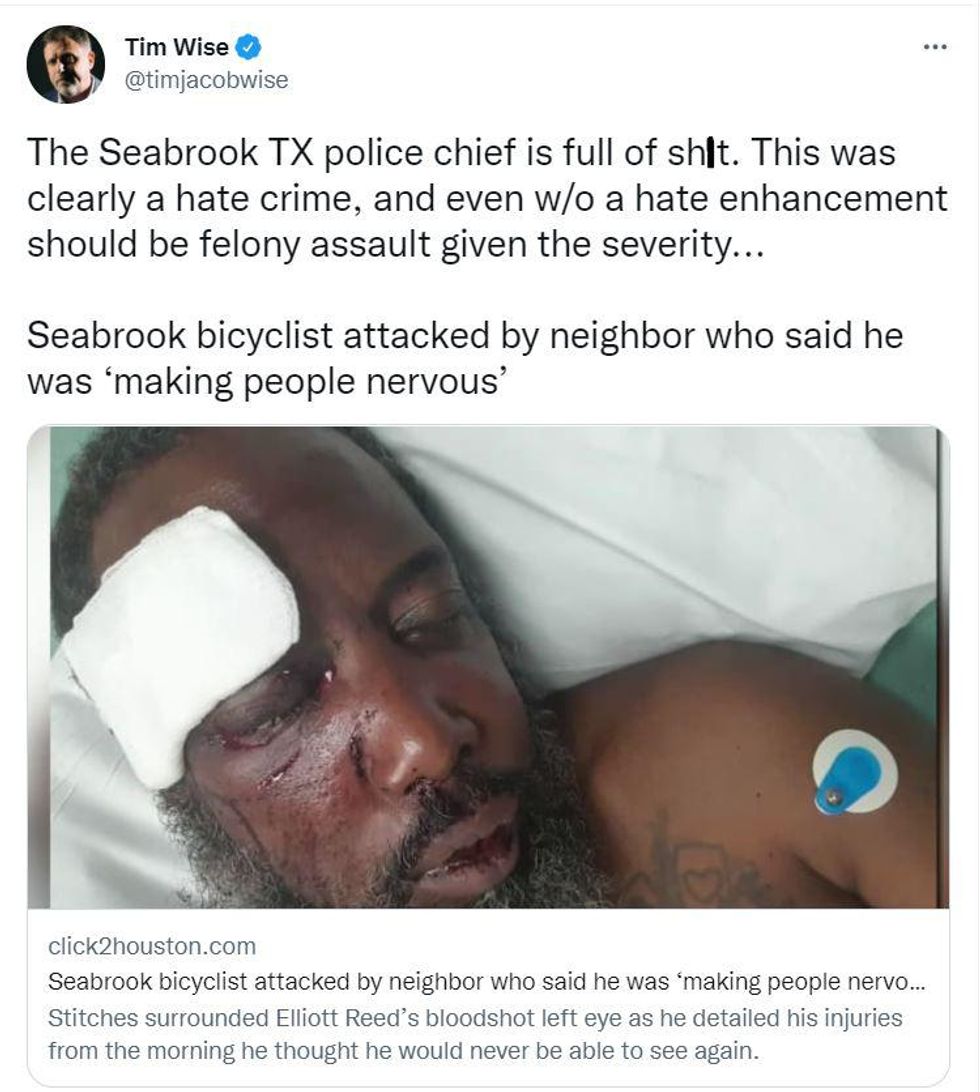 Fries has been released on a $100 bond according to court records.