A woman got an early start on Valentine's Day with a baking experiment that went south.
Emma Plummer, from Tucson, Arizona, is a self-taught baker who specializes in macarons.
---
You know the delectable confections. They are sweet-meringue based treats consisting of egg whites, icing sugar, granulated sugar and almond meal.
Although the mini-sandwiched desserts are also typically round in shape, Plummer decided to make heart-shaped macarons.
Unfortunately, they came out looking like flesh-toned testicles.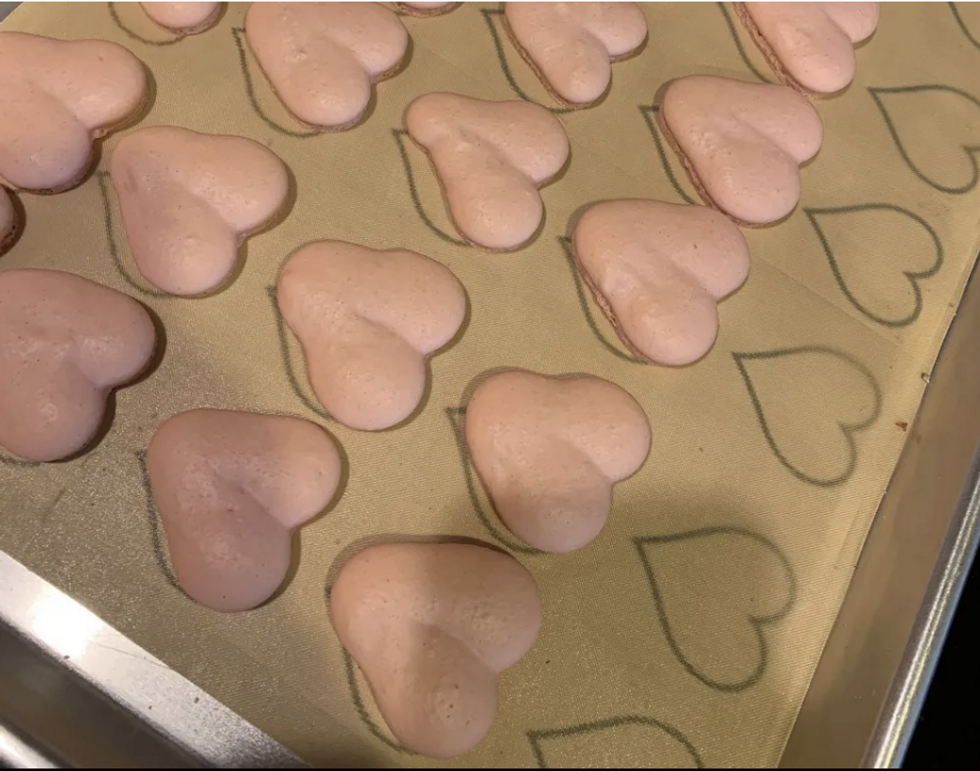 @sweetplummama/Twitter
But, I'm sure they are scrumptious.

The ambitious 23-year-old had a promising start.
She told Buzzfeed News:
"I had my batter and I was following the template, but I didn't really know what I was doing."
"I was like, Wow, these are not looking that great."
Plummer decided to power through the process and placed the baking sheet in the oven, hoping for the best. However, when the baking was done, the heart-shaped macarons definitely resembled testicles—both in color and in shape.
The crestfallen baker acknowledged the end result:

"They were just heart-shaped fails."
She posted the photo of her tray of huevos and it immediately went viral, with over 187K likes so far.
I tried to make hearts and they turned out like ballsacks 😂😂😂😂😂 https://t.co/FjfM7tkVlI

— 🌞 (@🌞) 1578260677.0
There were compliments to the baker.
@Starr002_ Those are cute!!! I would have been relieved if my first try looked anything like those 😍😂

— 🌞 (@🌞) 1578357293.0
@sweetplummama I would still buy these for Valentine's Day 😈😂

— Madison (@Madison) 1578266046.0
@sweetplummama @rizzosarge I'm dead 😂😂😂

— JM19 (@JM19) 1578421769.0
The social media response was overwhelming and hilarious.

"I didn't think they would go over as well as they did."
Her notifications had been turned off, so she wasn't aware of her viral post until a day later.

"One of the people that I follow responded to it and I opened it and noticed there was a ton of likes and retweets. It was crazy."
The batch was a happy accident and also an opportunity.
@sweetplummama @LadyWTFx https://t.co/nAKLjWpyTm

— Your Favourite Thicc Boy (@Your Favourite Thicc Boy) 1578355870.0
@sweetplummama I think you stumbled onto something here. Make a batch for the next pride march 🌈😂

— Dan's Digitizing/Embroidery (@Dan's Digitizing/Embroidery) 1578313620.0
@DanMcGuire1978 @sweetplummama Or testicular cancer awareness month.

— ᴊᴀᴍɪᴇ 🎗 (@ᴊᴀᴍɪᴇ 🎗) 1578357258.0
@sweetplummama @musicandfashion Bachelorette party favors https://t.co/f2pOzbGKfa

— January 11th🔮💫 (@January 11th🔮💫) 1578365048.0
There is room to push the concept further.
@sweetplummama throw two chocolate chips on each and make em tiddies

— miss anthropy (@miss anthropy) 1578350087.0
Someone shared a croissant that would pair well with deez nutz.
@sweetplummama Completes my croissant https://t.co/YPGwEkPJs9

— Mariah Coburn (@Mariah Coburn) 1578381806.0
Plummer has an Instagram page called butter.and.whisk dedicated to her usually flawless macarons.

But the latest NSFW macarons should be a fun addition to her catalog.
So that is pretty much what happened in a nut sack.
Of course, Plummer isn't planning on letting the edible gonads go to waste.
She plans to finish the batch of the meat clackers with buttercream and serve them for a viewing party of The Bachelor.
Bon appétit!

If you want to try your hand at making macarons, this kit is available here.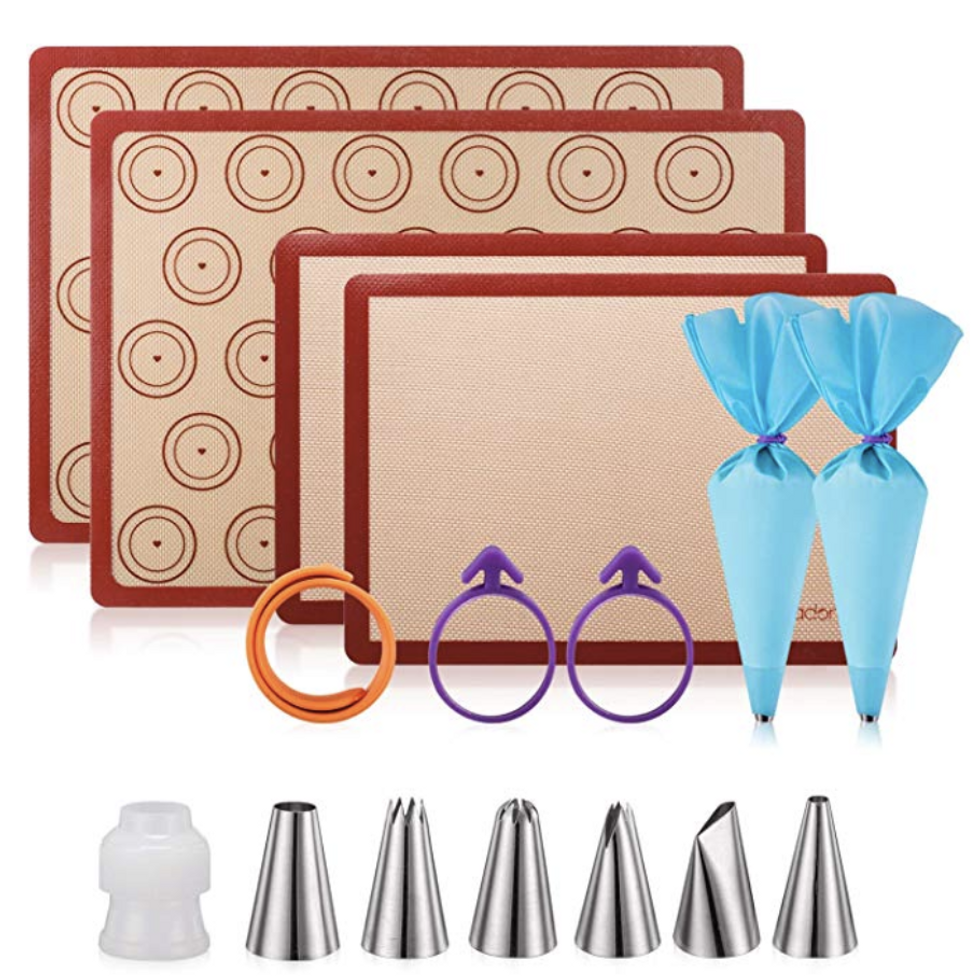 Amazon