Aunt Jemima got a new name and consumers are not pleased with the result.
The name and image of the popular line of breakfast products had long been criticized for being represented by the 19th-century minstrel character of the mammy—a racial caricature of a Black woman portrayed as a servant who was seemingly content serving White society.
In an effort to separate itself from the namesake's racist implications, Quaker Oats has changed the branding to "Pearl Milling Company."

A spokesperson for parent company PepsiCo announced:
"We are starting a new day with Pearl Milling Company."
"A new day rooted in the brand's historic beginnings and its mission to create moments that matter at the breakfast table."
While it may have been time for Aunt Jemima to retire, people were none too pleased with her replacement that sounded like a "mining company."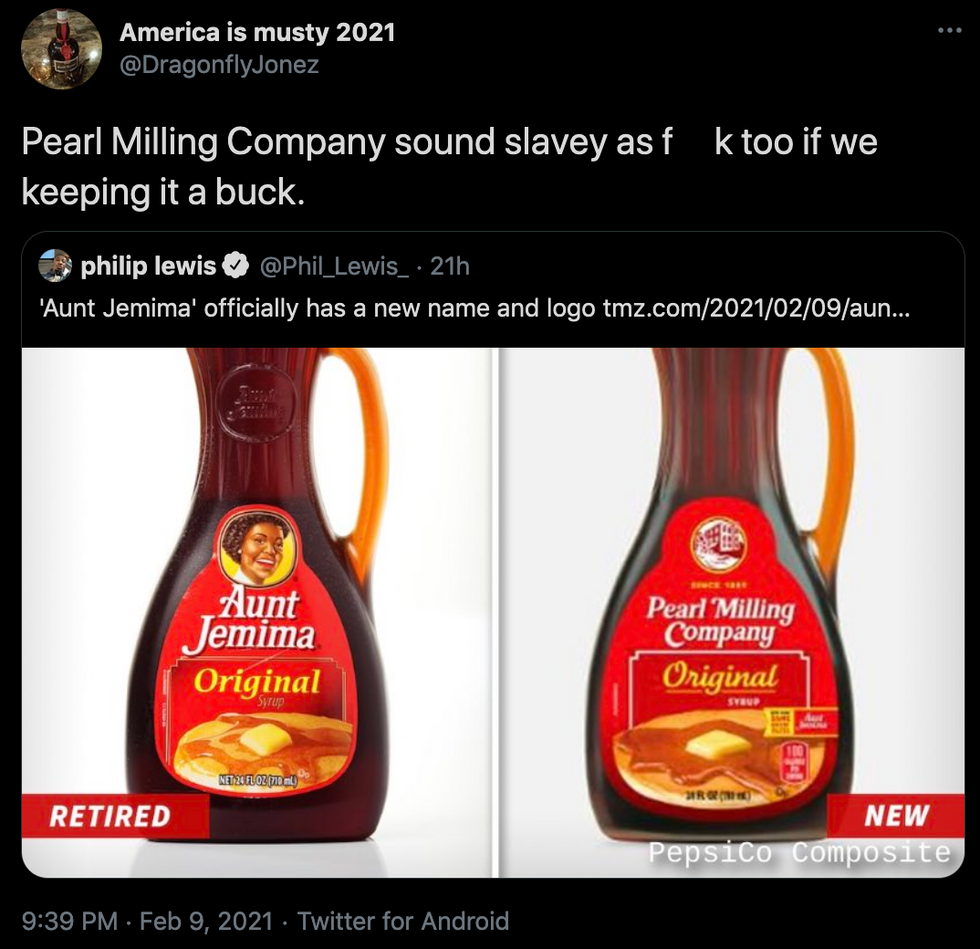 @DragonflyJonez/Twitter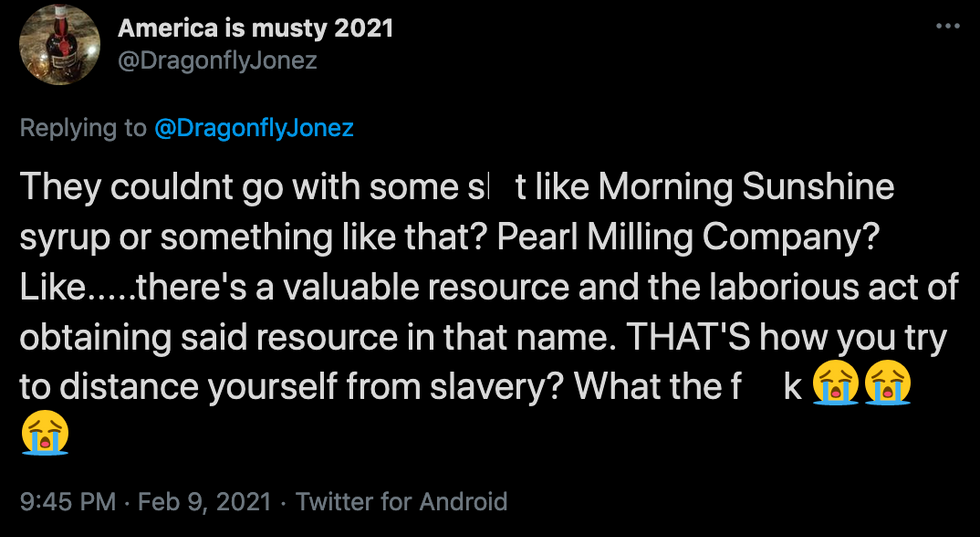 @DragonflyJonez/Twitter
Some users thought the name change was not much of a departure from its previous racial connotation.
CNN Business said according to PepsiCo, The Pearl Milling Company was a business founded in 1888 by Chris L. Rutt that sold and created the ready-made pancake mix.
Rutt originally named the product "Old Aunt Jemima," based on an 1875 American folk song performed in minstrel shows with performers who wore blackface and donned aprons and bandana headbands.
PepsiCo said of the new branding:
"This name is a nod to where our delicious products began before becoming a family-favorite breakfast staple."
"While the Aunt Jemima brand was updated over the years in a manner intended to remove racial stereotypes, it has not progressed enough to appropriately reflect the dignity, respect and warmth that we stand for today."

PepsiCo added they did extensive research to come up with the new name.
"Quaker worked with consumers, employees, external cultural and subject-matter experts, and diverse agency partners to gather broad perspectives and ensure the new brand was developed with inclusivity in mind."
At the moment, their inclusive endeavor is failing to connect with consumers on social media.
But Aunt Jemima's name change prompted other food companies to consider rebranding away from long-held racial stereotypes.
Hours after The Pearl Milling Company announcement, Mars food company said they plan to change the name and logo for Uncle Ben's rice products to "Ben's Original."