Artist Liz Atkin took to the London Underground on World Mental Health Day on Wednesday to give away her charcoal drawings for free and raise awareness of dermatillomania, an illness she herself suffers from.
---
The artist and mental health advocate has the common mental health condition which causes her to compulsively pick her skin. It is a form of Obsessive Compulsive Disorder, but it's not well understood. Atkin has found a way to manage it: she creates one-minute charcoal sketches on the images of newspapers to distract her hands and manage her symptoms.
Atkin drew on the London Underground on October 10 to raise awareness, handing out her art for free along with postcards explaining the condition.
London! Did you see me? My #compulsivecharcoal free graffiti on discarded @MetroUK newspapers created & given away… https://t.co/SbD7rrYI1T

— Liz Atkin (@Liz Atkin) 1539171002.0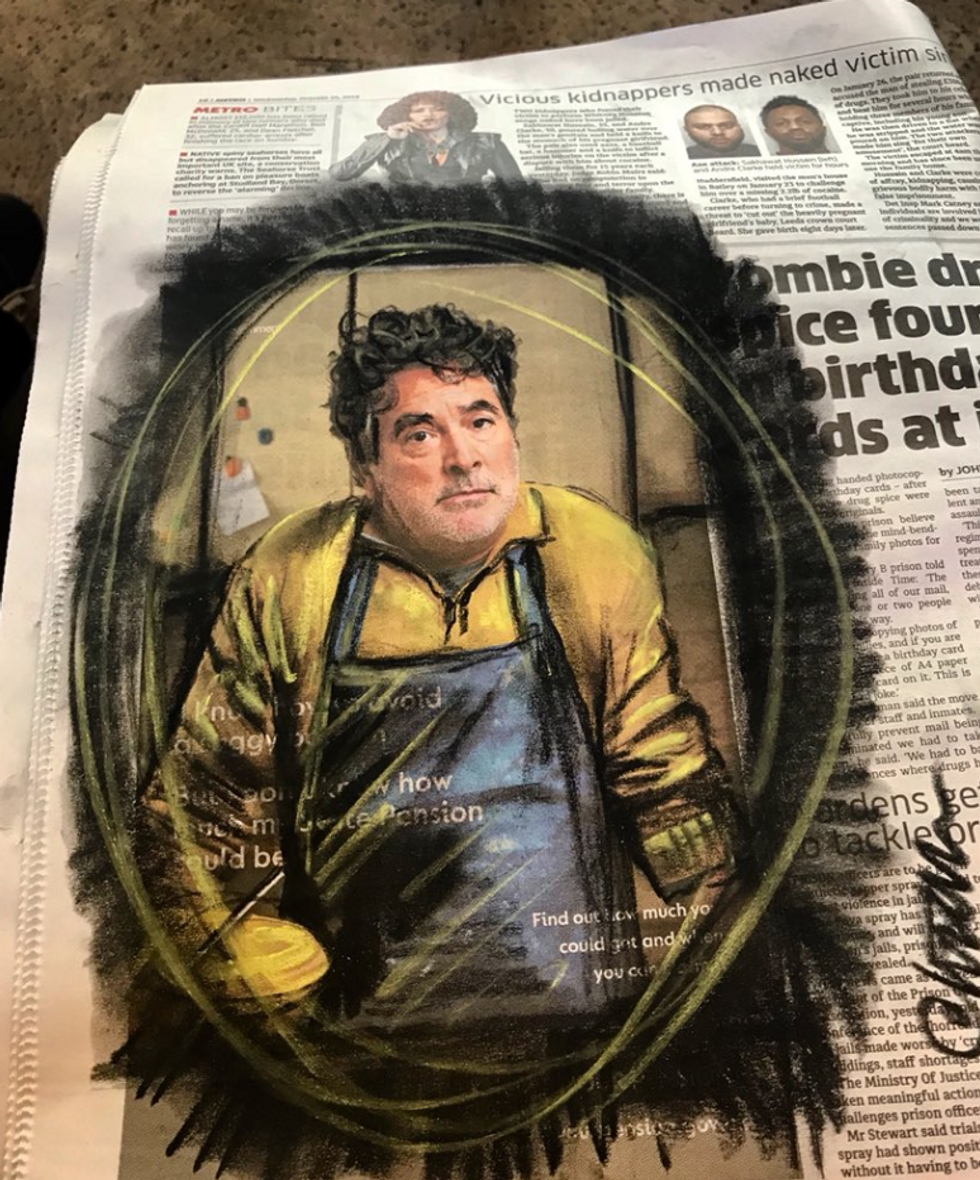 Twiiter @LizAtkin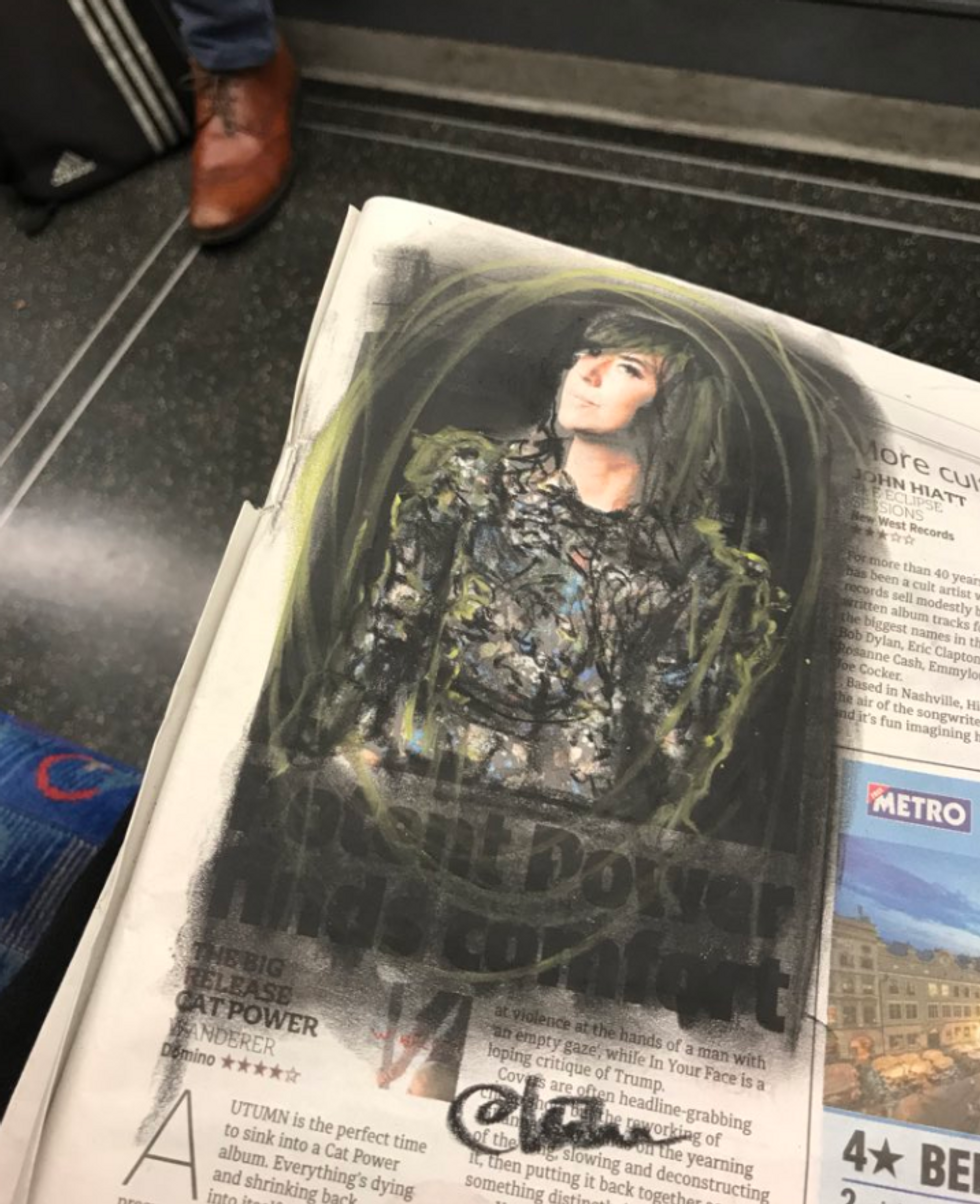 Twiiter @LizAtkin
She said:
"I'd had about a year off work following an episode of severe depression and chronic anxiety in 2014."
"While I wasn't well, a friend had bought me a box of charcoal as a present and I'd started drawing. I realised that drawing rapidly reduced my skin picking and stopped panic attacks from happening on my commute to work.
"This series began when I ran out of a sketchbook on a journey from south to north London."
"With nothing to draw on, I was picking my fingers badly, so I graffitied a discarded newspaper left on the seat beside me. Slowly, this has evolved to become a daily action. I've given away almost 17,000 so far!"
Atkin said:
"The process of drawing fast on a newspaper always garnered curious looks from passengers. Drawings would accumulate on my lap during a journey, but I didn't need them so I started passing them to people who had caught my eye."
"Now, each time I create Compulsive Charcoal drawings I hand out free postcards to others in the carriage as well as the recipient of a drawing. I've given away my drawings on the New York Subway, in Singapore, and from Los Angeles to San Francisco."
"On a busy day travelling around the city between freelance jobs, I can average giving away 20 to 30 drawings."
London! Look out for me creating & giving away my #compulsivecharcoal free graffiti on discarded @MetroUK newspaper… https://t.co/T6YKEfRoS3

— Liz Atkin (@Liz Atkin) 1539156565.0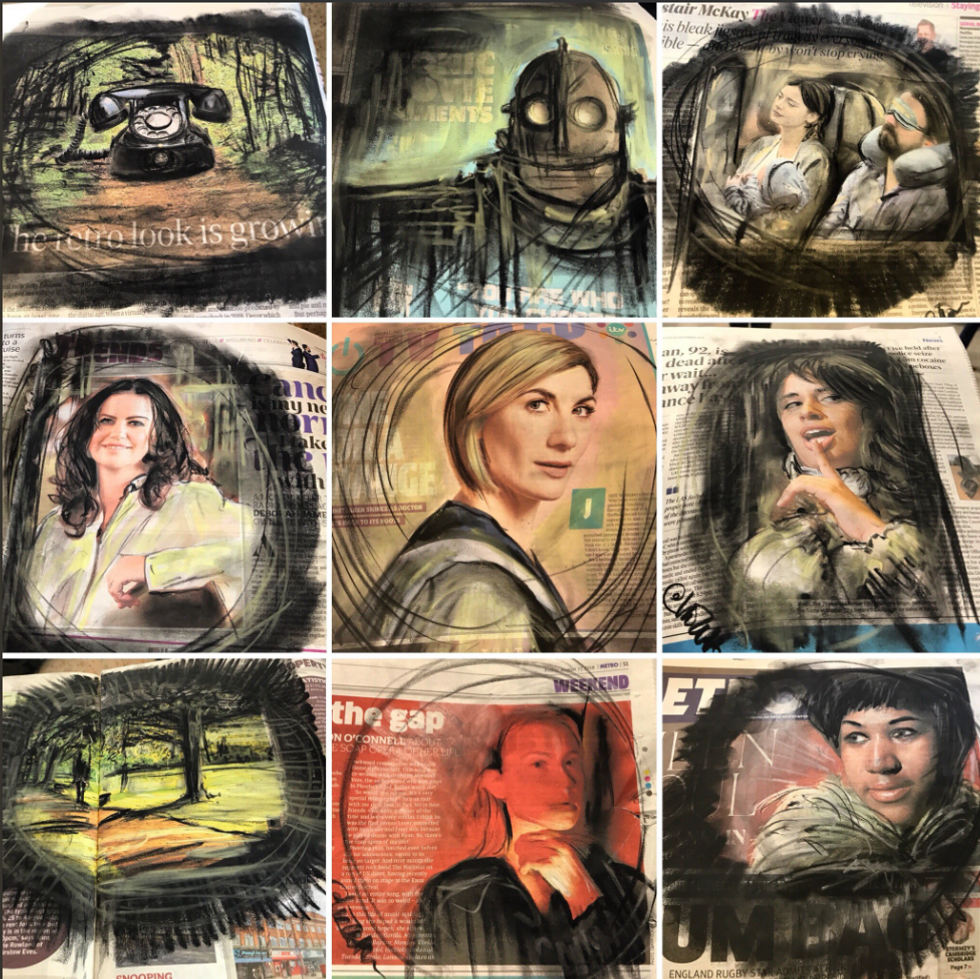 Twitter @LizAtkin
According to the NHS, dermatillomania, or compulsive skin picking, is a psychological condition thought to affect one in 25 people.

People with the condition often pick at the skin on their face and lips, but it can affect any area of the body. This condition carries the risk of infection and scarring.
Atkin said:
"Skin picking started from a young age … The illness was actually undiagnosed until my early 30s, by that point I'd been picking for the best part of 25 years, and it was only through internet searches that I realized it had a name."
The artist explained:
"Drawing has become one of my greatest tools for recovery and I carry a small piece of charcoal in my pocket, so I can draw wherever I am."
"Drawing helps me to channel the tense and uncomfortable energy of my compulsive skin picking disorder, to refocus my fingers and relax my mind."


"I aim to normalise compulsive skin picking; I'm speaking about my experience in an attempt to destigmatise it and help others with this devastating condition who may feel they have nowhere to turn. Skin picking dominated my life but there are ways to recover."

The artist now has more than 20,000 followers on Twitter and has shared her physical work with thousands of people.
Atkin said:
"I am absolutely delighted that my story and message of recovery and well-being has reached so many people, I have had a huge number of messages. It makes me realise how many people live with this but have limited knowledge about what it is, or what to do about it."
"I was isolated in my experience of the disorder for decades, so each day is an opportunity to share knowledge, experience and hope through an act of kindness. I never know who in the carriage might need to hear it, or know someone else with lived experience of mental illness."

The art seems to have helped her, but we should all be lucky enough to get one of Atkin's pieces.
A version of this article originally appeared on Press Association.