After recent reporting divulged tone deaf comments made by the CEO of Wells Fargo regarding the company's approach to diverse hiring, Congressional Representative Alexandria Ocasio-Cortez was quick to express her outrage.
She eviscerated him with a single sentence on Twitter.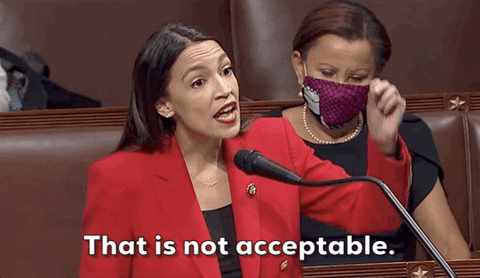 Giphy
Ocasio-Cortez's outrage was sparked by a recent story in Reuters which discussed a company-wide Zoom call with employees led by Wells Fargo CEO Charlie Scharf on June 18.
The call, made about three weeks after police killed George Floyd, echoed countless similar internal communications conducted by companies and organizations across the United States during that period.
Scharf focused on diversity initiatives, failures, and successes at Wells Fargo. And while the 90-minute meeting itself offered an opportunity for the company to reckon with implicit racism in its policies and practices, multiple employees felt that comments made by Scharf during the call were totally disappointing.
One of Scharf's comments in particular, regarding the companies hiring practices, really rubbed people the wrong way:

"While it might sound like an excuse, the unfortunate reality is that there is a very limited pool of black talent to recruit from."
When news of that statement made the rounds on the internet, Ocasio-Cortez was happy to weigh in
AOC's jab certainly prompted discussion on Twitter, garnering almost 30 thousand replies. Plenty of people shared her outlook and expressed similar outrage.
@AOC These executives seem to have no difficulty finding white guys with no talent., but allegedly cannot don't tal… https://t.co/kcrMdZ5IGl

— Anthon Berns (@Anthon Berns) 1600827155.0
@AOC I know so many Black professionals that would be offended by these comments here. Sad this country refuses to… https://t.co/Wg6IUawgCV

— Andres Duran (@Andres Duran) 1600877702.0
@AOC Like no black colleges ha have finance degrees. Lol. He should be fired. Awful. The definition of systemic racism.

— Bryan Tinsley (@Bryan Tinsley) 1600878126.0
As companies across the U.S. continue to revamp their policies and practices to make more inclusive hiring efforts and cultivate more diverse work environments, additional problematic statements will undoubtedly surface.

Thankfully, some well placed, efficient AOC outrage is never too far away when that does happen.