Employees must adhere to the policies of whatever company they work for.
However, Amazon requires their drivers to ask recipients of packages containing alcohol for a valid ID, even if they look well over the legal drinking age.

---
Carl Johnston bought his 92-year-old grandmother, Louise Wilkinson, a $9.50 bottle of Harvey's Bristol Cream Sherry.
Wilkinson – who is a widow with three children and four grandchildren – never got to enjoy her sherry.
The Amazon driver refused to leave the widow with Johnston's holiday gift after she failed to verify her age with a valid passport or driver's license.
Again, Wilkinson is 92.
There was a second delivery attempt the following day, and this time Wilkinson was prepared and showed her bus pass with a photo on it.

But it was not enough.
She was left high and dry because her commuter's pass was not a valid form of ID.
Amazon's list of "acceptable photo identification" includes an unexpired passport, a driver's licence, MoD ID card, a biometric immigration document or a photographic identity card bearing a national Proof of Age Standard Scheme (PASS) hologram.
The frustration would drive anyone to drink.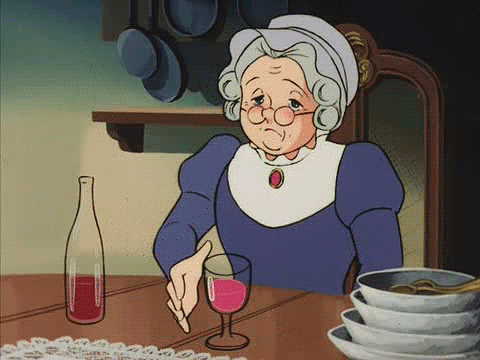 Giphy
The grandson could not believe the driver's reluctance to budge on Amazon's policy based on Wilkinson's elderly appearance.

Maybe granny's still got it.
Johnston, who is an IT worker, said the driver remained obstinate about the company policy for his second delivery attempt at Wilkinson's residence in the small English town of Seaham in County Durham.

He told TheSun:

"She is clearly old enough to drink and the second time she did have photo ID, but a bus pass isn't on Amazon's list of accepted identifications."
"I can understand that if you are lucky enough to look around 18 you should have to show ID. But my grandma is 92."
Twitter commiserated with Johnston's dilemma.
But the driver could not be blamed for doing his job, either.

His livelihood depends on it.
While the rules prevent alcohol from falling into the hands of a minor, Johnston could not wrap his head around the fact that Amazon is not as lax with their standards as supermarkets.

"It just seems crazy. Obviously they have to be careful about selling alcohol online and have to make sure only people over 18 buy it."
"But why can't they be like in the supermarket where they just accept a visual check if you are clearly over 18."
"I don't see why Amazon drivers can't do the same."
He also said the confusion was quite distressing for his dear old gran.

"She is elderly so this obviously disturbed her a bit. People that age get anxious when things don't go to plan."
While his frustration is understandable, drivers are unaware of a variety of scenarios that could justify Amazon's stringent policy.
Brett Johnson, a founder of a retirement protection company, vouched for the driver and explained there are reasons for rules.
"What if the grandmother was a convicted felon on court order to abstain from alcohol and drugs? What if she was medicated and died? The grandson would be suing Amazon. Always follow the rules. Rules have reasons."
According to Amazon's list of rules, purchasing alcohol requires the following:
"By placing an order for one of these items you are declaring that you are 18 years of age or over."
"Valid photographic ID and a signature of the recipient will be required upon delivery for all customers."
"If the recipient is not over the age of 18 and has not been able to show valid photo identification, the item will be returned to Amazon for re-delivery the following day."
Johnston plans to get a refund from Amazon, buy his gran some adult juice, and hand deliver it himself.