AirBnb's motto may be "belong anywhere" but there may be a few caveats associated with that mantra, depending on the host of your selected home.
And, one AirBnb host is going viral on TikTok but not because of the beautiful decor or layout of the home.
TikTok user @authentiffany_ is creating a lot of buzz after recently posting a video that highlighted how strict some AirBnb hosts tend to be with their guests.
Since posting the clip last week, the video has gone viral with nearly 2 million views.
@authentiffany_

Respect the home, Tiktok about it later #fyp #airbnb #funny #controlissues #foryou #toomuchsauce #lol #airbnbhost
With approximately 5,000 comments, fellow TikTokers were eager to chime in on the AirBnb host's somewhat controlling quirks.


@belenrobin_/TikTok

@frederickgregor/TikTok

@cameryncarter/TikTok

@userksar83bds842/TikTok
Throughout the duration of the minute-long video, viewers can bear witness to the numerous rules and regulations that were meticulously written out—right down to a diagram explaining how to use the remote control.
Other signs artfully placed around the home also outline the do's and don't's of the various items in the house including things such as cups, storage boxes, the thermostat and even the glassware.
One portion of the video even chronicles Tiffany being informed by the host, via a note, that she had used the wrong glass to drink out of.
Rather, that glass was specifically designated to hold her toothbrush.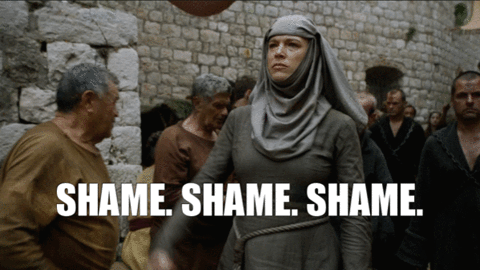 Giphy
The AirBnb host left no stone unturned when it came to outlining the rules and regulations for guests staying in the space.
They went as far as leaving a note on the shower curtain informing visitors which way they should be pulling the shower curtain.

@marlenamarlee/TikTok

@theheartshines/TikTok

@hiphiprenee/TikTok

@flamemaiden/TikTok
In a follow-up video from Tiffany, she clarified she was only renting a room in the home and not the whole house which may or may not make viewers feel better about the sheer amount of directions posted in a single room.
Tiffany went on to explain it was a last-minute booking and, during the course of booking the room, Tiffany did read reviews left by previous guests which stated the host was a "very detailed person."
Understatement of the century...
Tiffany's first video sparked quite the debate on how much is too much when it comes to an AirBnb host getting involved in your stay.
Hoping to quell some of the division sparked in the comments section, Tiffany signed off on her follow-up video with a very diplomatic response.
"People are the way that they are, we don't all work together that well and that's perfectly fine and there is nothing wrong with her being that way."
"If you stay in a place like that and you don't feel comfortable you are welcome to leave but there's no use for hating someone for being that way."