A TikToker made headlines for standing up for her sister.
TikToker Arianna Hailey (@itsari.aleise) was dumbfounded when she learned that her younger sister was in trouble at school for her outfit.
When she arrived at the high school her sister attended, she was taken aback to find out that the outfit her sister had gotten punished for was a simple off-the-shoulder shirt.
Hailey filmed her interactions with a school official following her arrival to the high school and uploaded them to TikTok.
Watch here:
In the TikTok, we see Hailey sitting in the school office and talking to a school official and her sister, who are not shown.
The text on the video reads:
"My little sister got dress coded so I went up to the school."
We watch as Hailey asks what is wrong with her sister's outfit.
Her responds that her bare shoulders are against dress code, as she was wearing an off-the-shoulder top.
Hailey then asks the school official:
"How is that out of dress code?"
To which her sister responds:
"We can't wear spaghetti straps. We can't wear crop tops."
Hailey continues to express her confusion to the school official, saying:
"I'm just confused as to how shoulders are distracting."
In the video, Hailey indicates that the official then calls the school principal to deal with the situation.
Hailey responds, saying:
"This is ridiculous. I'll sit. I'll wait."
Hailey then turns to her sister, saying:
"You're not changing."
"You look really cute. She looks really cute."
Hailey then shifts the focus of the video to her sister, and we can see her outfit. She is wearing jeans and a pink, long-sleeved shirt that reveals only her shoulders.
We then hear Hailey arguing with the principal, saying:
"This is like an outfit she would wear to church."
The principal agrees with Hailey, but reiterates that the outfit is a "shoulder issue."
The TikTok then cuts to Hailey sitting in her car, yelling the word "shoulders" multiple times, before saying:
"SHOULDERS?! You're telling me that a boy in middle school would look at my sister like that and be like, 'Dang, I want that in my SHEETS!'...I'm done."
Hailey also pointed out in the video comments that the school principal was threatening her sister with and in-school suspension if she did not change her outfit.
"If I didn't bring a change of clothes (the school) would give her ISS."
The TikTok was posted to Hailey's account, which boasts over 9.7 million followers. The TikTok has garnered over 9.1 million views and over 37,000 comments.
The majority of Hailey's followers sympathized with Hailey over her sister's predicament.







While some others insisted that her sister adhere to dress code, because "rules are rules".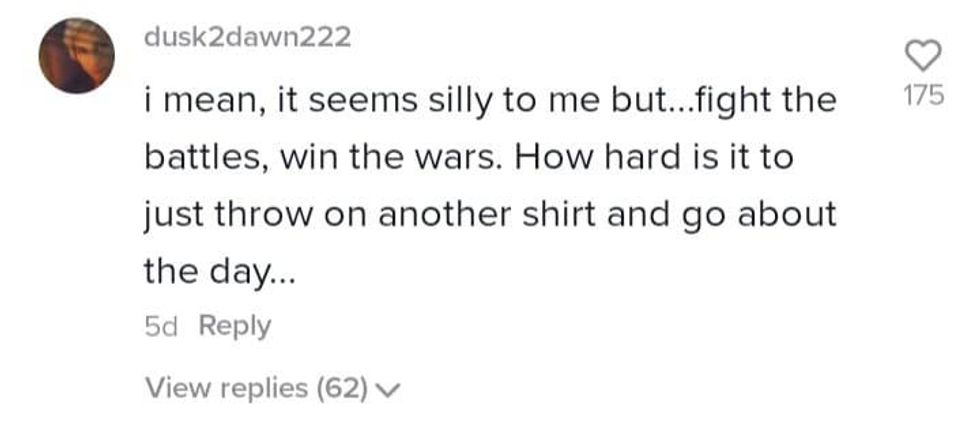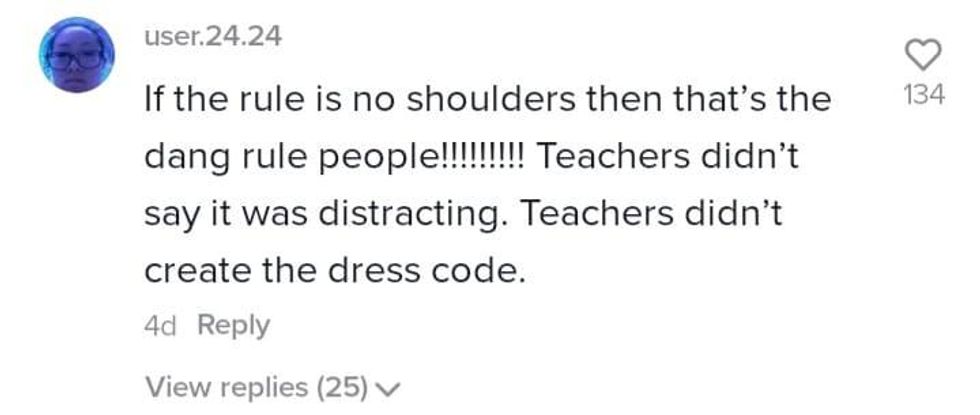 Hopefully Hailey's TikTok will inspire other women and girls to stand up against unfair dress codes.