While participants had their goals set on crossing the finish line for the Boston Marathon, Native and environmental rights activist Jordan Marie Brings Three White Horses Daniel ran with a deeper purpose.
---
She marked each mile in the 26.2-mile course with a prayer to each of the 26 Indigenous women who were victims of violence, a crisis in the United States and Canada that is largely ignored.
Jordan wrote the hashtag #MMIW (Missing and Murdered Indigenous Women) on her body to remember each of the 26 women who are either missing or murdered.
The New York Times reported that 84% of Indigenous women have experienced physical, sexual or psychological violence in their lifetime. But their cases tend to go under the radar, according to the National Institute of Justice.
Daniel, a vocal advocate for Indigenous women, hoped to change that by bringing awareness in the high profile event.
Daniel is a Kul Wičasa Lakota, a citizen of the Kul Wičasa Oyaté/Lower Brule Indian Reservation, but now resides in Los Angeles.
She wrote on her Instagram post that she has dedicated the past two years running as a platform to raise awareness over the national crisis of MMIWG.

"It breaks my heart that I can even make a list of 26 sisters taken from our communities."
"For 26 miles, I said her name, with a prayer. I painted #MMIW on my legs, a red hand print covering my mouth to symbolize our sisters voices silenced & red, for the movement, this issue."
"The federal government has failed to include and investigate into the growing number of cases of our relatives murdered and missing."
Indigenous women and girls either go missing or are murdered at an alarming rate higher than the rest of the U.S. population every year.

Thankful for the leadership of North Dakota State Rep @Ruth4ND Buffalo for introducing & passing important laws to… https://t.co/HmwhPaKfxm

— Mark Ruffalo (@Mark Ruffalo) 1556307040.0
"It's long past time the topic of missing and murdered indigenous women received this type of national attention."… https://t.co/HMck2vL0O4

— Lakota Law Project (@Lakota Law Project) 1556147021.0
WA Gov Jay Inslee signs a Missing Indigenous Women bill that "creates a pair of liaison positions within the state… https://t.co/4sUSuXGNBT

— Chris Stearns (@Chris Stearns) 1556155707.0
#WeAreStillHere my cousin, like many other girls who have gone missing from the reservation are not forgotten 💔 mai… https://t.co/ZqKzRPMAZJ

— terrell ♥ (@terrell ♥) 1555725999.0
A lack of consistent investigating and law enforcement reporting of these cases makes it difficult for analysts to properly gain insight into the issue.
"The heartbreaking fact is we don't know the exact number."
"In 2016, Annita Lucchesi (Indigenous researcher) of the UIHI (formerly) identified 5,712 cases were reported but only 116 of those cases were documented in the Department of Justice databases."
There are over 5100 Indigenous women and girls who have been murdered or missing and the government of USA/Canada h… https://t.co/FwmVQTpRVT

— Mari Ojibwe Writer- my anger is killing me (@Mari Ojibwe Writer- my anger is killing me) 1556322096.0
#mmiw No more stolen sisters https://t.co/7mcp9F7ndF

— kristen h (@kristen h) 1556309824.0
Amanda Webster, Savanna LaFontaine-Greywind, Miranda Tenorio, Britney Tiger, Ashley Loring Heavyrunner, Lakota Rae Renville, and Lucella Yazzie are some of the names Daniel prayed for.
Native women are invisible at best and disposable at worst. This is simply unacceptable. Our budget includes fundi… https://t.co/nvzti8To4e

— Lt. Governor Peggy Flanagan (@Lt. Governor Peggy Flanagan) 1556245247.0
This popped up on reddit. #MMIW #MMIWG https://t.co/Yff5OfvzvS

— uyarakq (@uyarakq) 1555872708.0
In addition to running for the 26 victims, she ran for Wings of America, a nonprofit organization that empowers Native American youth and their families inspired by the competitive legacy of Native runners.
Congratulations to the Wings of America runners who competed in the BAA 5k this morning!! So inspiring. And in a cr… https://t.co/UteM48Ohtq

— Jordan (@Jordan) 1555170764.0
Many were inspired by her participation in the prestigious race with an important mission.

@nativein_la/Instagram
@nativein_la/Instagram

@nativein_la/Instagram

@nativein_la/Instagram

@nativein_la/Instagram

@nativein_la/Instagram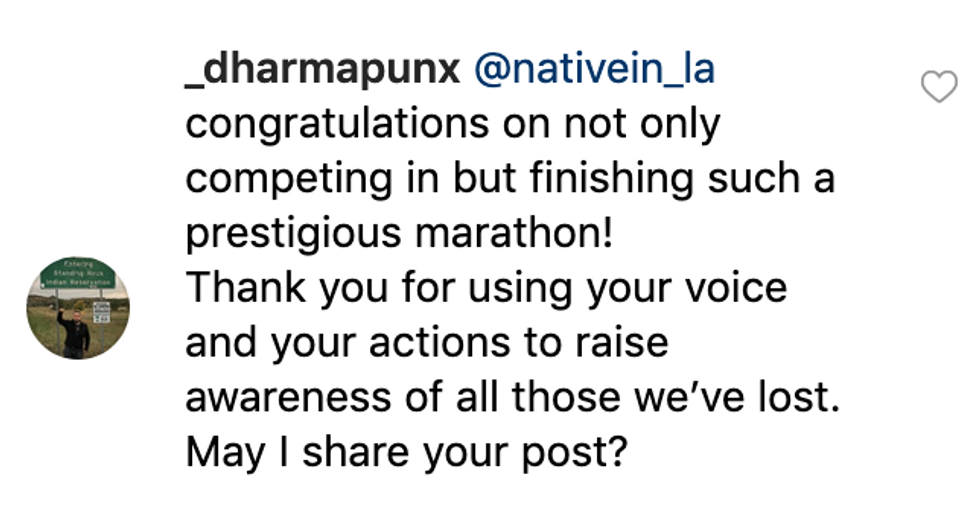 @nativein_la/Instagram
Daniel crossed the finish line at Boylston Street with her personal best of 3:02:11 and raised her fist with the words "For My People" written on it.
She told Runner's World:
"I felt so proud and so honored to be able to run this run for those 26 women and for my grandfather. None of it had anything to do with me. I just had to provide the body to run those miles. That was the very least that I could do."
She added:

"MMIW is the longest standing 'Me Too' movement that we've had since colonization, since 1492, and no one ever talks about that."
#May5th is the day to #Honor #MMIW #MMIWG #MMIP #MMIM Wear Red or display a red dress outside of your office or ho… https://t.co/f1YUD1zOPJ

— MissingFlowers MMIWM (@MissingFlowers MMIWM) 1556323320.0
Daniel received some positive news a few days after raising awareness over the epidemic in the marathon.
A relative of one of the 26 women, Anela Gipp Alkire, contacted the activist to inform her that Alkire had been found.