A female consumer was devastated after becoming the victim of product tampering, a recent violation of public health that is proliferating in stores.
---
Products such as shampoo, toothpaste, and other sundries as well as edible items left out on display typically have no protective seals and are consequently vulnerable for tampering by other shoppers at a Target or Walmart.
But we never think twice about someone potentially contaminating the merchandise and returning them to store shelves.
Ashley Rose Robinson took to Facebook and shared her painful story about what happened to her after using a recently purchased bottle of conditioner.
According to Robinson's mother, Taffy Jo Timm, someone mixed the hair-removal product, Nair, into a bottle of Pantene her daughter purchased at a Walmart in Wisconsin.
Robinson's hair had fallen out in clumps in the shower after using the conditioner.

She decided to post pictures after initially resisting the idea for fear of being publicly shamed.

She wrote:

"As I type this I'm crying bc that's all I have done since this incident. This is raw and has hit me like no other."
"My hair was finally the way I loved it to be and now it's gone. These photos I'm sharing are personal to me but apparently needs to get out there, most of these were from last night, through the night and morning on hair had fallen out and still was falling out in clumps before I shaved it."
"Picture do not do it justice or show the 100% damage it has caused me. My heart hurts terribly I don't even have any words to say to anyone as I just can't get anything out but that it hurts and has been scary."
She urged everyone to inspect the products we buy on a regular basis and asked that people to reserve their judgements for her decision to share her story.

"My only intentions for sharing is to prevent it from happening to anyone else. Check your bottles where ever you get them, nothing can be trusted anymore...Please do not bash me."
According to her mother, Robinson's hair remains brittle and continues falling out.

Timm wrote her own Facebook post prior to her daughter's emotional account of what happened.

"Attention New Richmond Wisconsin Walmart shoppers be aware of shampoo and conditioner you buy there as my daughter Ashley Rose bought some 2 days ago and someone mixed nair in her conditioner bottle!!!!"
"As I speak she is losing hair and crying!! Conditioner below this conditioner is supposed to be white is is a ugly pink color. Please note this is NOT FAkE! The police are gonna be watching camera footage along with the detectives."
Timm provided an update on her daughter and added that police will be working with detectives to watch surveillance footage for evidence of any tampering.

"Ashley went to get a consultation for extensions her hair is so brittle and still falling out they can't do anything. Ashley's uncle shaved her head Monday night."
"This momma is full of emotions rite now. Ugh! Ashley is doing great! She just has to get use to all of this."
"I seen her yesterday and this girl is beautiful! We haven't heard from the police or anyone else yet. Thank you everyone for the continued support."
Timm's post was shared over 75K times and elicited sympathy and support on Facebook.


Taffy Jo Timm/Facebook

Taffy Jo Timm/Facebook
People felt horrible for Robinson but encouraged her to remain strong.


Ashley Rose Robinson/Facebook

Ashley Rose Robinson/Facebook

Ashley Rose Robinson/Facebook
For those who undermined Robinson's dilemma, a professional hair dresser named Rachel Leis gave her two cents on how devastating hair loss can be.
"People are so ignorant for those of you who don't think this is serious your wrong hair is such a part of someone's identity male or female to have part of who you are taken from you is horrible no matter how long!!!"
"And as a hairdresser let me shed some light on how long this is going to take to grow back for the length of her hair growing from a shaved head this is about a 2.5 year process the average person gets .5 inches a month plus she will have to get neck trims approx every two weeks so she doesn't get a mullet and to let the top catch up with the back so before you start calling someone a complainer or saying she is looking for sympathy and money I hope you all get what's coming to you l!"
"Ashley Rose you are so brave and beautiful you will get through this call me any time or just stop over."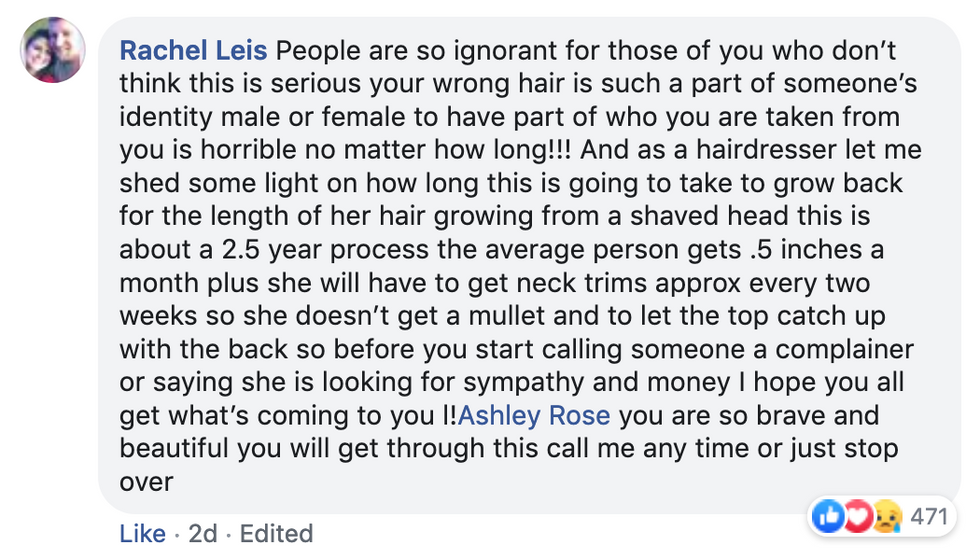 Taffy Jo Timm/Facebook
These pranks are steadily becoming a problem and should be treated as felonies.

One teen posted a video of herself licking Blue Bell ice cream and putting it back on the shelf.
A business owner in Florida took things further by urinating and spitting into ice cream sold by the neighboring store.

If only people could heed this public service announcement:

Taffy Jo Timm/Facebook
If you're rethinking how you get your beauty products, you can make your own with the book Organic Body Care: 101 Homemade Beauty Products Recipes-Make Your Own Body Butters, Body Scrubs, Lotions, Shampoos, Masks And Bath Recipes, available here.