When George Floyd was killed under the knee of a police officer in Minneapolis, his last words were "I Can't Breathe." Since that moment, the same phrase has become a rallying cry in nationwide protests calling for an end to racial bias and police brutality.
But Floyd's final words were also used as the title of a workout at one Anytime Fitness gym in Wauwatosa, Wisconsin.
The gym, a single franchised location under the national Anytime Fitness corporate umbrella, has faced intense scrutiny since it advertised the "I Can't Breathe..." set, a 35-minute mixture of burpees and rows.
Across the bottom of the dry erase board advertisement was the following sentence:
"...And don't you lay down."
The advertisement, shown below, also included an image of a man down on one knee.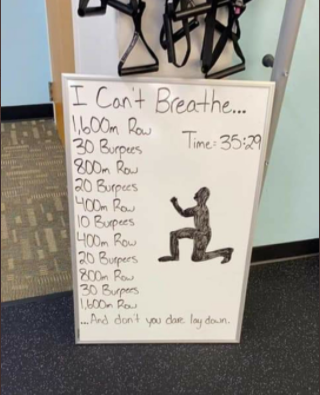 @cashewcruise/Twitter
At the protests, demonstrators have commonly taken a knee to signify solidarity and awareness of the racial bias in law enforcement faced by Black people across the U.S.

Twitter users did not hesitate to blast the company, which has over 4,000 locations across the globe, NBC News reported.
Others accused Anytime Fitness of hypocrisy.
They highlighted the fact that only nine days before this "I Can't Breathe..." faux pas was committed under the company's watch, Anytime Fitness posted a message expressing solidarity with the Black Lives Matter movement.
Here, see the statement published by Anytime Fitness on June 1.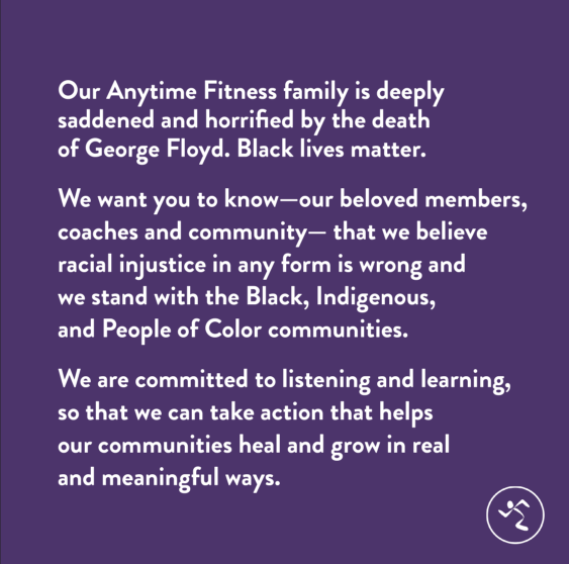 @AnytimeFitness/Twitter
Clearly, Twitter didn't miss the contradiction.
Following the backlash, Jen Dunnington, the co-owner of the Wauwatosa location, released a public apology on Facebook.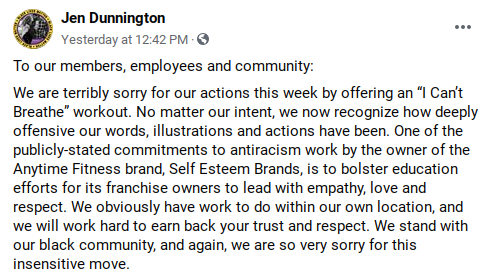 Jen Dunnington/Facebook
In addition, the Anytime Fitness company Twitter also released a statement.
Manyfeltthe apology was not enough.
There is a very fine line between honoring a sensitive subject, and co-opting it for insensitive uses.
The online community apparently feels clear on that line.