A video of a TikTok influencer surprising a restaurant server with a crowdfunded $1,000 tip is making social media users reach for the tissue box.
Lexy Burke, who describes herself as a "Serial Tipper", is based in Nashville and has over 1.6 million followers on the platform.
She collects money from followers for the sole purpose of making someone's day, including servers and musicians, by tipping them an exorbitant amount of money and using Venmo to transfer the funds.
The unsuspecting recipient in the clip was a waiter named "Al," and his reaction to the generous tip was worth all the feels.

@lexylately

Because of y'all we got to surprise Al with $1000, wait til you see his reaction 🥺❤️ #nashville #venmochallenge #give #love #serialtipper #tiptok
At the beginning of the clip, Burke asked Al for his Venmo. Unable to recall his handle on the cash payment app, he retrieved his phone and showed it to her.
"I'm gonna send you a little something, Al," said Burke, as she tapped away on her device.
Al was dumbfounded when he checked his phone and saw the three zeros in the transaction amount.
"No. No," he said, "That's not real life."
To which Burke replied, "100%."
When he asked her if it was something she did regularly, Burke explained:
"I do this thing every week in my TikTok. People send me spare change all the time, and so we go around and leave massive tips. Just to make someone's day."
Being at a loss for words, Al communicated his gratitude by giving the philanthropic patron a warm hug. With his mask worn properly, of course.

@lexylately/TikTok
A text overlay indicated the interaction was: "Venmo challenge recipient #158."
As he left while carrying empty plates, Al told Burke's group :
"Y'all are nuts, in a good way. In a great way, in a vessel sent from God. Thank you so much."
@lexylately/TikTok
The video was posted on August 22 and has been viewed over 1.2 million times. It also racked up 360.90K likes on the video-sharing app.

The warm embrace between waiter and customer resonated with many people.


@lexylately/TikTok

@lexylately/TikTok

@lexylately/TikTok
Others appreciated Burke for tipping Al through Venmo as opposed to through the establishment.

@lexylately/TikTok

@lexylately/TikTok
Servers who saw the video were also moved by the act of kindness.

@lexylately/TikTok

@lexylately/TikTok

@lexylately/TikTok
The video was accompanied by the song, "Don't Give Up On Me," by singer-songwriter, Andy Grammer.
Even the pop star took notice of the video and expressed his enthusiasm for Burke's heartwarming content.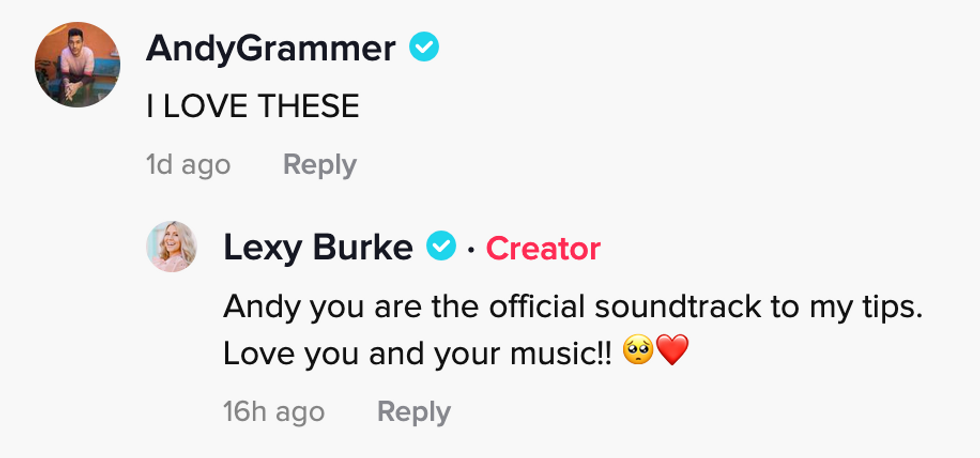 @lexylately/TikTok
According to Burke's TikTok, she has tipped over 150 times.
Burke collects donations from her followers in rounds and is currently on round 21.