A viral video in which a Black teenager was pinned down by a Texas sheriff's deputy has sparked a polarizing debate and controversy on social media.
Nekia Trigg, the 18-year-old girl who was aggressively restrained by the Deputy, echoed a familiar phrase and cried out:
"I can't breathe."
The deputy remained on top of Trigg until she was visibly foaming at the mouth.
She continued wailing, "You're on my stomach."

Warning: police brutality.

A woman made a 911 call on July 27 in Forney, Texas, because she claimed Trigg ran into traffic in a suicide attempt and almost hit her.

According to the Daily Dot, the caller told the emergency dispatcher:
"There's a young lady, an African American lady, that is walking in the middle of the street."
"I almost ran her over and she said that she wants to be run over."
The bodycam footage of the responding deputy, Conner Martin from the Kaufman County Sheriff's Office, showed him approaching Trigg, who was sobbing while walking barefoot on the sidewalk.
He asked her:
"You OK? What are you crying for?"
She told him, "I'm okay," while crying and continuing to walk away.
When she denied intentionally walking into traffic, Martin followed her and grabbed her arm.
"I wanna go home," she said, visibly frightened.
When Martin continued holding her arm with both hands, she started to panic.
She asked him, "Why are you hurting me? Don't hurt me!"
"You can't go walking off, okay?" Martin said.
He repeatedly told her not to pull away and said he had to put her in handcuffs.
"You're hurting me already," she said, crying and trying to call her sister on the phone.
When the panicked teen refused to sit down after Martin told her to do so, a brief scuffle ensued.
The bodycam then fell on the ground and the rest of the footage was obscured from view, but Trigg's wailing was audible.
She screamed George Floyd's final words: "I can't breathe."
Additional footage filmed by a family member arriving with Trigg's sister and mother, Antanique Ray, showed the Deputy laying on top of the teen and holding both of her wrists above her head.
In the video shot by the family member, Ray told her daughter to calm down as she tried to hold Trigg's hand.

At one point, Ray told Martin:
"It's 102 degrees out here. Look at her mouth. She's literally foaming from her mouth."
Ray also asked why Martin did not have his body cam on him.

The news report filed by the Kaufman County Sheriff's Office said Deputy Martin was executing a "control technique" taught by the Sheriff's Office called a "Top Mount," which they described as:
"Commonly used in Ju Jit Su and allows the deputy to control the lower body without impeding breathing and prevents injury to both parties."
Eventually, Trigg was brought to her feet and led away in handcuffs towards a patrol unit.
Ray followed them to the car and asked why her daughter was in handcuffs and also asked for them to be loosened.
When she tried to comfort Trigg by laying a hand on her, the other deputies immediately shoved Ray away from them and she was pinned to the ground.
"I touched my daughter when she said they were too tight," Ray said while being restrained. "I did not touch you."
One of the deputies also pointed a stun gun at the other family members.
One of the family members took count of the number of officers at the scene and was heard commenting in the video:
"Seven, for three little Black girls."
On social media, people had contrasting opinions after watching the video.
Some applauded Deputy Martin for his "professionalism."

"This officer showed nothing but concern for this young lady. He was extremely nice and polite. He did an exceptional job. It's such a shame that some people have to bash officers no matter what they do," said one Facebook user.
"I saw the video. Deputy Martin did a great job!" wrote Facebook user, Kathy LeeMauk. "Thank you for saving this young girl's life. I hope she gets the help she needs in the facility."
Isabel Kingman said:
"OK so I am glad that this was posted because at first I was extremely outraged by how this was handled while I absolutely still agree he needs a refresher course on restraining ( I don't think women regardless of what they are going through... appreciates that kind of restraint)."
"But I don't believe the officer is in the wrong like I did yesterday after only seeing what was posted and in all fairness to the family they have no idea what happened before they got there so their reaction was valid I'm just saying however now that this is released I hope that everybody that's outraged like myself can look at it a completely different way."
"The officer was so calm. He was trying. I don't think he should at all be fired but most definitely again I would think just at least a refresher course. Thats all."
Others, however, were furious over Martin's aggressive tactic in restraining the frightened teenager.


@_thesavageroom/Instagram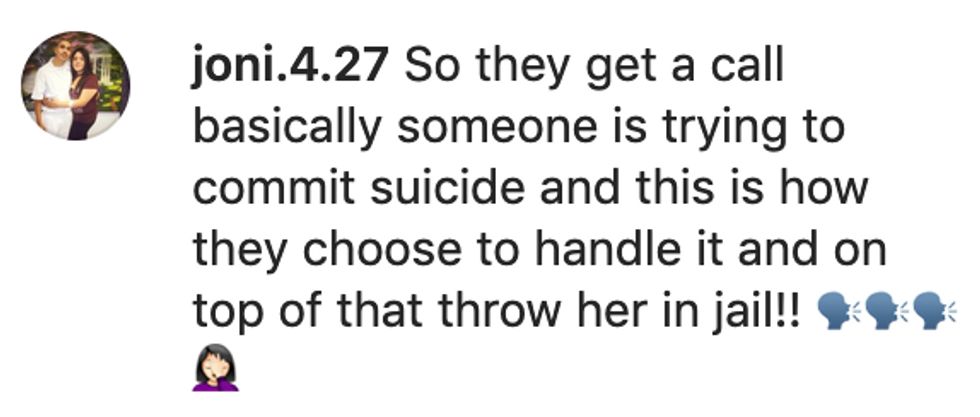 @_thesavageroom/Instagram

@_thesavageroom/Instagram
"Wow, first. She is afraid, and I would too," wrote a concerned Facebook user.
"So many cases of police brutality I would be afraid of being a woman alone with a policeman that's grabbing me instead of talking to me and reassuring me everything will be ok."
"She wasn't armed, she wasn't aggressive towards him, she wanted to be away from him. So yeah he didn't handle the situation as he should've had."
Another wrote:
"You people are Ridiculous! She's a Child for God sake! The officer could've handled this Situation Totally different!!!"
People also expressed their compassion for Trigg.
"This breaks my heart. Mental health crisis shouldn't be handled by police officers," wrote Austin Kelly.
"No disrespect to the police but there should be people trained to handle situations like this where this young lady was clearly only a danger to herself and it only escalated once the police got involved."
The Kaufman County Sheriff's Office's incident report said Trigg was transported to a mental health facility for evaluation, and Martin was placed on administrative leave pending an Internal Affairs investigation.
Ray was charged with Assault on a Public Servant and Interference with Public Duties, along with two outstanding warrants.