A dad-of-two is sprinting into his 50s with the fundraising challenge of a lifetime – marking his milestone birthday by running 30 marathons in 30 days for charity.
---
Hoping to follow in comedian Eddie Izzard's footsteps, who recently completed 29 marathons in 29 days, Danny Watson is launching his plucky venture in memory of his beloved dad, Bob, who took his own life seven years ago, aged 69, after struggling for years with his mental health.
Combining his ambitious undertaking with a personal keep fit drive, charity boss Danny, a former City worker, set himself seven challenges to complete in seven years after losing Bob—saving the biggest for his 50th birthday year.
Running is particularly important to Danny, of Hull, East Yorkshire, who once ran a major marathon with his father.
He said:
"My dad actually ran the London Marathon with my sister Nicola Cotton."
"Then I said I'd run the New York Marathon with him, but this was 20 years ago, and it was a one off."
"We actually crossed the finish line together, although he was one second faster than me."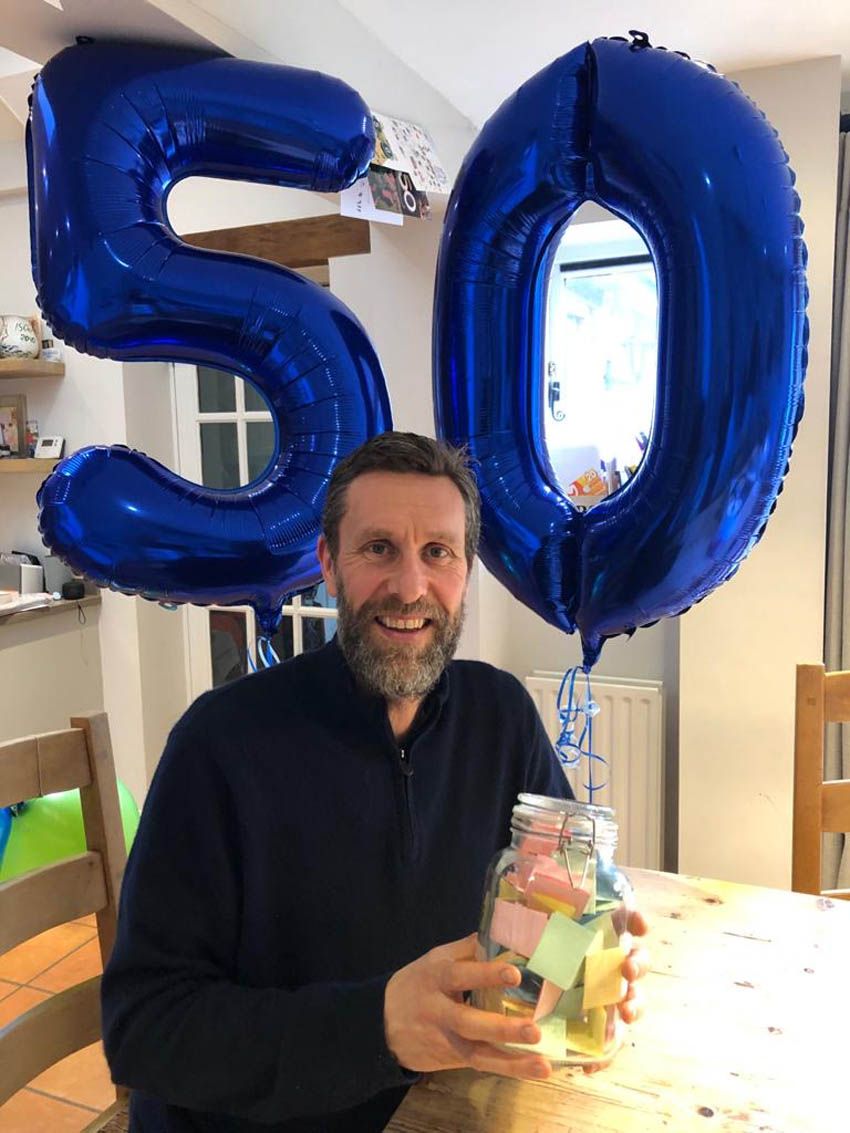 Danny celebrating his 50th birthday (PA Real Life/Collect)
Losing his dad in 2013 made Danny—who has two children, Evie, seven, and Freddie, five, with his wife Lucy Watson, 45, a public relations director—acutely aware of his own mortality.
Already trying to overhaul his lifestyle, after a doctor told him he was out of shape, he launched a mission to complete a series of challenges in his dad's memory and to raise money for CatZero—the Hull-based charity he co-founded in 2009 to help disadvantaged young people.
Speaking as he prepares to run his first marathon in Brighton, East Sussex, on April 16, Danny, who has already raised £80,000 ($100,728) for CatZero and hopes to raise a further £70,000 ($87,978) with his latest venture, said:
"It will be at least 26.2 miles a day, some days even more."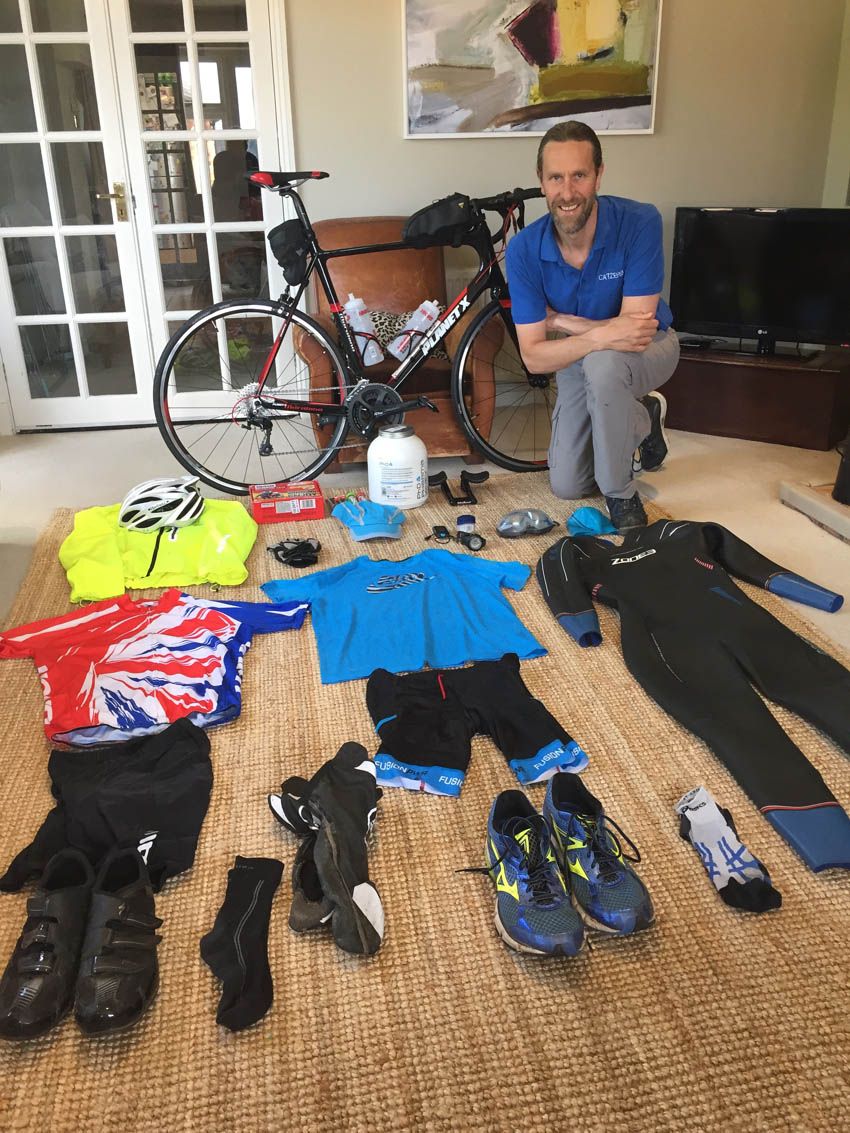 Danny with his kit for the triathlon (PA Real Life/Collect)
"I'll be covering 800 miles in total from Brighton up the east coast to John O'Groats in Scotland."
It will be a massive achievement for Danny who admits that, when a routine medical examination in 2011 revealed that at 6ft 4in and almost 16 stone, he was "on his way to becoming obese" he was not fit enough to run a mile.
But, having since shaped up and shed three stone, the keen sailor, who twice skippered boats that completed the Round the World Yacht Race—in 2005/06 and 2007/08—now hopes he will take the marathons in his stride.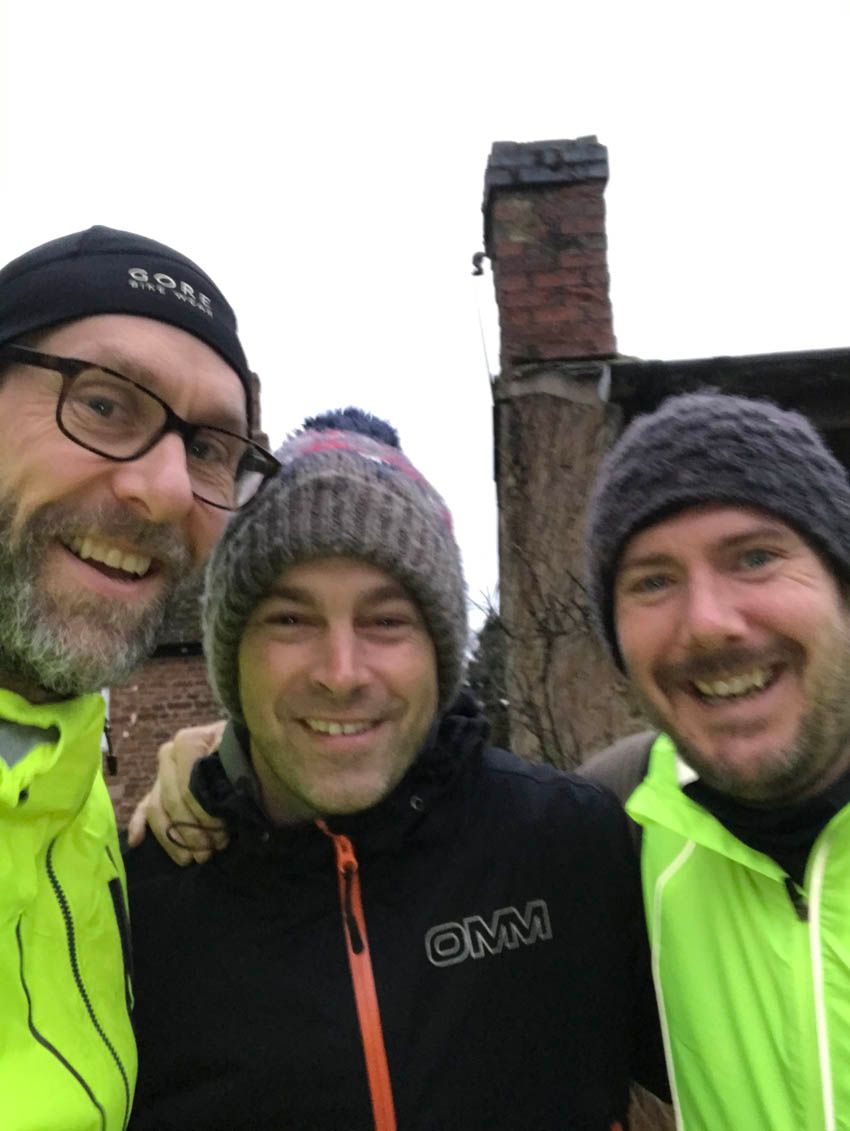 Danny training for 30 marathons with pals (PA Real Life/Collect)
He said:
"Mentally, I'm in a good place and my body feels in a good place to take it on."
Despite his love of sailing, when his doctor told him he needed to watch his weight, Danny said his lifestyle was very sedentary.
He said:
"Being told I was on the edge of being obese blew my mind. It was a real wake up call."
He added:
"I was almost 16 stone (224 pounds), but I'd been really fit throughout school and used to compete in squash, so I didn't really see it coming."
"I was used to sailing where I'd be cooped up for days, not doing any cardio. I'd have bursts of energy, but there was no real plan of exercise."
"Then I'd come home and drink and eat, so the weight slowly built up."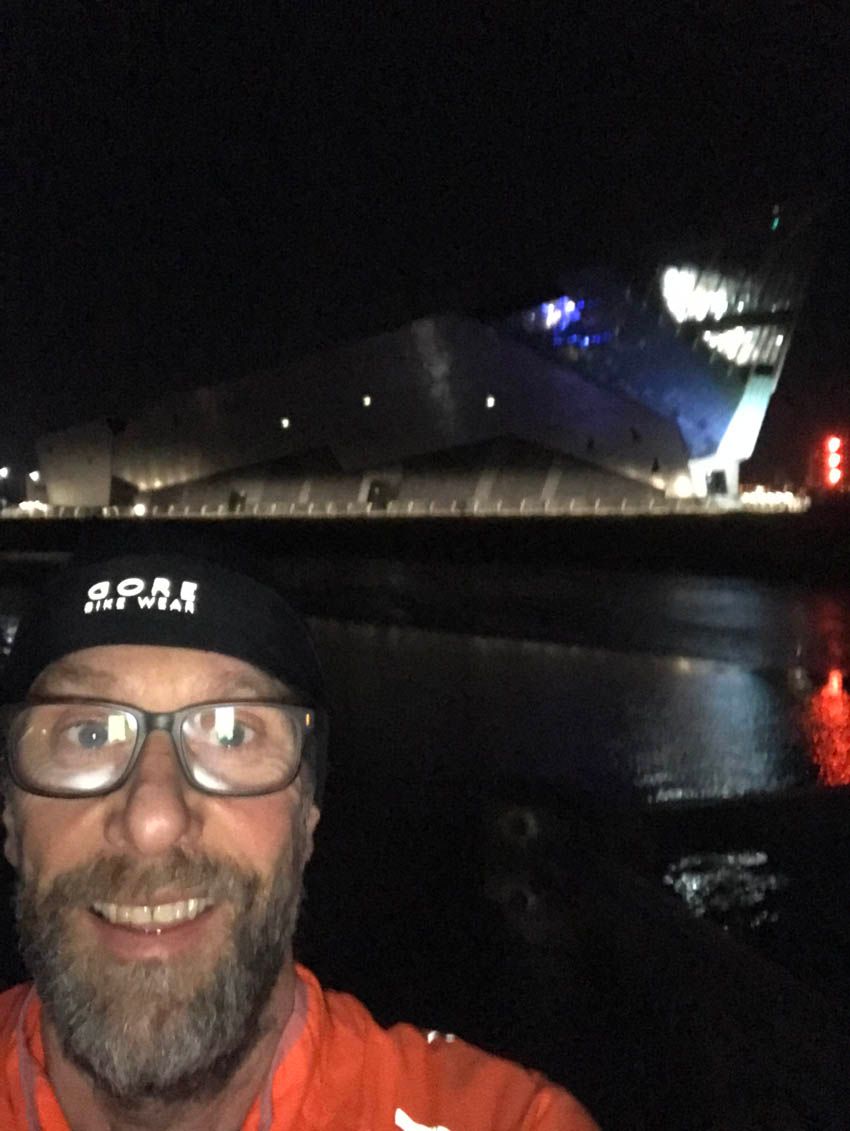 Danny training for 30 marathons (PA Real Life/Collect)
Danny continued:
"Back then, I tried to go for a run and before I'd even hit a mile I was struggling to breathe, bent over double, with my hands on my knees."
Determined to get back in shape, Danny ordered an eight-week high intensity work out DVD—getting up at 4.30am every day to complete it.
He also quit drinking alcohol and lost three stone (42 pounds).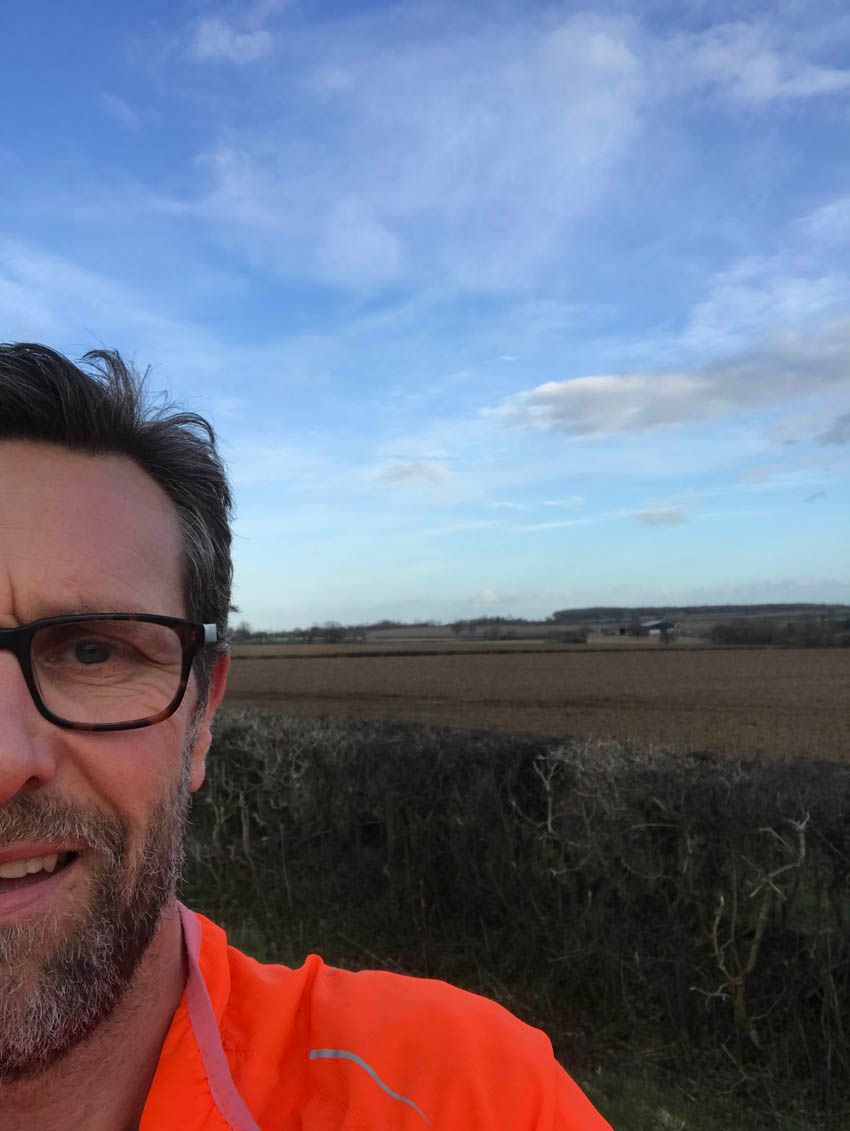 Danny training for 30 marathons (PA Real Life/Collect)
Then, following his father's death, he began the first of seven challenges in his memory by running the Stratford-upon-Avon marathon in Warwickshire in 2013 with assistant running track manager Nicola, 47.
He said:
"Running was something we'd both done with Dad."
"The last stretch was the worst two hours of my life, but we managed to do it in 3 hours 54 minutes. Nicola kept saying, 'Keep going and we can break four hours'."
Danny, our director of sailing, is running 30 marathons in 30 days to support disadvantaged families in our region.… https://t.co/9If3rMfVcu

— CatZero (@CatZero) 1583752685.0
Danny explained:
"His death also made me think how life is precarious and short. I was 43 years old at the time and wanted to test myself and give myself a goal for each year before I was 50."
"There was a long-term goal of achieving good health and well-being, but I also had specific goals."
"I had a young family and wanted to be as strong and healthy as I could for as long as possible and to get as much out of life as I could."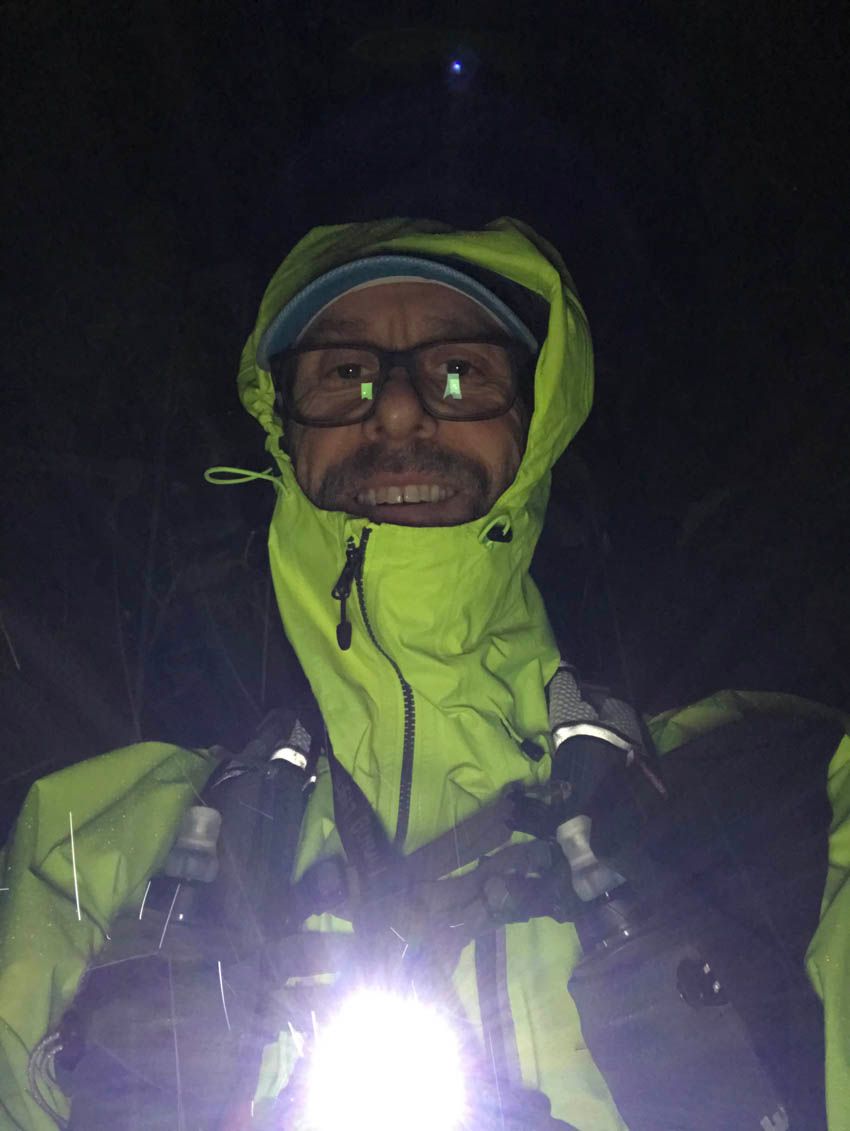 Danny training for 30 marathons (PA Real Life/Collect)
Danny's second challenge the following year was to cycle 170 miles across the UK from Liverpool, Merseyside, to Hull, which he did in two days and now does every year.
Then, the following year, Danny swam a mile and a half across the Humber, a tidal estuary near Hull and, having secured a place in the London Marathon, completed that in three hours 24 minutes.
"The London Marathon was a complete change from the last marathon and it started my love of running."
One of the big things is getting out of the way of yourself and away from negative thoughts,
Danny Watson
"I would get up early every morning and go for an hour's run to start the day."
Danny also took up meditation and mindfulness, boosting his mental health and helping him to keep going when he felt like giving up.
"One of the big things is getting out of the way of yourself and away from negative thoughts."
"I was telling myself it was just putting one foot in front of the other and got into a sort of flow, achieving this lightness of being."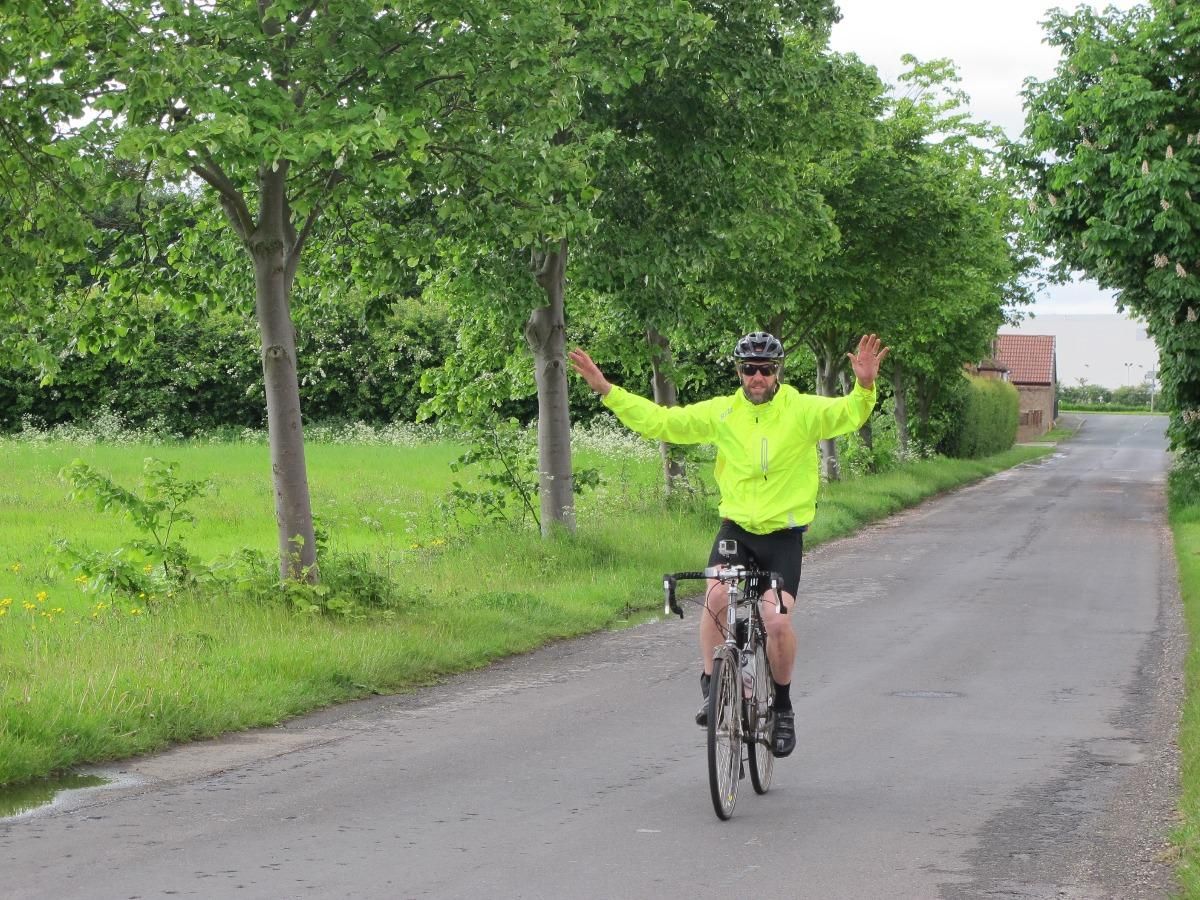 Danny cycling (PA Real Life/Collect)
Then his fourth challenge in 2017 was an Ironman distance triathlon—a 2.4 mile swim, then a 112-mile cycle ride followed by a marathon in Whitchurch, Shropshire—which he finished in just over 12 hours.
The next year, in 2018, he cycled just short of 1,000 miles from John O'Groats at the top of Scotland to Land's End in Cornwall and last year, for his sixth challenge, he ran a 69 mile ultramarathon along Hadrian's Wall from Carlisle to Newcastle-Upon-Tyne in 13 and a half hours.
Now, after celebrating his 50th birthday on February 18, he will be starting his 30 marathon challenge on April 16.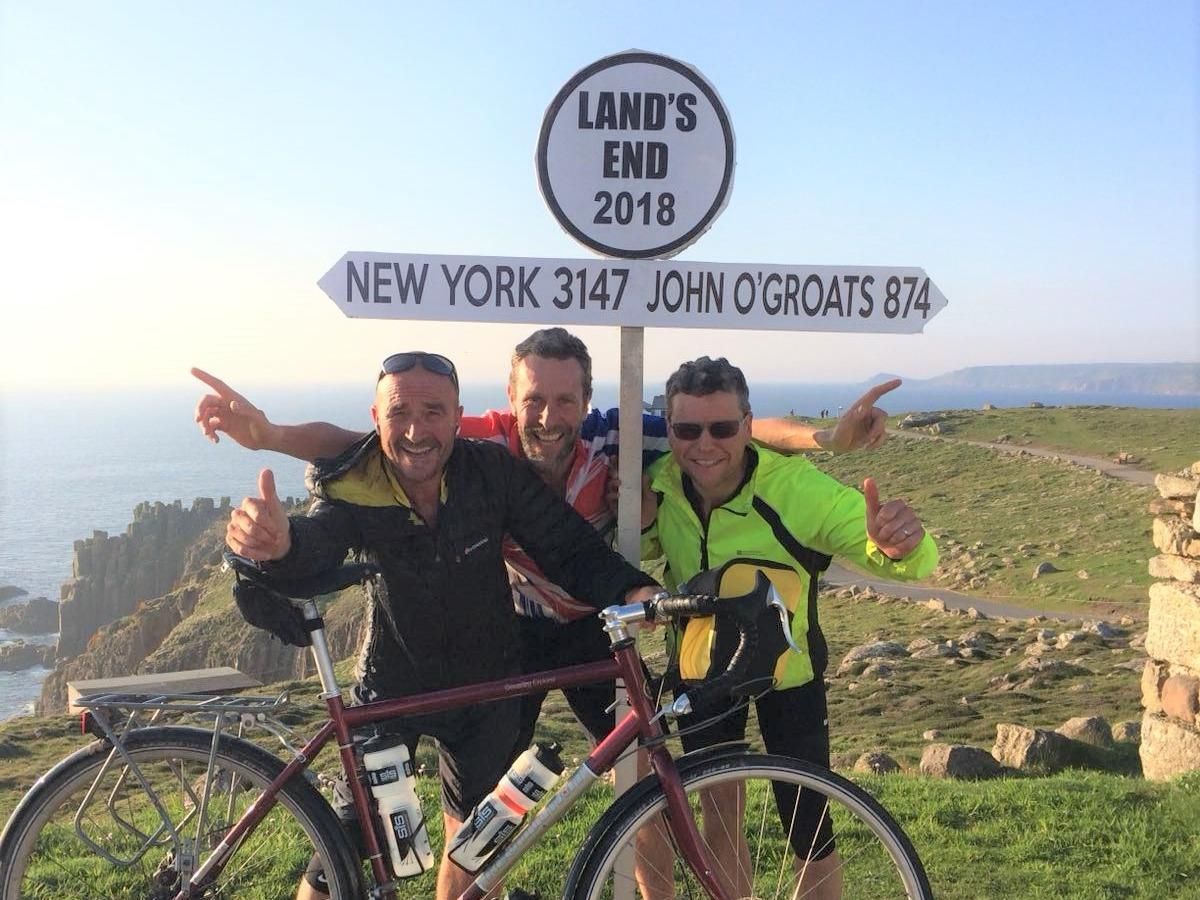 Danny cycling from John O'Groats to Land's End (PA Real Life/Collect)
During the 30 days—completing at least the length of a marathon each day—he will run from Brighton, along a route taking in Greenwich, south east London, up through Cambridge, Boston and Grimsby in Lincolnshire, then to Hull, York, Durham and Newcastle in the north east and on to Edinburgh, then Inverness, before finally finishing in John O'Groats on May 15.
He hopes to raise more than £70,000 ($87,978) for CatZero, the charity he helped set up with businessman and now chairman, Jim Dick OBE, and youth development specialist and director of operations Dave Bertholini, in 2009, shortly after Danny skippered the Round the World Yacht 2007/08 race on board the Hull and Humber yacht.
The charity's aim was to help young people from disadvantaged backgrounds in Hull to benefit from the opportunities the race brought.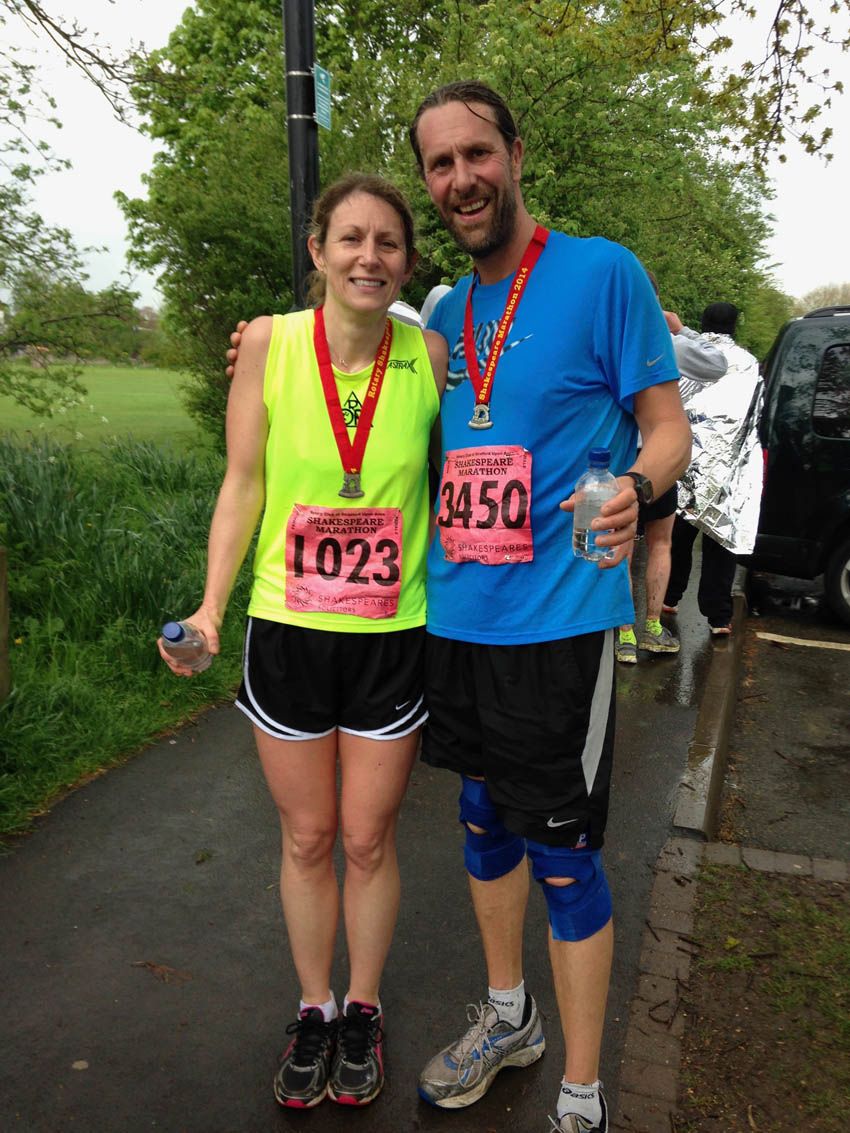 Danny and his sister Nicola running a marathon in Stratford-upon-Avon (PA Real Life/Collect)
Participants would take part in a six-week course onshore, then an eight to 10 day sailing challenge, followed up with a move-on process to get the young people back into education, employment and training.
With a success rate of nearly 70 per cent for that first program which helped 16-to-19 year olds and lasted three years, CatZero now provides 12-week training courses to help people move into employment, education or training- financed by fundraising, the amount of which is matched by grants from different organisations and trusts.
With the 30 marathons idea inspired by Eddie Izzard's recent marathon challenge, Danny said of his training:
"I've been listening to a lot of podcasts on endurance athletics. I started running for three days a week and have built it up from there until now I'm running every day."
Did you know that every pound you give to Danny's 30 marathons in 30 days is doubled and goes to supporting some of… https://t.co/ZkR0GqhtQY

— CatZero (@CatZero) 1583312317.0
"Eddie Izzard has been an inspiration to me. When he did those first 43 marathons it absolutely blew my mind. It showed you can take on these challenges and help others."
"In February I ran on 25 out of 29 days covering 316 miles, but that's not even half of what I will be doing."
"I was running through Storm Ciara and Storm Dennis, building it up slowly."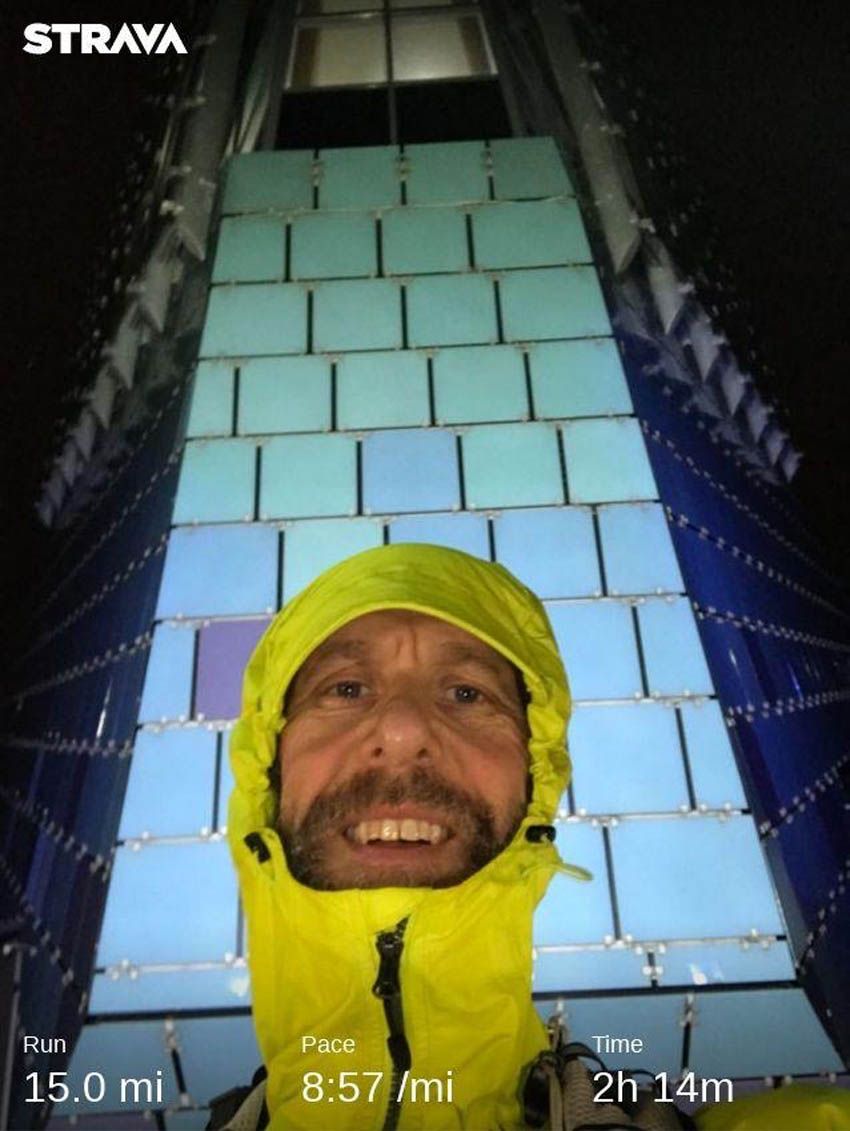 Danny training for 30 marathons (PA Real Life/Collect)
Danny continued:
"It is amazing how the body adapts and next week I'm planning to run a full marathon on three days."
Danny has been on a plant based diet for the last year and a half, and is eating lots of soya porridge, smoothies, flax seeds, rice, pasta, fruit and veg and the odd flapjack, to get him through training.
"I'm aware that not everything will go to plan, but I have a good team around me. I've got Across the Divide, the team behind the Children in Need rickshaw challenge running the event, liaising with local councils and the police, dealing with the logistics, providing chaperon runners and a physio."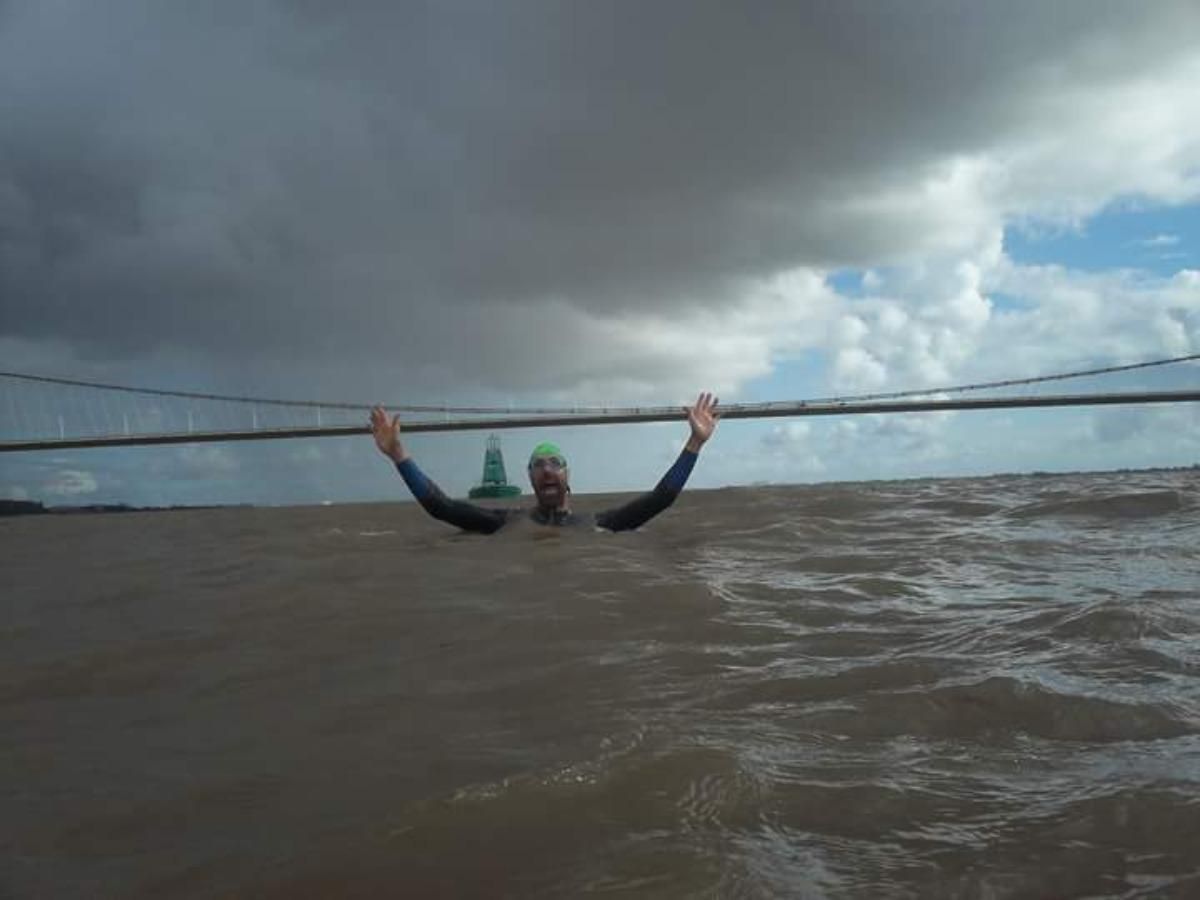 Danny swimming the Humber (PA Real Life/Collect)
Danny, who has also had support from celebrities like DJ Fatboy Slim, also hopes he will inspire some of the kids he works with.
"I've become a testament to the fact that you really can change."
"With the kids it shows them you can achieve anything you put your mind to, if you break it down and are disciplined about it."
For more information visit the CatZero website here and to donate click here