As if broadcasting from within a television studio during the pandemic wasn't dicey enough, the ESPN Colombia television set recently became home to a whole new level of chaos—an entire wall falling directly onto a host.
The collapsing wall, which rained down on soccer analyst Carlos Orduz, fell so suddenly and fast you'll have to watch this clip a few times to witness the incident.
As if it happened on the set of an action film, the wall buried Orduz's face into his seat at the studio desk.
Thankfully, Orduz left the calamity with only some minor bruising and, of course, a bump on the nose.
In a tweet, he thanked fans for their concerns and well wishes, and also assured them a medical examination ruled out any serious issues.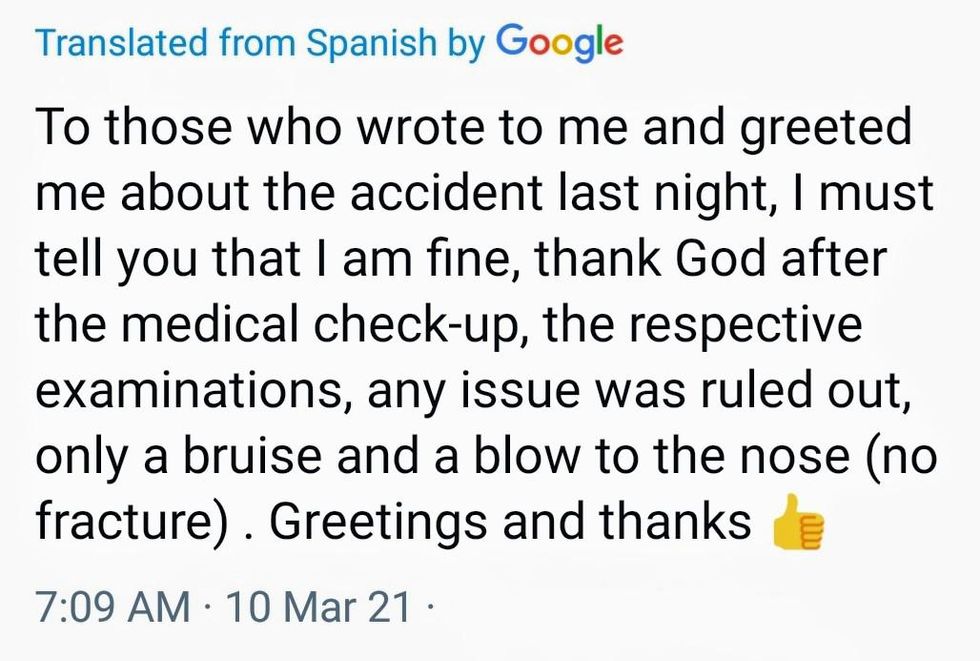 @orduzrubio/Twitter
He went on to post a video reassuring fans as well.

When people saw the accident clip, they couldn't believe the response of Orduz's co-hosts.

For one person, the incident brought to mind a diabolical scheme.
Some viewers took advantage of the pun opportunities.


Michael Perry/Facebook

Stacy Barrs/Facebook
We're so glad Orduz was able to escape the incident with only those minor injuries. And we hope he can keep analyzing soccer for the years to come without contending with the walls falling down around him.