It was another day and another gaffe coming from Donald Trump's Twitter account.

The president tweeted a concern that was undermined by a typo that had Twitter tickled pink. It was removed 30 minutes later with another replacement and a subsequent followup.
Fortunately, the Huffington Post kept receipts.
---
Trump targeted the FBI and demanded the agency to submit text messages written by ex-deputy director Andrew McCabe to conservative advocacy group Judicial Watch.
But in his rant, Trump typed "text massages" instead of "text messages," which injected an awkward tone to his otherwise stern command.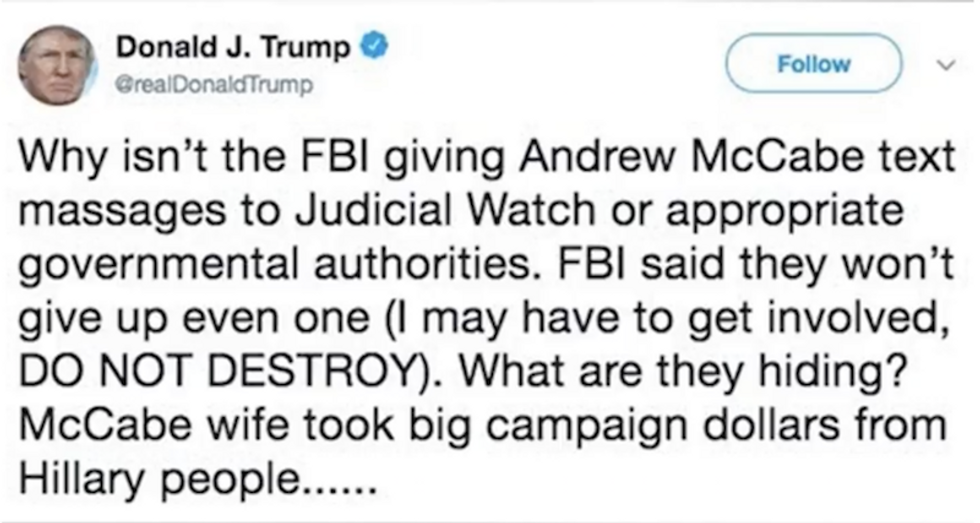 A screenshot of the deleted tweet taken by the Huffington Post.(INSO/YouTube)
The misstep was removed and replaced with this pair of tweets.
However, Trump managed to bungle the followup by typing "it's" instead of "its."

Naturally, Twitter had a field day over the president's typo.

Is Trump onto something extraordinary we haven't discovered yet???
McCabe was fired by Attorney General Jeff Sessions mere hours before his retirement in March. The former deputy was often targeted by the Trump administration and accused of giving false information to investigators during the 2016 presidential election.
Despite Trump's suspicions that the departed deputy concealed something in his communications with the FBI, it's difficult to take the president seriously when he's too concerned about the bureau giving "text massages" to anyone.

H/T - YouTube, Twitter, Huffington Post, USAtoday