Always eager to find someone who agrees with him, President Trump surprised no one by acting like a bit of a weirdo on Twitter this past Monday, June 15.
Prompting the mockery of critics everywhere, President Trump retweeted himself, adding the reply:
"So true!"
It doesn't take a genius to see how retweeting oneself might make you look like a bit self-absorbed.
Or not very observant.
Did he not know he was agreeing with himself‽‽
Randomly agreeing with himself turned out to be a strange habit of the President as the Twitterverse found more examples.
What's more, considering current polling consistently placing Donald Trump behind former Vice President Joe Biden, there is little evidence Trump's claim is accurate.
Unless he is calling those who oppose him the silent majority.
People are finding the President's behavior seems even more unstable than usual lately which they also pointed out to the President.
People accused the President of talking to himself.
A very stable genius indeed.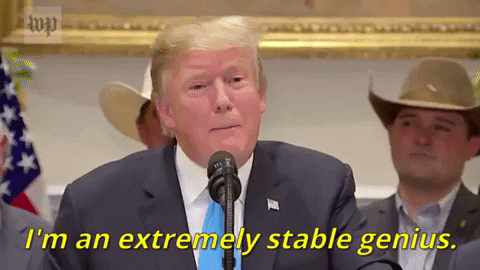 Donald Trump Stable Genius GIFGiphy