You may remember the blue and black (or gold and white) dress that circulated on the internet a few years ago. Now, we are seeing a similar story with the green hat that turned brown once it left the store.
A TikToker went viral when she revealed the "color changing" hat she thought was an olive green when she bought it, only to see it was brown when she had it in her home.
The TikToker, @oteliacarmen, an interior designer, shared the video that got over four million views and 663.8 thousand likes.
Carmen went from room to room and showed us how the warm lighting made it look brown but the cool lighting made it look green:
"So I bought this green hat at the store today and when I brought it home and took it out I was like, 'Why is this brown?'"
"Then realized [it was] metamerism!"
"This is why lighting is so important in interior design."
She captioned the post with:
"Why lighting should be just as important as color/material selections!!"

Some people really were not ready to have the internet argue over what the real color of the garment is.

@fatloona/TikTok

@mck3nners/TikTok

2tinymakesthings/TikTok

@esah1005/TikTok

@minkeena/TikTok

@angelaaerial/TikTok
Some people really wanted to know what was going on.

@florble/TikTok
Carmen took the hat from the artificial lighting in her dining room and brought it out into the yard.

The hat is not meant to change based on sun rays or temperature, but the sun revealed the hat is indeed brown.
She also showed the tag on the hat. It didn't say what color it was supposed to be and it definitely didn't say it was a color changing hat.
Carmen said:
"I wish you could see what I'm seeing in real life because even in my bedroom right now the hat looks more like an olive green and in the video it still looks a little more brown."
A commenter asked where she got the hat so she went back to the Marc's she bought it from and showed the difference in lighting. Sure enough, as she walked into the store it turned from brown to green.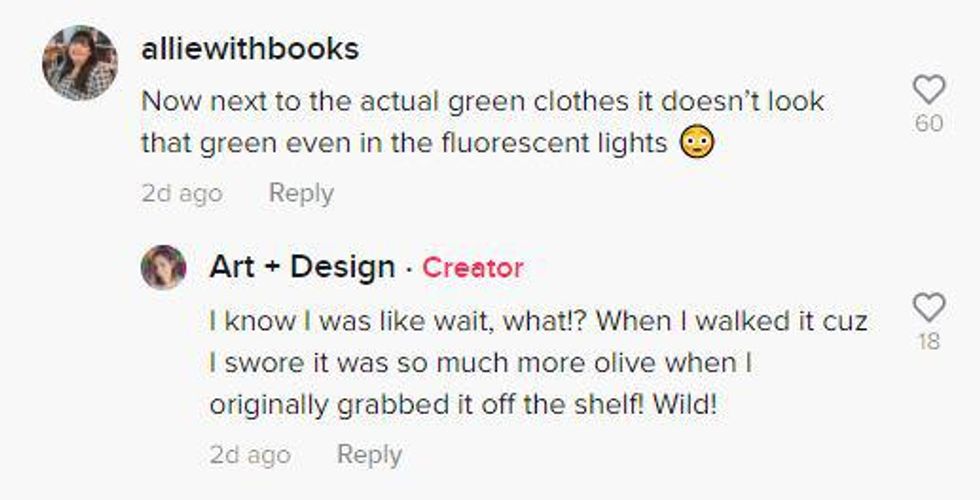 @alliewithbooks/TikTok; @oteliacarmen/TikTok
Carmen had been getting a lot of people thinking it was photoshopped or edited in some way, so she brought it to her parents house to get some witnesses on it.
She captioned the video:
"Do you believe it now!? Brought the hat to my parents house to test it out with witnesses!"
Carmen walked from one lamp to another to show the difference in color. The woman she was with was in disbelief and even gave it a try herself multiple times.

@mama_foxx87/TikTok

@lonernation/TikTok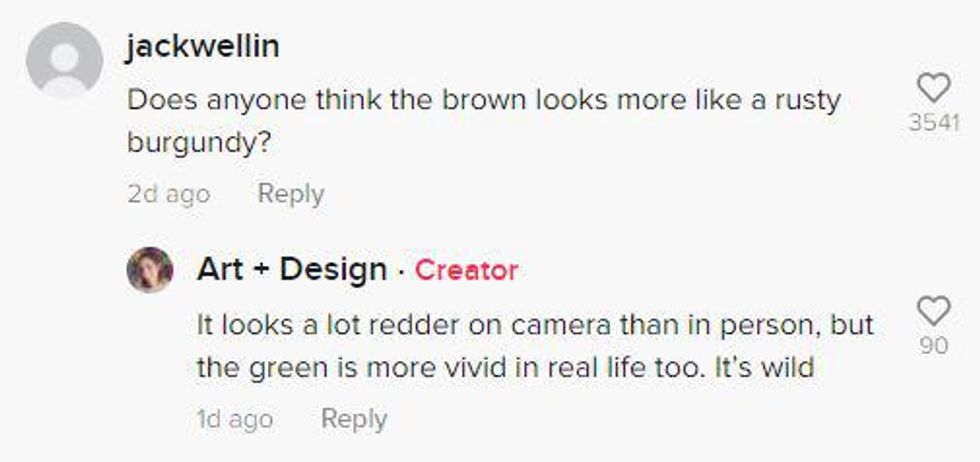 @jackwellin/TikTok; @oteliacarmen/TikTok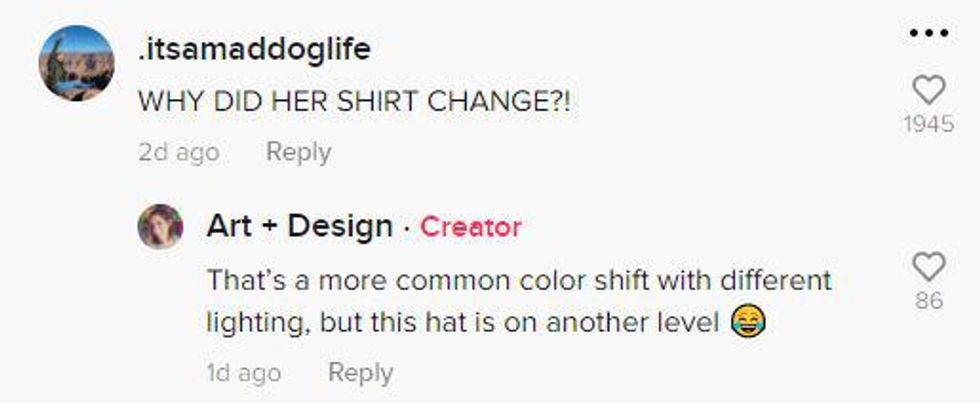 @itsamaddoglife/TikTok; @oteliacarmen/TikTok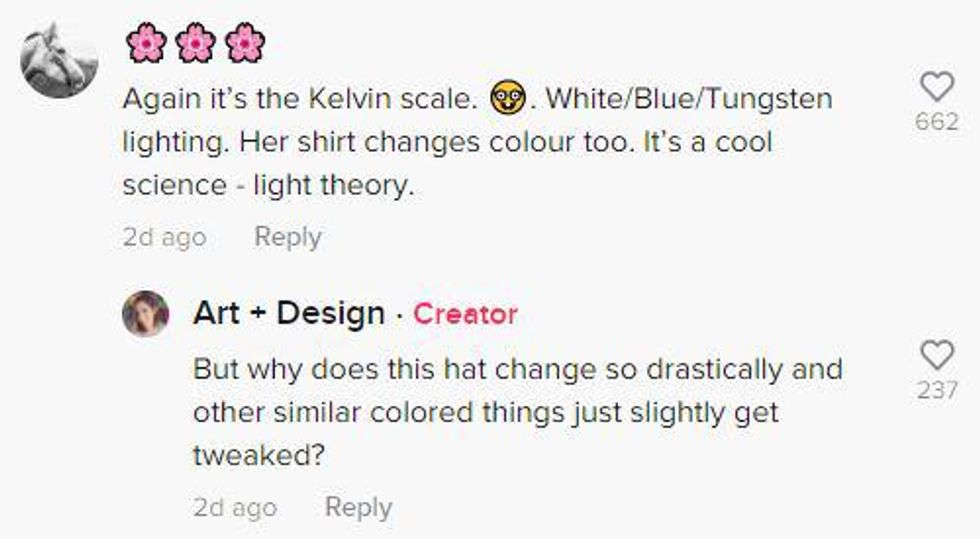 @demecca/TikTok; @oteliacarmen/TikTok

@taylergreen0/TikTok; @oteliacarmen/TikTok
In all of her videos, someone tagged popular scientist and educator Hank Green who has been talking about color and how we perceive it in his own videos.

@millennialloteria/TikTok
Eventually, Carmen explained how we perceive light and color, proving to everyone once and for all the hat is not a trick.
"So color is light."
"It's part of the electromagnetic spectrum that is visible."
"So when light is shining on an object, that object is actually absorbing wave lengths."
"The wavelengths reflected back to us are the colors we perceive."
"Now, with the hat changing color from store to store, to my home, room to room, or lamp to lamp even is because there are different temperature lightbulbs with varying color distribution of these wavelengths."
She shared grocery stores specifically are designed with lights that bring out the red in apples, for example, so they look fresher. The lights in her room are florescent, bringing out the green in the hat instead of the red.
Carmen still isn't sure why the color of this hat is so dramatic, especially since most clothing products will go through extensive metameric testing to be sure this color change doesn't happen.
She thinks this may have been a discarded product Marc's was selling straight from the manufacturer's trash pile. Though, Carmen would really like to know just how this was made because she thinks it would be cool to see products made with the intention of color change.
We're glad she explained it so we don't have another blue or gold dress debate all over again.