Popular TikToker Bobbie Prestes (@bobbiecurtislee2.0) posted about a freaky encounter with an Uber Eats driver that showed up in the middle of the night.
Normally Prestes shared "strange and unexplained" stories on her main TikTok account, but this time she shared her own story about a man who had previously delivered food to her and her husband's home.
The first time he delivered for them, Prestes had a typical conversation with the man as her and her husband sat on their front porch. He explained he used to live in their neighborhood, he really enjoyed their house and he went to the nearby elementary school.
Prestes shared she too went to the elementary school, but they were nowhere near the same age.
They hadn't seen him since that night until Prestes' husband was approached by the man in the middle of the night with an order of taco bell.
He had been sitting on the porch drinking coffee before bed, which is typical for him.
The man approach him and the first thing he said to him was:
"Hi, do you remember me?"
The situation was already strange because Prestes had already been sleeping, so she couldn't have ordered the meal and neither did her husband.
The man also made a comment about their pool.
"He said something along the lines of, last time I was here you guys still had the pool open but doesn't look like it anymore."
"My husband just kind of looked over at the pool area and was thinking, 'How does he know that the pool is closed?'"
"Our entire area of the pool is fenced in and it's pitch black out."
"There are no outdoor lights on and it's storming."
"There is almost no possible way for him to see into the pool area."
Prestes also took a picture of the order that had an Uber Eats logo on the receipt, but Prestes' name was not there.
She also searched for Taco Bell's that deliver in her area, but found none of them deliver past 9:00pm to her neighborhood. It wouldn't make sense for this to be a simple mix up in the address if no one near her could even order at that hour.
Prestes heard of another woman on TikTok getting texts from an Uber Eats driver saying he had a delivery when she never ordered anything and reported it to Uber. It turned out that driver didn't even work for them.
Prestes did another video to answer questions about the situation.
@bobbiecurtislee2.0

Reply to @bobbiecurtislee2.0 #greenscreen #TreatiestCupContest #creepy #viral
She and her husband have bought security cameras.
Prestes said it was the first thing they did since this wasn't the first time she's dealt with a stalking situation.
They do have security cameras in their garage and facing the driveway, but they hadn't noticed anything unusual. However, because they live close to an elementary school they get a lot of traffic and he could have been driving by without them knowing.

@vecks27/TikTok

@xox.lana2/TikTok

@fmlifehaha/TikTok

@arab.in.south.dakota/TikTok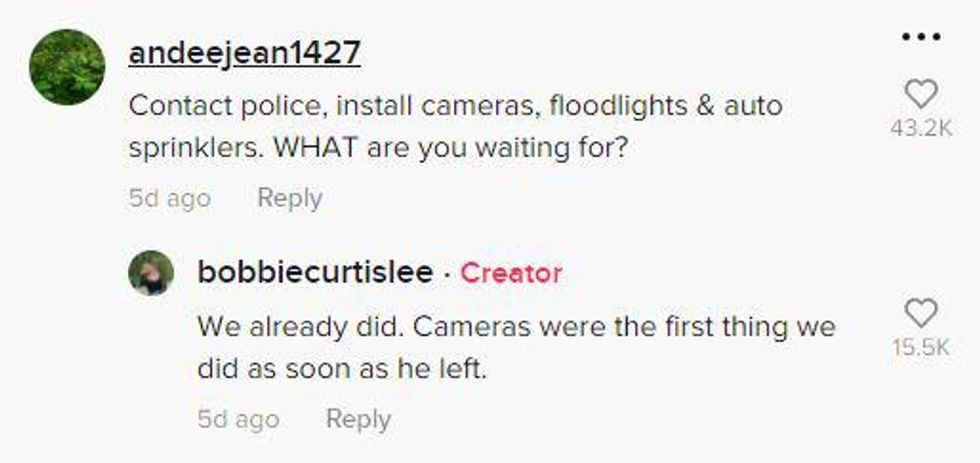 @andeejean1427/TikTok; @bobbiecurtislee/TikTok

@lizzymcguire419/TikTok

@holly_ray90/TikTok

@kreeves93017/TikTok
Because the video got so much traction, Uber reached out to Prestes.
She was able to confirm it was a mix up. The man was supposed to deliver the food to someone in the area.

But Prestes isn't so sure this is the case.
"The best way I can explain it is that our mailbox is on a different street from where our driveway connects."
"Meaning that we have a lot of neighbors whose address is on the same street as ours but our driveway connects to a one-way street and we are the only house on that one-way street."
She explained delivery drivers get lost all the time going to their house.
"Obviously, yes, he had been there before."
"And I'm hoping that he saw an address that was close to mine and he just assumed that it was my house."
"And because he's already been there before he knew exactly where to go."
"I really, really want that to be the case."
"I guess I'm struggling to wrap my mind around it."
It does seem like a stretch the way she explains it.
Maybe it's better to be safe than sorry.