Just before Christmas 2018, the world threw itself into a hopeful tizzy when Ian Ziering, Jennie Garth, Tori Spelling, Jason Priestley and Brian Austin Green were all spotted together getting coffee.
---
Yeah, that's nearly the entire central cast of 90's smash hit Beverly Hills, 90210.
The group of actors isn't known to just casually hang out together like that—so it obviously got fans talking. It had to mean there was a reboot of Beverly Hills, 90210 in the works, right?
Fans lost their minds with excitement—but it may have been a bit premature.
Insider reports have confirmed that there is no Beverly Hills, 90210 reboot happening.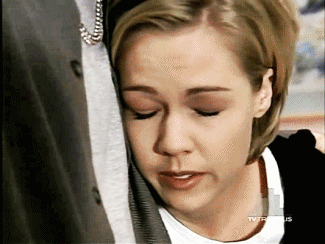 GIPHY
Hold those melodramatic slow-mo tears, though.
Not all is lost.
There may not be a reboot happening but there is absolutely a project related to the show and involving the original cast. Rumors of a reboot have been in the works for literal decades, but nothing has come of it.
So creators of the new project have (allegedly) decided to just run with that joke. If rumors prove true, we should get a sort of Spinal Tap style mock-umentary about how impossible it is to make a Beverly Hills, 90210 reboot to happen.

Admit it, it's kind of a brilliant workaround.
Sources say that Luke Perry and Shannen Doherty are not signed on to the project at this point, so maybe Brenda ran away with Dylan? There is no information about how the writers will tackle their absence yet.
Jennie Garth, Jason Priestley, Tori Spelling, Ian Ziering, Brian Austin Green and Gabrielle Carteris have all agreed to play over-dramatized versions of themselves.
There are still tons of unanswered questions, but what we do know for sure is that people are definitely interested.
Everyone has their reasons, ya know?

Beverly Hills 90210 was peak television when will y'all notice

— summerboy (ง'̀-'́)ง (@summerboy (ง'̀-'́)ง) 1546407759.0
@AmyMistretta Even better really!

— Lori Wilson (@Lori Wilson) 1546463313.0
Why is watching Beverly Hills 90210 making me feel more confident and comfortable with myself????

— ✨mary✨ (@✨mary✨) 1546402448.0
@TVLine All I want is Brenda and Dylan #BH90210 https://t.co/dMJPhYTrLp

— Shan's Leelah (@Shan's Leelah) 1546464254.0
Impulsively put on the pilot episode of Beverly Hills, 90210 over the holiday. We're now almost 20 episodes in. It… https://t.co/kFT2Rv9Sdm

— Melody Malosh (@Melody Malosh) 1546463644.0
Beverly Hills 90210 in 2019. The stars and numbers are aligned.

— Ben.adryl KeepinitReal (@Ben.adryl KeepinitReal) 1546354454.0
Honestly Beverly Hills 90210 gives me all of the men in crop tops and short shorts that I need https://t.co/jfBPdnIwlx

— dill (@dill) 1545938918.0
So if this 90210 reboot really happens and doesn't have @DohertyShannen or Luke Perry and a Brenda/Dylan reunion th… https://t.co/vJWcfUceGF

— Amanda | Lady Gaga ⭐️ (@Amanda | Lady Gaga ⭐️) 1545989565.0
We want your thoughts—do you like the idea of a mock-umentary style show?