Tag
Barry Brecheisen/Getty Images, @AlexaLisitza/Twitter
American rapper Megan Thee Stallion made waves when she joined forces last year with fellow rapper Cardi B and collaborated on the popular and controversial song "WAP."
The song received critical acclaim for its sex-positive message but was also met with backlash from conservatives for its raunchy lyrics.
The duo's first performance of the song at the 2021 Grammys led to over 1,000 FCC complaints from angry viewers who compared the explicit content to pornography.
If social conservatives were upset by that performance, we hope they missed Megan's latest rendition of "WAP," the American Sign Language Edition, at Lollapalooza last weekend.
As the Grammy winner twerked her way through the fan-favorite at Chicago's annual music festival in Grant Park, her ASL interpreter stole the show with her own moves.

You can watch the clip of the performance, below.

EXCUSE ME BUT THE SIGN LANGUAGE INTERPRETER DURING MEGAN'S PERFORMANCE OF WAP MUST BE SEEN https://t.co/6p590p5YS2

— Alexa Lisitza (@Alexa Lisitza) 1628004505.0
The energetic performance generated sudden interest from people wanting to dabble in ASL.

@AlexaLisitza What part of sign language school is this part? https://t.co/mjEtbDHXzY

— matt (@matt) 1628033073.0
@AlexaLisitza @WrittenByHanna I need to know the ASL class they teach this in🤪😩😩😭 https://t.co/RxvL3r1IoM

— 📌Elijah Zelaya (@📌Elijah Zelaya) 1628016741.0
@AlexaLisitza @SplathouseFic I love that having sign language interpreters is both great for accessibility AND adds… https://t.co/RW2TH2BDbE

— Mel, 2021 Edition (@Mel, 2021 Edition) 1628008143.0
The interpreter earned mad respect for her skills.

@AlexaLisitza @IsaacFitzgerald This is the most amazing thing

— Jessica Ferri (@Jessica Ferri) 1628005084.0
@AlexaLisitza That's where you know the interpreter is actually interpreting, and not just signing the lyrics. Ther… https://t.co/ituGxtdIfh

— Squishy_Ho (@Squishy_Ho) 1628013154.0
@AlexaLisitza I love videos like this because they demonstrate a level of talent and professionalism which is equal… https://t.co/QLONs0hOn4

— Brian Ragle (@Brian Ragle) 1628075999.0
@AlexaLisitza Sign Language Interpreters are always MVPs in my book. https://t.co/4pc4bfLf7E

— Lee A. Kirabo (Kee-rah-boe) (@Lee A. Kirabo (Kee-rah-boe)) 1628028701.0
One Twitter user jumped in to dismiss any skepticism about the accuracy of the interpretation. David Allan Hoe tweeted, "I consulted a professional ASL interpreter this sh*t ain't made up neither!!!!"
A screenshot showed the exchange that verified the interpretation was legit and said, "That b*tch killed it" and it was "like perfect."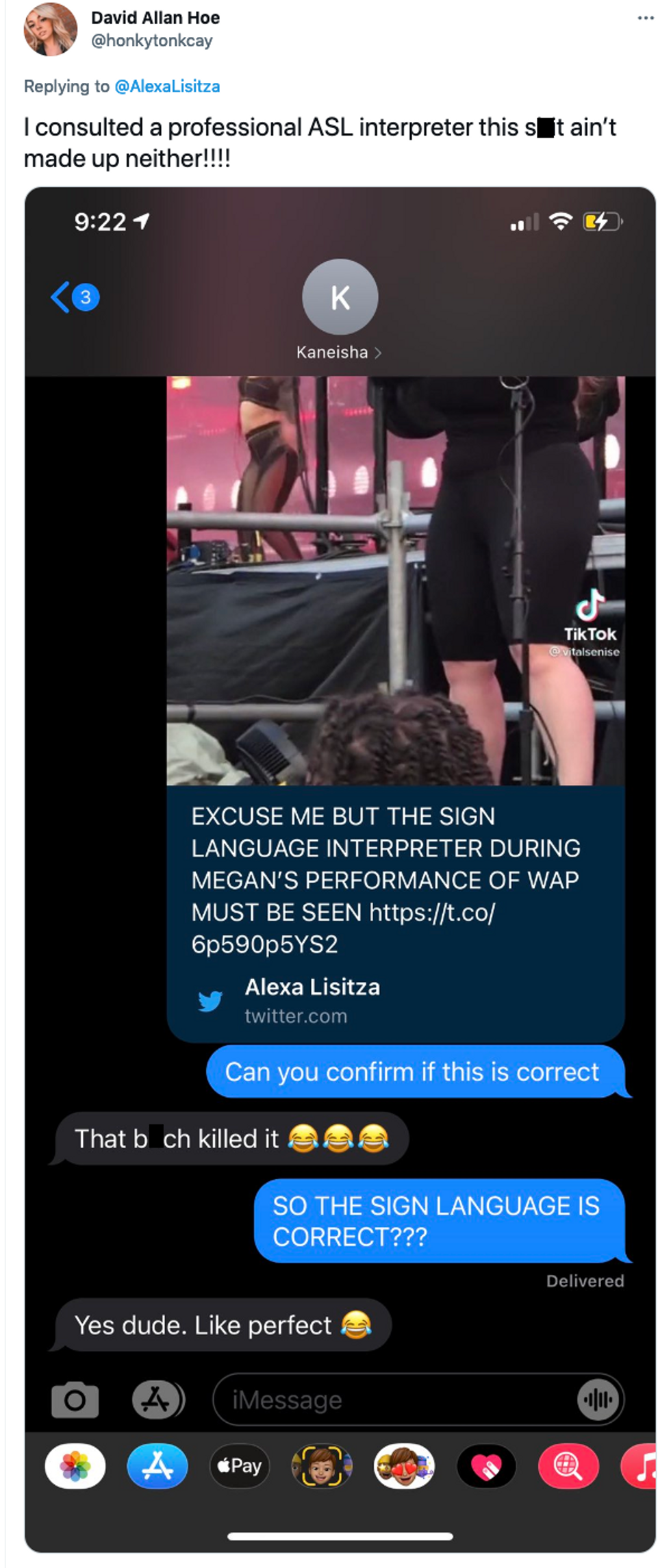 @honkytonkcay/Twitter
The ASL interpreter was identified as Instagram user @Kelly4Access, who responded to all the attention since the clip went viral.
In the caption for her IG post, she gave a shout out to deaf ASL teachers, influencers, and content creators:
"Thanks for the love on my page from hearing people but I'm just an interpreter passionate about providing access to a community I love and have learned everything from."
Her post read, in part:

"If you're still wondering why deaf and hard of hearing people go to concerts follow these pages and learn something new."
"Seeing an interpreter at a concert shouldn't be shocking. Seeing a deaf interpreter on tour with every artist should be the norm!"
For many concertgoers, the four-day event was the first live performance they'd enjoyed since March 2020, when the pandemic forced restrictions on all social gatherings.