Tag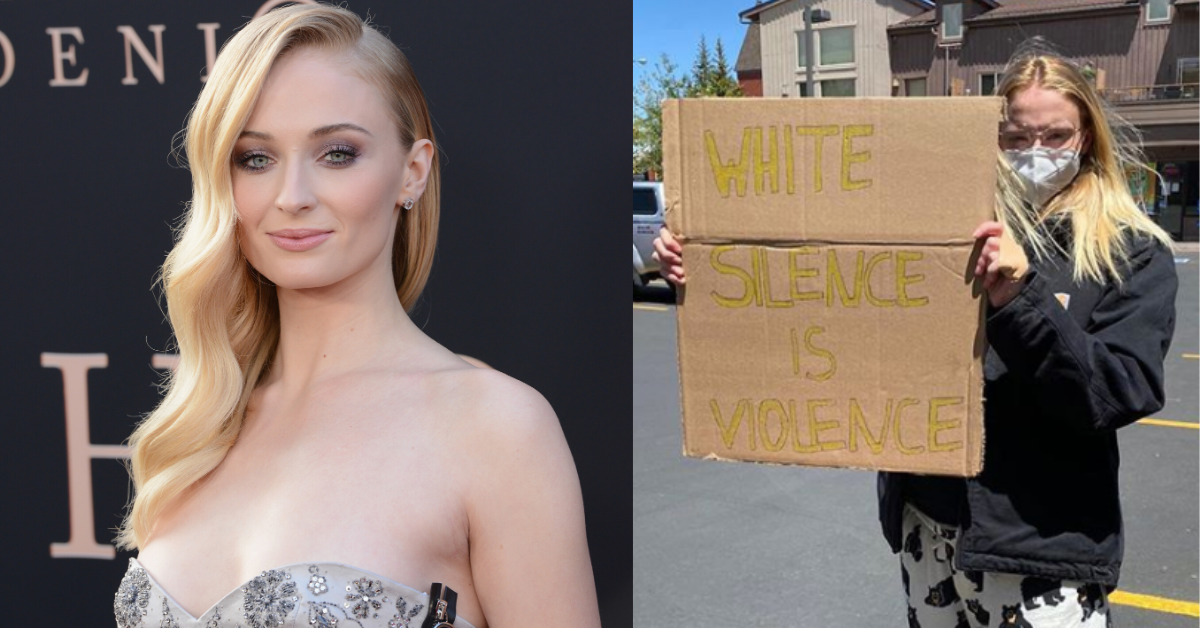 Albert L. Ortega/Getty Images; @sophiet/Instagram
Married stars Sophie Turner and Joe Jonas became the latest to attend a local protest to show solidarity with the #blacklivesmatter movement.
When a fan commented "can we have peace now?" on Sophie Turner's instagram post, depicting the peaceful nature of the protest, Turner immediately came back with a perfect education on why #blacklivesmatter matters right now.
Sophie Turner has not kept her silence on #BlackLivesMatter.

"My heart is heavy," she wrote on an Instagram post from Monday, June 1st.
"I stand in solidarity with those speaking out against racism and fighting for justice and equality. Silence is not an option."
She and Jonas posted some highlights from the peaceful protest in Mammoth Lakes, California.
One user came onto her post and said "I mean they've been arrested and charge with murder so there justice soooooooo can we have peace now?"
Though 251 people liked that comment, Turner replied swiftly.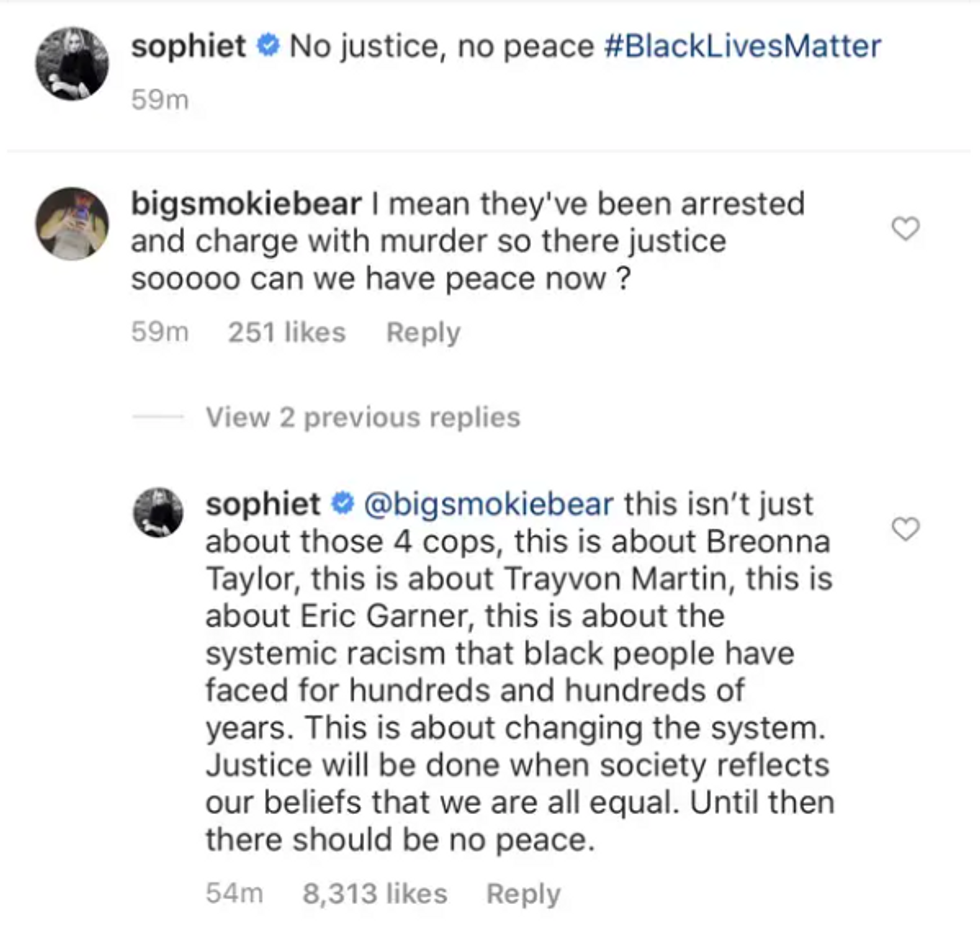 @sophiet/Instagram
"This isn't just about those 4 cops, this is about Breonna Taylor, this Is about Trayvon Martin, this is about Eric Garner, this is about the systemic racism that black people have faced for hundreds and hundreds of years. This is about changing the system. Justice will be done when society reflects our beliefs that we are all equal. Until then there should be no peace."
Turner, famous for her role as Sansa Stark in HBO's Game Of Thrones has been attracting positive attention across the internet for going out to a protest while pregnant and for answering this fan back on a problematic response.
white faves shouldn't be hyped for doing the bare minimum but sophie turner going out while heavily pregnant and actually doing something, donating, and fighting racists is something i can respect so much pic.twitter.com/sHu0LBgJk9
— kinsey (@sansacstark) June 6, 2020
sophie turner used socials to speak up and to learn from the powerful words of the black community. Then she donated, she went to protest despite being pregnant and bet the sh*t out of white irrilevant men under her post. sophie never lets me down. pic.twitter.com/rKrPxa6GiD
— chiara (@lovelysophiet) June 7, 2020
i understand you can't praise your
"fave" for doing the bare minimum, but sophie turner's an exception. this girl literally has used her platform the right way, donated to charities AND even protested while being pregnant...oh & not to mention we're still in a global pandemic. pic.twitter.com/JTVIY3DcHP
— lauren (@jophieshesitate) June 6, 2020
Turner also in no uncertain terms told a fan who commented "All lives matter" to "go away."
She also told a fan to "stfu" after scapegoating black cops to make a point about police.
The conversation surrounding white allyship is definitely a sensitive one at the moment, with the note that allyship can sometimes be performative.
Have you ever notice that white people who are REAL allies and anti-racists never feel the need to tell Black people about their allyship?
— michaelharriot (@michaelharriot) June 2, 2020
White allies: It's time to risk social status. Risking friends and relationships. Its time to talk to your families. It's time to speak up. It's time to make your communities uncomfortable. It's time for America to understand the burden that black people carry every, single day.
— T.J. (@TJ_WINNING) June 2, 2020
"How will our white allies respond when this summer has passed?" @CharlesMBlow writes. "How will they respond when true equality threatens their privilege, when it actually starts to cost them something?" https://t.co/eloOPTAH5l
— New York Times Opinion (@nytopinion) June 8, 2020
Turner's commitment to vocal allyship and anti-racism is an important piece for the #blacklivesmatter movement, and as states across the nation begin to recognize the need for change within the police, hopefully allies will continue to speak out on behalf of #blacklivesmatter.