Tag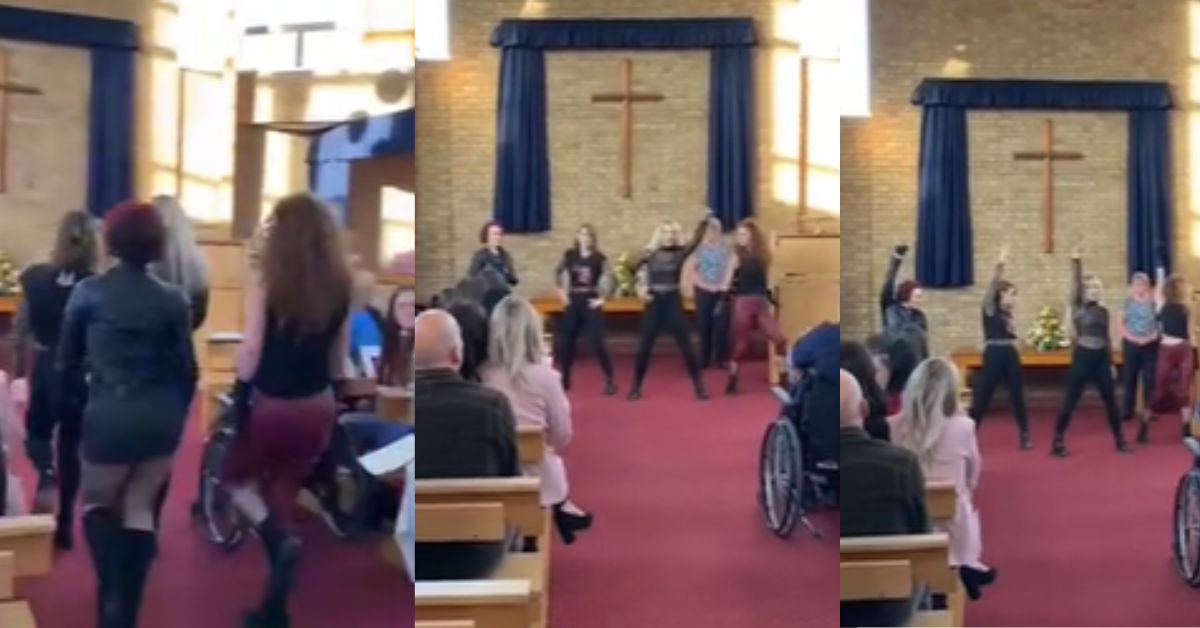 @nypost/TikTok
When we think of a funeral, we think of sad goodbyes, grief and black clothing that was not inspired by Wednesday Addams.
We absolutely don't think of a fun occasion with a flash mob, dark humor and sparkling high heels.
But for her final goodbye, Sandie Wood wanted to put the "fun" into "funeral" by giving her loved ones a memory that would bring a smile to their faces instead of tears to their eyes.
You can watch the performance here:
Wood lost her battle with tongue cancer in September 2022 and began planning her funeral at least six months prior to her death. At her funeral, her casket arrived late to the funeral, mirroring her always being late for everything.

Wood's casket was surrounded by high, sparkly heels, and her casket was bejeweled with the words, "Going out in style."
But what drew attention to the funeral was what was captured in the now viral TikTok video: a flash mob that danced to Queen's "Another One Bites the Dust."
While attempting to arrange her funeral, reportedly ten other groups passed on the offer to perform at someone's funeral. Wood's friend, Sam Ryalls, eventually connected with Claire Phipps, the leader of the ten-person dance group the Flaming Feathers.
Phipps reflected:
"Her best friend Sam, booked us, but this was about six months before she passed, so Sandie basically planned her own funeral."
"It was definitely not your normal gig."
The group arrived at the funeral, behaving as if they were typical guests at the funeral, and sitting in the pews. But when the song was cued up, the dancers moved to the back of the sanctuary to begin their performance.
Phipps added:
"It was very odd to first pretend to be there for the funeral, and then to see family and friends crying and upset."
"To then have to get up and rock out to Queen felt very weird, but it did go really well."
Ryalls later confirmed the funeral was very fitting for her late friend.
"She was always very loud, very out there, and just the center of everything."
"She was one of a kind, so she left the world how she lived it, being herself."
Some TikTokers were tickled by the idea of the flash mob.

@nypost/TikTok

@nypost/TikTok

@nypost/TikTok

@nypost/TikTok
Others were glad to see the funeral had been organized according to Wood's wishes.


@nypost/TikTok

@nypost/TikTok

@nypost/TikTok

@nypost/TikTok

@nypost/TikTok
Even a few family members chimed in about the event.


@nypost/TikTok

@nypost/TikTok
While this funeral was certainly unexpected for the people attending, it was surely memorable.

And there's no doubt that it brought smiles to many attendees' faces instead of tears, just as Wood intended.