Tag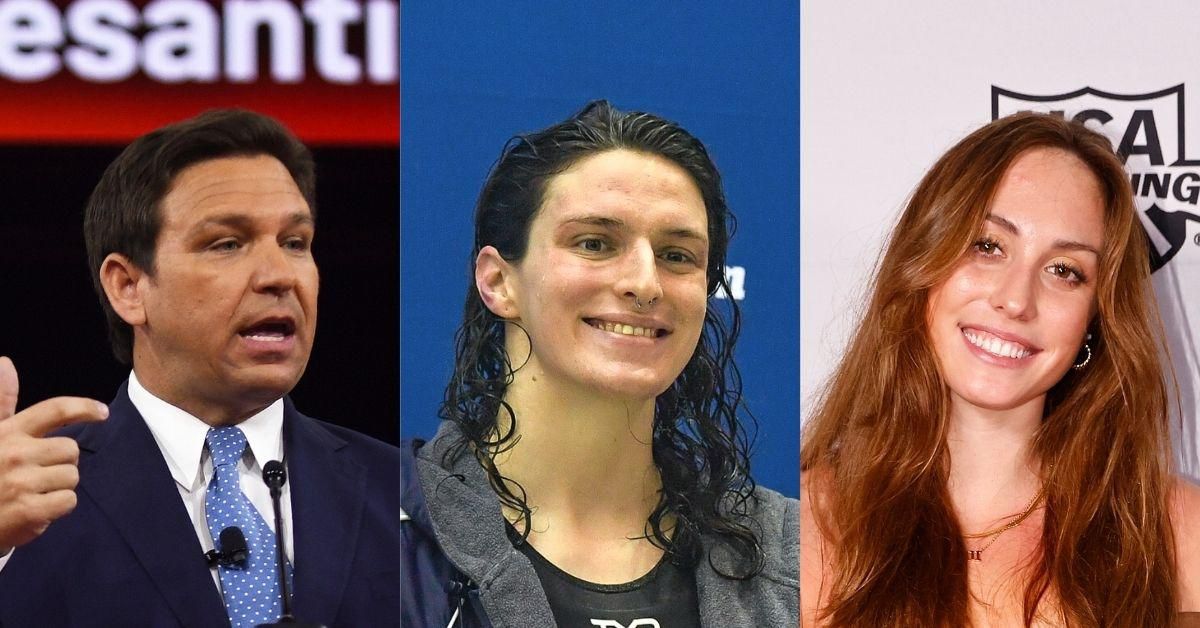 Paul Hennessy/SOPA Images/LightRocket via Getty Images; Rich von Biberstein/Icon Sportswire via Getty Images; Michael Reaves/Getty Images
University of Pennsylvania swimmer Lia Thomas made history last week when she won the NCAA 500-yard women's freestyle swimming championship event, besting native Floridian Emma Weyant of the University of Virginia.
But Florida Republican Governor Ron DeSantis—one of the most rabidly anti-LGBTQ politicians in the country—issued a statewide decree declaring Weyant as the "rightful winner" because Thomas is trans.
The cartoonishly childish and transphobic move—which amounts to little more than a temper tantrum affixed with the state seal because DeSantis has no power over the NCAA—has drawn widespread criticism.
See DeSantis' announcement below.
DeSantis tweeted:
"By allowing men to compete in women's sports, the NCAA is destroying opportunities for women, making a mockery of its championships, and perpetuating a fraud."
"In Florida, we reject these lies and recognize Sarasota's Emma Weyant as the best women's swimmer in the 500y freestyle."
The decree he issued on behalf of the state of Florida read in part:
"Florida rejects the NCAA's efforts to destroy women's athletics, disapproves of the NCAA elevating ideology over biology, and takes offense at the NCAA trying to make others complicit in a lie..."
"...[S]ince she is a native Floridian from Sarasota, I, Ron DeSantis, Governor of the State of Florida, do hereby declare in Florida that Emma Weyant is the rightful winner of the 2022 NCAA Division I Women's 500-yard Freestyle."
Thomas' win—the first trans athlete in any sport to win a NCAA Division I event—reignited an ongoing debate about whether transgender girls and women should be allowed to compete in sporting events based on their gender identity.
Oddly, the conservative backlash against transgender people once again ignores the existence of trans men and nonbinary people while targeting trans girls and women. Trans women, especially women of color, face the highest rates of transphobic violence and murder.
Science on the issue is as yet inconclusive due to a dearth of solid studies on the matter. But the data gathered so far shows trans women's physiological advantage over cisgender women dramatically declines and for some athletic pursuits disappears entirely after just two years of hormone therapy.
Nevertheless, Republican politicians across the country have launched an all-out assault on transgender female athletes, with several states passing laws banning them from sports teams that align with their gender identity. This includes DeSantis, who signed such a law last January.
On Twitter, DeSantis' tantrum left many people disgusted and mystified over his hubris.
DeSantis' absurd proclamation also comes as Florida's Republican sponsored so-called "Don't Say Gay bill"—which makes discussion of sexuality and gender in elementary schools illegal—awaits DeSantis' signature.
He has vowed to sign it into law.