Tag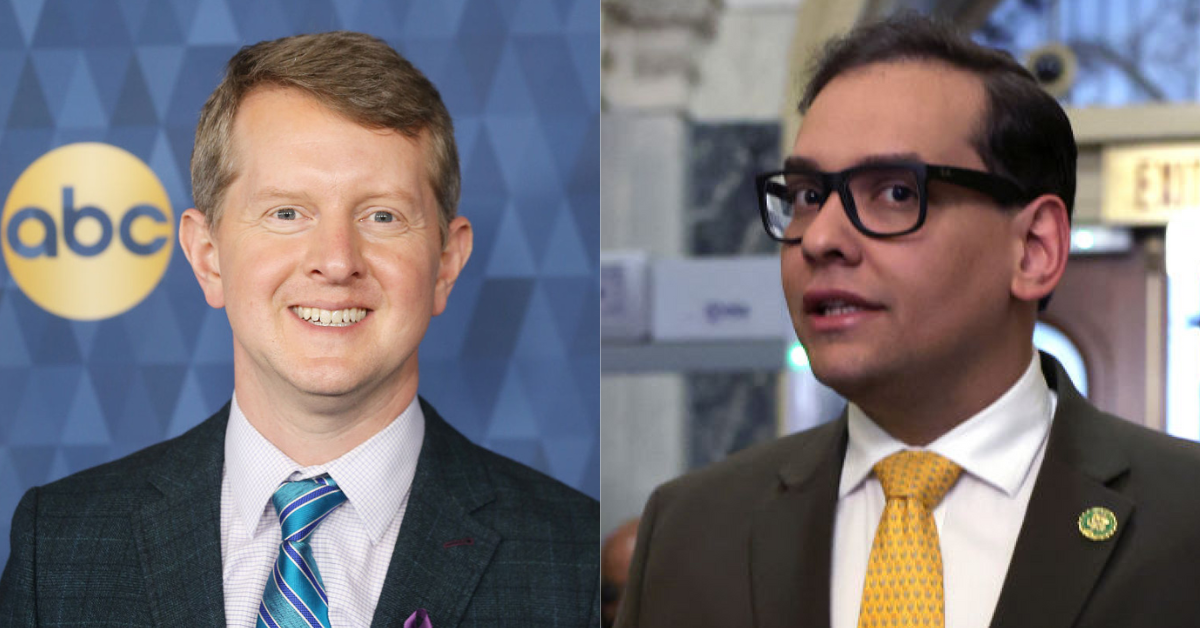 Michael Tran/FilmMagic; Alex Wong/Getty Images
During the latest episode of the quiz show Jeopardy! Masters, host Ken Jennings skillfully tackled controversial New York Republican Representative George Santos in a moment that ignited both excitement and surprise among the contestants and the audience.
As the competition unfolded and the "Recent Events" category came to the forefront, an $800 clue gripped the participants' attention.
The clue read:
"Subheads in a piece about this representative from New York: 'Deceptively claimed attendance at... university'; 'Reportedly defrauded a disabled veteran whose canine companion was in the throes of demise.'"
Responding with precision, contestant Mattea Roach confidently provided the correct answer, stating, "Who is George Santos?" which prompted Jennings to exclaim:
"I don't get to say this very much, but George Santos is correct!"
You can watch the moment in the video below.

People loved every second of the moment and praised Jennings for his quick-witted response.
Santos has been embroiled in a series of controversies due to his questionable background and alleged fraudulent actions.

He was arraigned in court earlier this month and is facing a barrage of serious allegations exposing his alleged fraudulent schemes and dishonesty that allowed him to rise to Congress and enrich himself.
The charges against him include seven counts of wire fraud, three counts of money laundering, one count of misappropriation of public funds, and two counts of making false statements of material fact to the House of Representatives.
In the months before his indictment, Santos had risen to infamy by constructing a false identity, artfully portraying himself as a prosperous Wall Street tycoon, boasting of a flourishing real estate portfolio and a glorious past as a collegiate volleyball sensation.
However, meticulous investigations subsequently exposed these assertions as nothing more than a tapestry of falsehoods. Santos had never occupied the esteemed positions he claimed, nor had he pursued higher education. In truth, he had endured financial struggles before venturing into the realm of politics.
Moreover, the clue's mention of Santos reportedly defrauding a "disabled veteran whose canine companion was in the throes of demise" was a nod to the news he had swindled the aforementioned veteran out of more than $3,000 he needed to help his service dog get surgery for a stomach tumor.
The dog died not long afterward and the veteran said he was forced to "panhandle" to pay for her euthanasia and cremation.