gabrielle union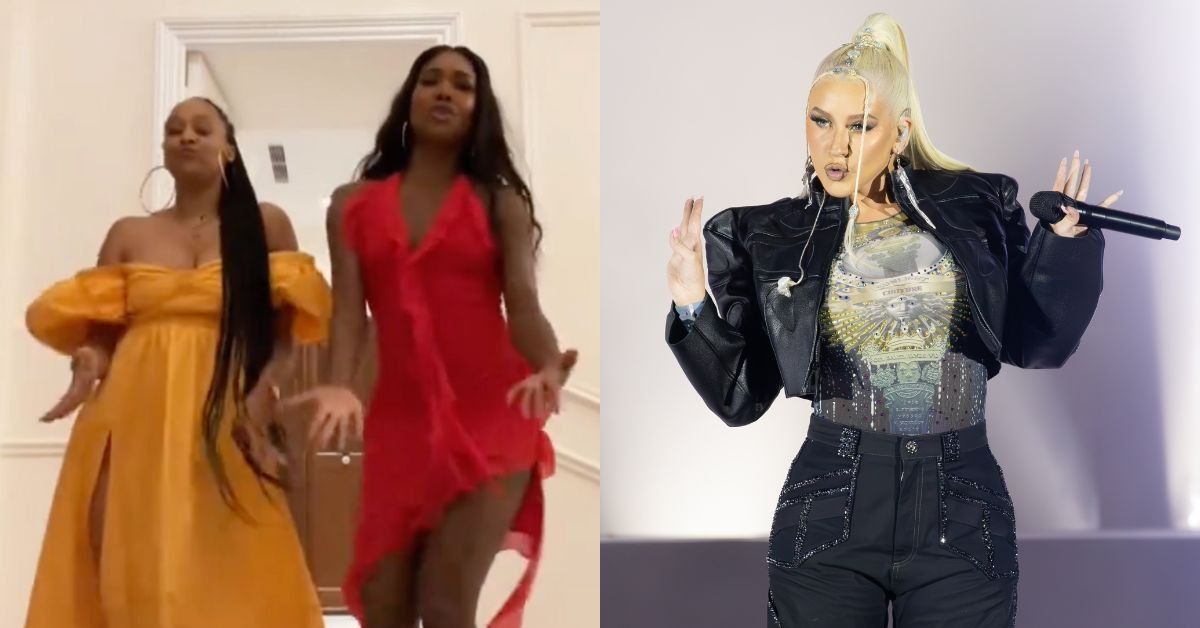 @tiamowry/TikTok, Guy Prives/Getty Images
Besties Gabrielle Union and Tia Mowry teamed up for a cute dance sesh for a TikTok video choreographed to Christina Aguilera's 1999 bop, "Come on Over (All I Want is You)."
In the clip that was posted on their respective socials, the ladies turned it out in fabulous gowns while vacationing in the south of France .
Mowry, 45, wore a flowing butterscotch ballgown while Union, 50, donned a Venetian red cocktail dress. Both cut a rug sans footwear but were accessorized with large golden hoop earrings.
When the music stopped, both struck a pose and broke into laughter from the musical frivolity.
Here is a clip posted on Mowry's TikTok page that she captioned with:
"Romanticizing life like an early 2000s romcom with my girl"
@tiamowry

Romanticizing life like an early 2000s romcom with my girl @Gab Union 💃
Fans were here for the playful reunion.
@tiamowry/TikTok
@tiamowry/TikTok
@tiamowry/TikTok
@tiamowry/TikTok
@tiamowry/TikTok
@tiamowry/TikTok
@tiamowry/TikTok

@tiamowry/TikTok
Mowry and Union bopping along in sync to Aguilera's upbeat ditty really did channel late-'90s and early-2000s nostalgia—which was befitting considering the pair worked in sitcoms and movies in those eras.

Mowry and her real-life twin sister were featured in the '90s sitcom Sister, Sister as the subject of identical twin sisters who were separated at birth and reunited as teenagers.
In addition to making appearances on various sitcoms—including Sister, Sister —Union had supporting roles in teen films like She's All That and 10 Things I Hate About You . She rose to prominence with her breakthrough role playing Isis in 2000's teen comed y Bring It On .
But the TikTok dance clip wasn't really a reunion as the two actors make sure a lot of time doesn't go by without seeing each other.

The pair have consistently posted videos on their socials celebrating their years-long friendship.
Many of the clips are in the spirit of fun and family.

Last year, Union posted a video featuring her 2-year-old daughter Kaavia and Mowry's 2-year-old daughter, Cairo, for a meet-cute tooling around in a mini electric car .
Mowry also shared a clip featuring the toddlers at another play date hugging each other.

In September 2020, Union wrote a post celebrating her nearly 25 years of friendship with the Mowry twins, saying:
"I worked on 'Sister, Sister' at the beginning of my career, and we've stayed in touch ever since."
"It has been amazing to watch all they have accomplished throughout their careers."
The closest sisters are not always blood-related.

And just like their mommas before them, it looks like the sisterly friendship between Kaavia and Cario is just getting started with many years of fun-filled memories—and hijinks—to come.
Keep reading... Show less