Stephen Amell—star of TV series Arrow and Heels—clapped back at body-shaming haters who tried to tear him down for not having a visible six pack.
Amell had posted a shirtless photo on Instagram of himself wearing bright pink board shorts.
The caption read:
"Happy Saturday. Pop on some pink shorts and read Gary's book."
"But only if you want to be smarter."
Amell held a copy of Gary Janetti's book Do You Mind If I Cancel?
While Amell is certainly not in superhero level shape, there's definitely no room to criticize his looks.
Most of the comments were were fawning adoration.

@jayglazer/Instagram

@bitsietulloch/Instagram

@mariesweet29/Instagram
But unfortunately there are always going to be trolls and haters with every celebrity who's had to train their body to match the level of the Green Arrow—the superhero Amell played for 8 seasons.

One commenter said he looked like a Green Arrow knock off:
"Green Arrow from Wish."
Another said:
"What happened to the Arrow body?"
But fans were quick to defend Amell.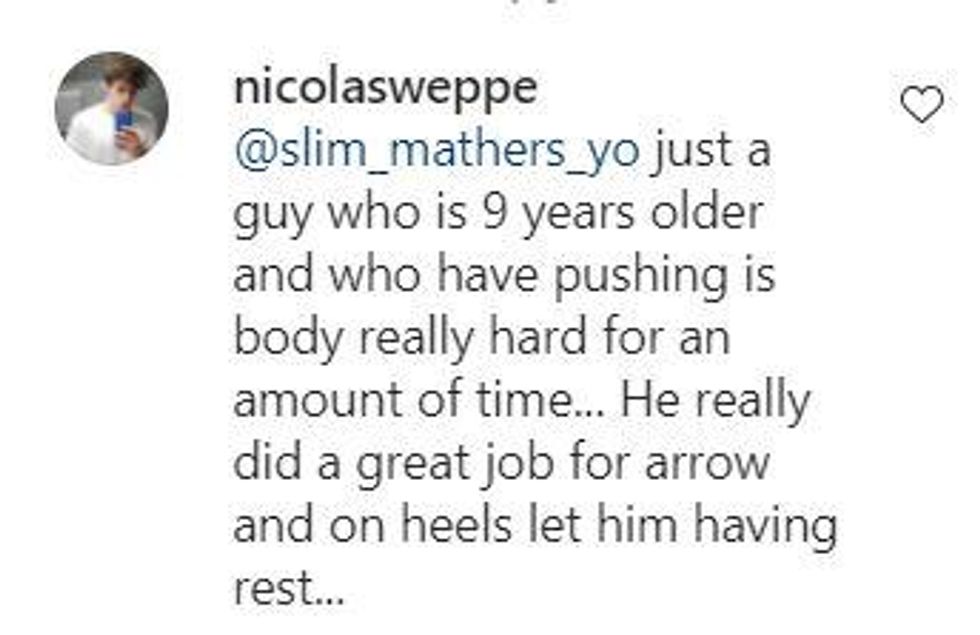 @nicolasweppe/Instagram

@vainesttrain21/Instagram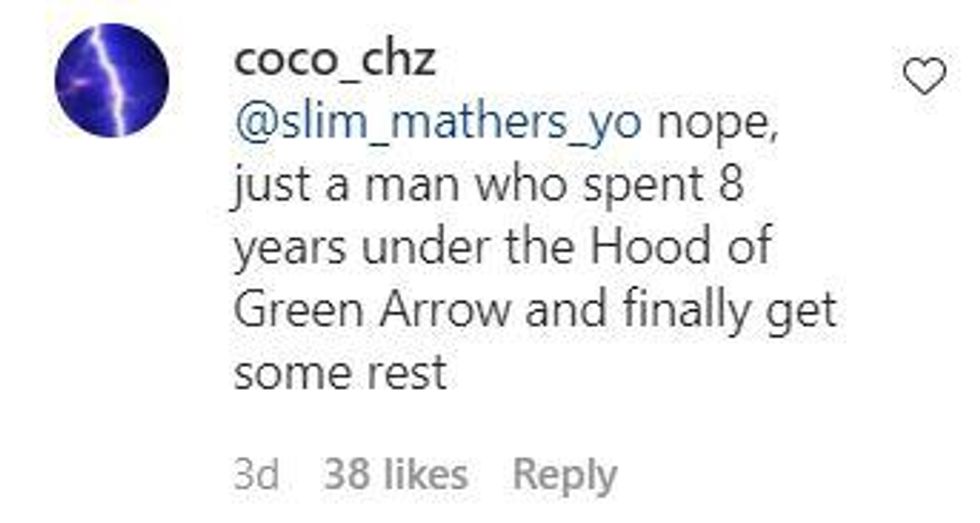 @coco_chz/Instgram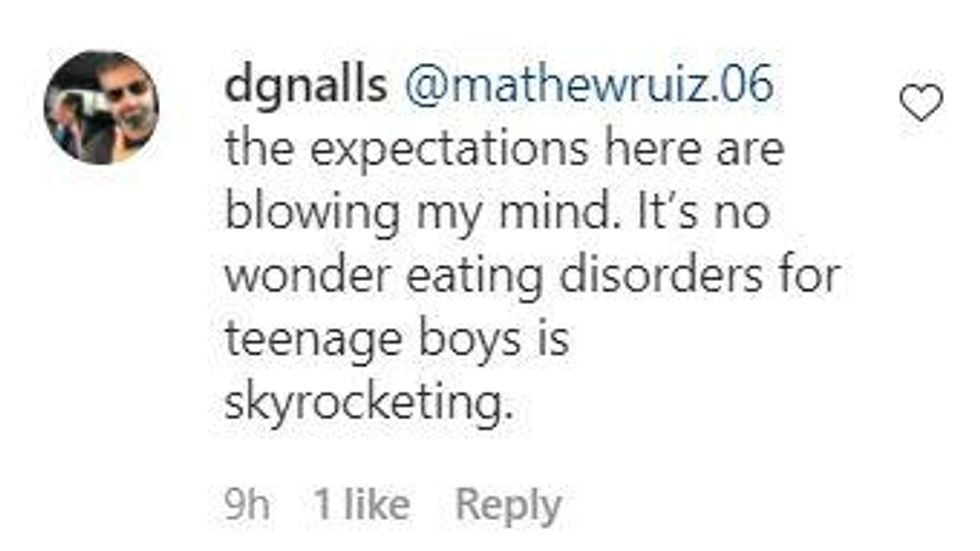 @dgnalls/Instagram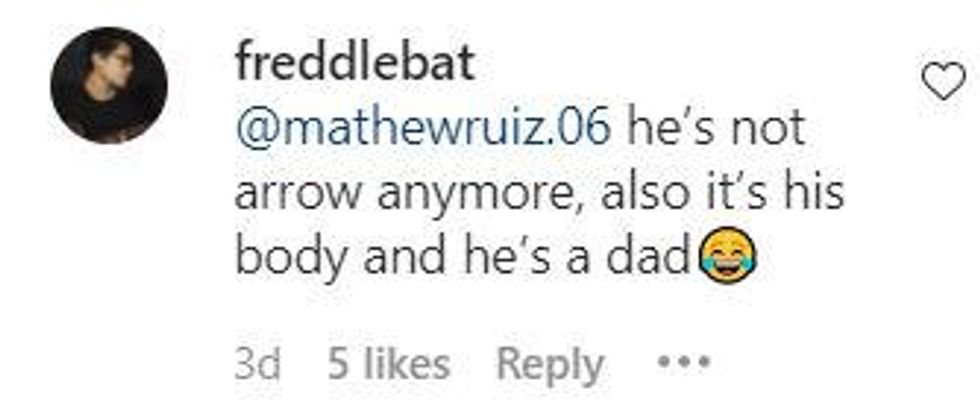 @freddlebat/Instagram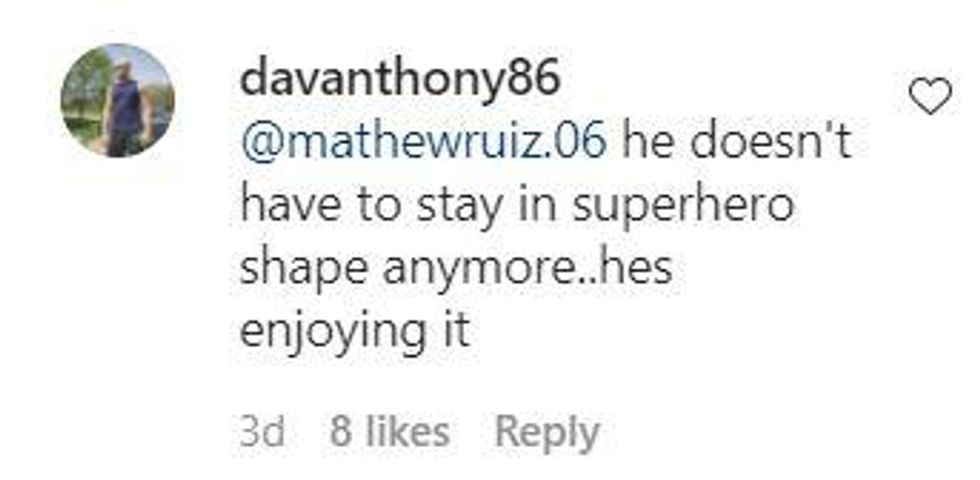 @davanthony86/Instagram
Since there were a number of comments about his body, Amell decided to clap back. He put his response on Facebook.

Amell posted:
"Public service announcement: I'm 6'1 inches tall and 208 lbs. I'm in tremendous shape and I'm strong as sh*t."
"I'm a 24 hour juice cleanse away from blowing the season 1 poster for Arrow out of the water."
"We did the photography for that poster a little over 9 years ago."
"Next time I post a photo in my hot pink skivvies, I'll try and remember to flex!"
"And if that isn't good enough, send me your address. I will show up to steal your boyfriend or your girlfriend."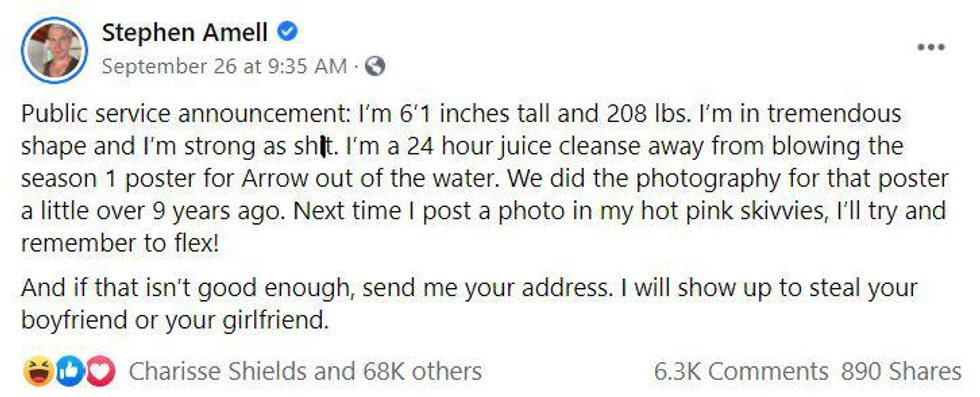 Stephen Amell/Facebook
The responses of support and admiration came pouring in for his post.
Many of the commenters praised him for his humor.

Brigitte McCormick/Facebook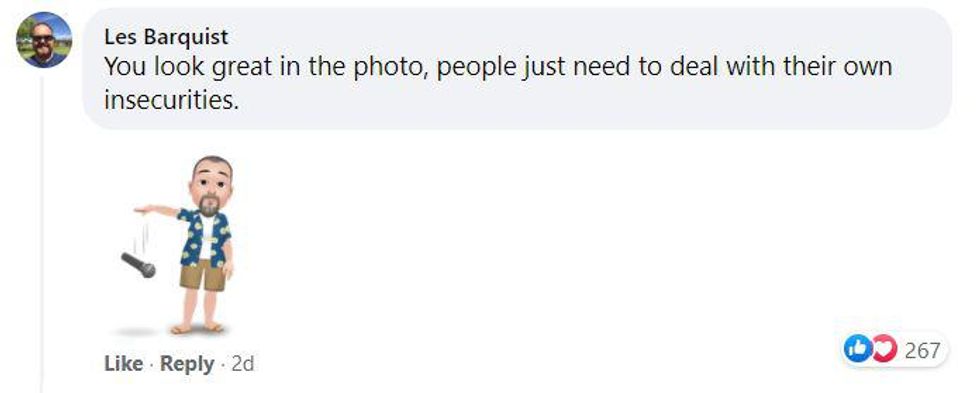 Les Barquist/Facebook

Eric J Hughes/Facebook

Brittany Dunbeck/Facebook

Stacey Smith/Facebook

Jess Kulbarsh/Facebook

Holly Everett/Facebook

Kristen Leigh/Facebook

Heather Blue Fulton/Facebook
While he didn't owe the body-shamers a response, we're glad he did push back.