Ryan Reynolds is a fish. He can unflinchingly stare at you seemingly forever as he's proven by beating a record previously set forth by actress Jessica Chastain.
At the very least, the Deadpool 2 actor is a good catch.
---
Reynolds appeared on the Spanish morning show "El Hormiguero" on Thursday where he was challenged to beat Jessica Chastain's then impressive staring record of 2 minutes and 2 seconds.
The 41-year-old directed his hazel eyes right into the camera for a whopping 2 minutes and 37 seconds, defeating the former record-bearer by half a minute.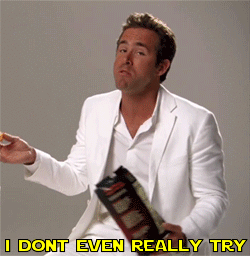 He's a natural.
His Deadpool 2 co-star Josh Brolin was also a guest on the program and tested his staring prowess. Unfortunately, his eyelids failed him after just 43 seconds.

Reynolds gloated. Just a little bit.
Fans were quick to challenge him from their computers.

Chastain conceded, but not without anguish.

However, her fans claimed that she reigns supreme when it comes to executing the eye roll.
Some were in awe of Reynold's special talent. And turned on by it.

The wide-eyed champ was given a new superhero persona.

Congratulations, Ryan! Here's looking at you, forever and always.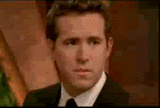 Sigh...