Since nationwide demonstrations against racist policing began in late May following the death of George Floyd, Donald Trump has consistently used his platform to aim national attention at the relatively less common moments of violence or destructive conduct during those events.
The Republican National Convention, a multiple day affair including several speakers besides Trump, has focused on that same characterization of the largely nonviolent protests as riotous and chaotic. Speakers have portrayed Trump's Democratic competitor Joe Biden as a fast track toward more of that supposed chaos.
One montage video aired during the convention even went so far as to include irrelevant footage of destruction that did not occur in the United States--or even in this year, BuzzFeed News has reported.
The video, included below, featured Republican Catalina Lauf, who recently lost her bid for a U.S. Congress seat representing part of Illinois, and her older sister, Madeline.
After the two discussed their upbringing and conservative ideals, they denounced progressive politics as dangerous and suggested that a Joe Biden victory would invite violence and chaos to the nation.
To hammer that last point home, multiple images of riotous behavior were shown as they spoke (at the 3:50 mark).
Catalina and Madelineyoutu.be
But one of those alarmist images actually came from protests in October 2019 in Spain.

Spanish news outlet CCMA, a Catalonian public broadcaster, explained the source of the last shown clip which featured a car on fire with a young man running across the street.
That image, CCMA claimed, was actually footage from protests in Barcelona following a Spanish court's decision to sentence Catalan separatist activists to prison.
To confirm, BuzzFeed News found the same clip on Getty Images, a commonly used source for stock images and videos.
The clip, titled "Catalan Protests in Barcelona," includes a description that makes it very clear that the captured event did not occur in the United States.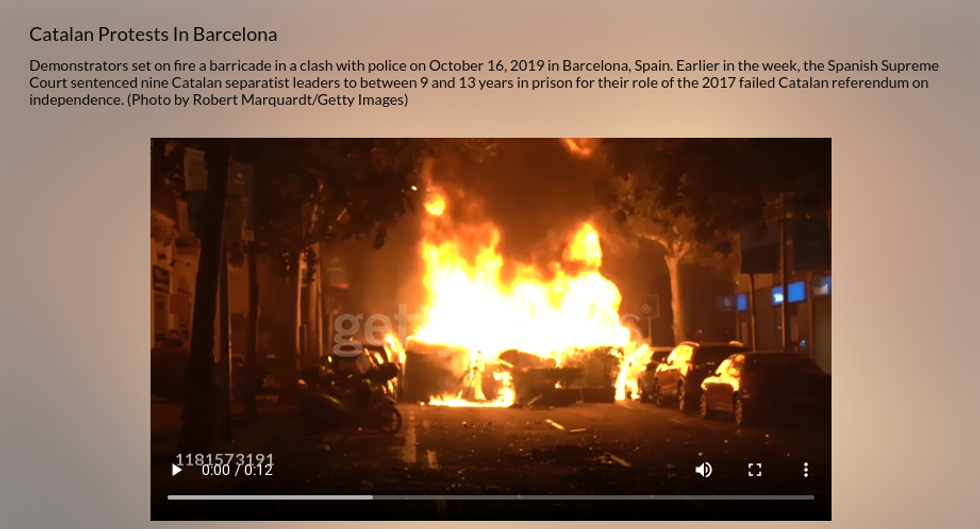 Robert Marquardt/Getty Images
For people on Twitter, the discovery of such misleading means used at the RNC was as upsetting as it was unsurprising.

@BuzzFeedNews @Theresaamato2 But of course it is ... God when will all the gas lighting end ...

— Margie Murdock (@Margie Murdock) 1598521019.0
@BuzzFeedNews @WaterWynd https://t.co/THR3V26yqS

— 🧘🏽‍♀️🕊 (@🧘🏽‍♀️🕊) 1598544272.0
With just over two months to go until election day on November 3, there's no knowing exactly what additional means and strategies we can expect to see as Trump attempts to secure his reelection.