A friend spoke on behalf of the grieving family of Richard Russell, the suicidal ground service agent at Sea-Tac International Airport who hijacked a plane and crash-landed on an island in the Puget Sound.
On Saturday evening Mike Matthews issued a statement calling Russell "a faithful husband, a loving son, and a good friend."
---
Video: Friend of Richard Russell, the man who stole a plane and crashed it near Seattle makes statement for his fam… https://t.co/9eAMRdQ5IA

— WPEC CBS12 News (@WPEC CBS12 News) 1534039922.0
Russell, also affectionately known as "Beebo," flew an Alaska Air from Seattle Tacoma Airport without authorization on Friday.

#BREAKING Alaska Airlines says it is aware of an incident involving an unauthorized take-off of a Horizon Air plane… https://t.co/b0y3gje8zD

— Fox26 News (@Fox26 News) 1533961899.0
An audio recording of Russell's exchange with the air traffic controller was released in which he said, "I don't want to hurt no-one. I hope this doesn't ruin your day."

The Horizon Airlines worker flew the plane with no intention of safely landing for about an hour before crashing on Ketron Island at 8:47 p.m.
I wouldn't know how to land - I wasn't really planning on landing it.
Man, the sights went by so fast.
I was thinking, like, I'm going to have this moment of serenity, take in all the sights.
There's a lot of pretty stuff, but they're pretty in another context.
UPDATE: The family of Richard Russell, the man who crashed a Horizon Air plane last night, is in shock. One neighbo… https://t.co/ByPdajLi6q

— Seattle Times Biz (@Seattle Times Biz) 1534027752.0
Matthews told the press:
On behalf of the family, we are stunned and heartbroken. It may seem difficult for those watching at home to believe but Beebo was a warm, compassionate man. It is impossible to encompass who he was in a press release.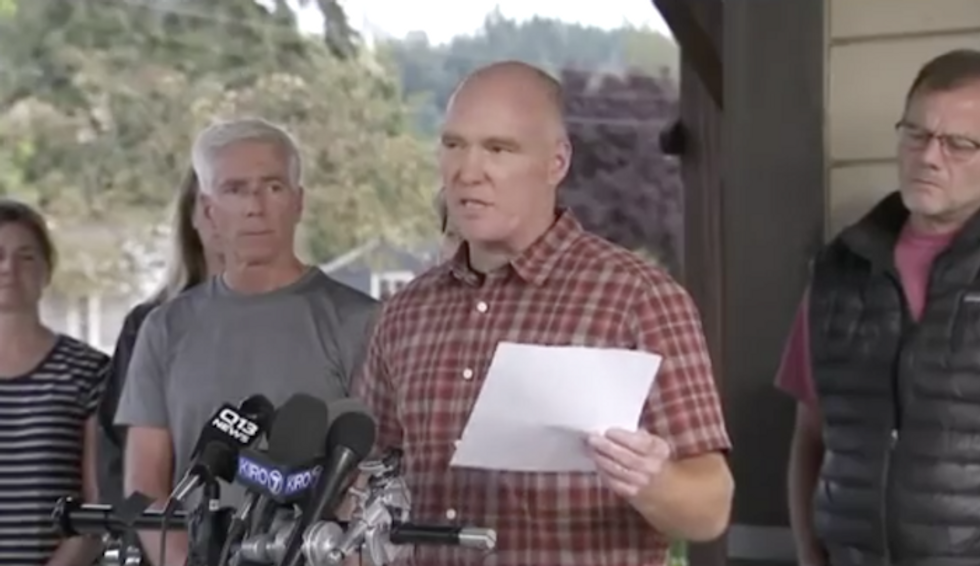 Mike Matthews speaks on behalf of Richard Russell's family.(CBS Sacramento/YouTube)
Matthews added:

A childhood friend remarked that Beebo was loved by everyone because he was kind and gentle to each person he met. This is a complete shock to us. We are devastated by these events.
As the voice recordings show, Beebo's intent was not to harm anyone. He was right in saying that there are so many people who have loved him.

Below are some of the excerpts from Russell's conversations with the traffic controller.

I'm listening through the archive of the radio chatter on the #seatac hijacking. Below are some of the clips. https://t.co/ziBAYv7cgn

— Jimmy Thomson (@Jimmy Thomson) 1533961232.0
Here he is realizing how quickly he is burning through fuel. https://t.co/ftnpowm9D4

— Jimmy Thomson (@Jimmy Thomson) 1533961971.0
@KIRO7Seattle @DeborahKIRO7 @SeaTacAirport Listening to his radio conversations - I would have been pals with this… https://t.co/zkiNPCAcjE

— x - RG (@x - RG) 1534052854.0
@seatimesbiz People with mental health illness, like myself, work very hard to put on a show of normalcy. Until we can't anymore.....

— SNEAKERS (@SNEAKERS) 1534082691.0
@seatimesbiz The illness of despair whispers "quit" in your ear. It's a devastating, mental disease. I am so sadden… https://t.co/qP8J8mjeLq

— Connie N Ahlberg (@Connie N Ahlberg) 1534075443.0
According to Independent, authorities declared that Russell was suicidal at the time he hijacked the plane from the Sea-Tac maintenance area, but his social media blogs would otherwise indicate he was content. He had plenty of pictures of him with his wife as they traveled together.
In one of his entries, he talked about his prior experiences running a bakery with his wife.

We were married one year later, and one month after that we opened a bakery which we successfully ran for three years. We consider ourselves bakery connoisseurs and have to try a new one every place we go.
In his final moments in the air, Russell described himself as a broken man.
Got a few screws loose, I guess. Never really knew it until now.
Russell was 29.
In the family's statement, Matthews thanked the media for "their sensitivity and acknowledging this as the only statement that will be released by the family."

The family requested to be given space to mourn.
At this time the family is moving forward with the difficult task of processing our grief.
Matthews concluded by politely refusing to answer questions.

@CBS12 My heart breaks for the family...sending prayers. comforting to hear that everyone is been so kind to the f… https://t.co/ileNIF6STG

— Maggie F (@Maggie F) 1534061063.0
@CBS12 My heart breaks for the family...sending prayers. comforting to hear that everyone is been so kind to the f… https://t.co/ileNIF6STG

— Maggie F (@Maggie F) 1534061063.0
@CBS12 If nothing else comes from this tragic story, let's take this. We need to let the people we love know just h… https://t.co/9HVo3EXwSj

— Maximus-TheAmerican (@Maximus-TheAmerican) 1534082663.0
@CBS12 This is the type we need to keep on earth, not lose. Kind/gentle, prob crushed by life in a way nobody saw.… https://t.co/lPy8UtU63T

— Sue Wood (@Sue Wood) 1534085655.0
H/T - YouTube, Twitter, Independent, express