In the true spirit of the Cub Scout motto to 'be prepared,' a 10-year-old mini hero saved his dad's life, by filling kitchen pans with water and soaking him, when he was turned into a human fireball.
Calling an ambulance and running to fetch a neighbor, once he had dealt with the immediate emergency, little Gabriel Whitehead used skills he had learned studying for his fire safety badge to help his dad, Barry, 48, a former marine.
Barry, of the Wirral, Merseyside, recalls his clothes catching alight when the bio-ethanol living room fire – which does not emit smoke or need a chimney – which he was refilling – exploded, saying: "Thrown backwards, I was covered in fuel that was still alight."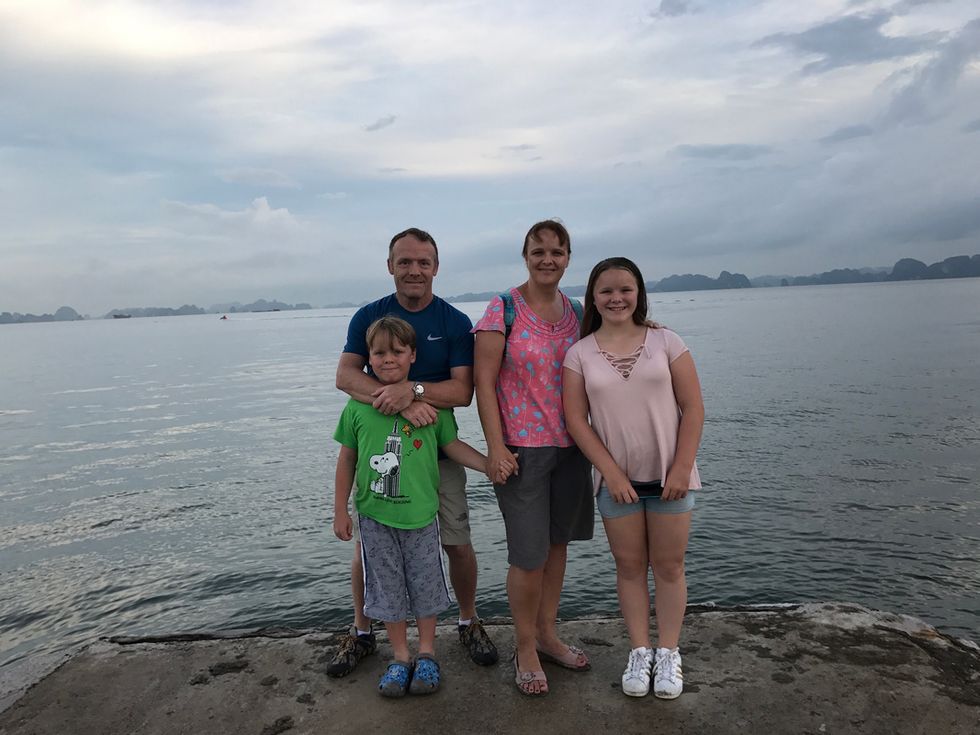 Barry, Gabe, Claire and Eleanor (Collect/PA Real Life)
He continued: "Trying to put myself out, I threw my body against the sofa, but that caught fire, too.
"We are so proud of Gabriel, as he was so calm the entire time."
"If it wasn't for him, I would have died and the house would have burnt down. I wasn't able to put the flames out myself and our sofa was burning fast."

Gabe as a cub scout (Collect/PA Real Life)
He added: "We've had the fire for about a year and I've lit it hundreds of times without there ever being a problem."
It was March 4 this year when railway engineer Barry Whitehead and his son were tidying up, while his breastfeeding consultant wife Claire, 44, and daughter, Eleanor, 13, were at a fundraising event for her gymnastics club.
Lighting the fire to make it cozy for his family after a busy day, Barry was shocked when it exploded, throwing him backwards and covering him in fuel that was soon alight.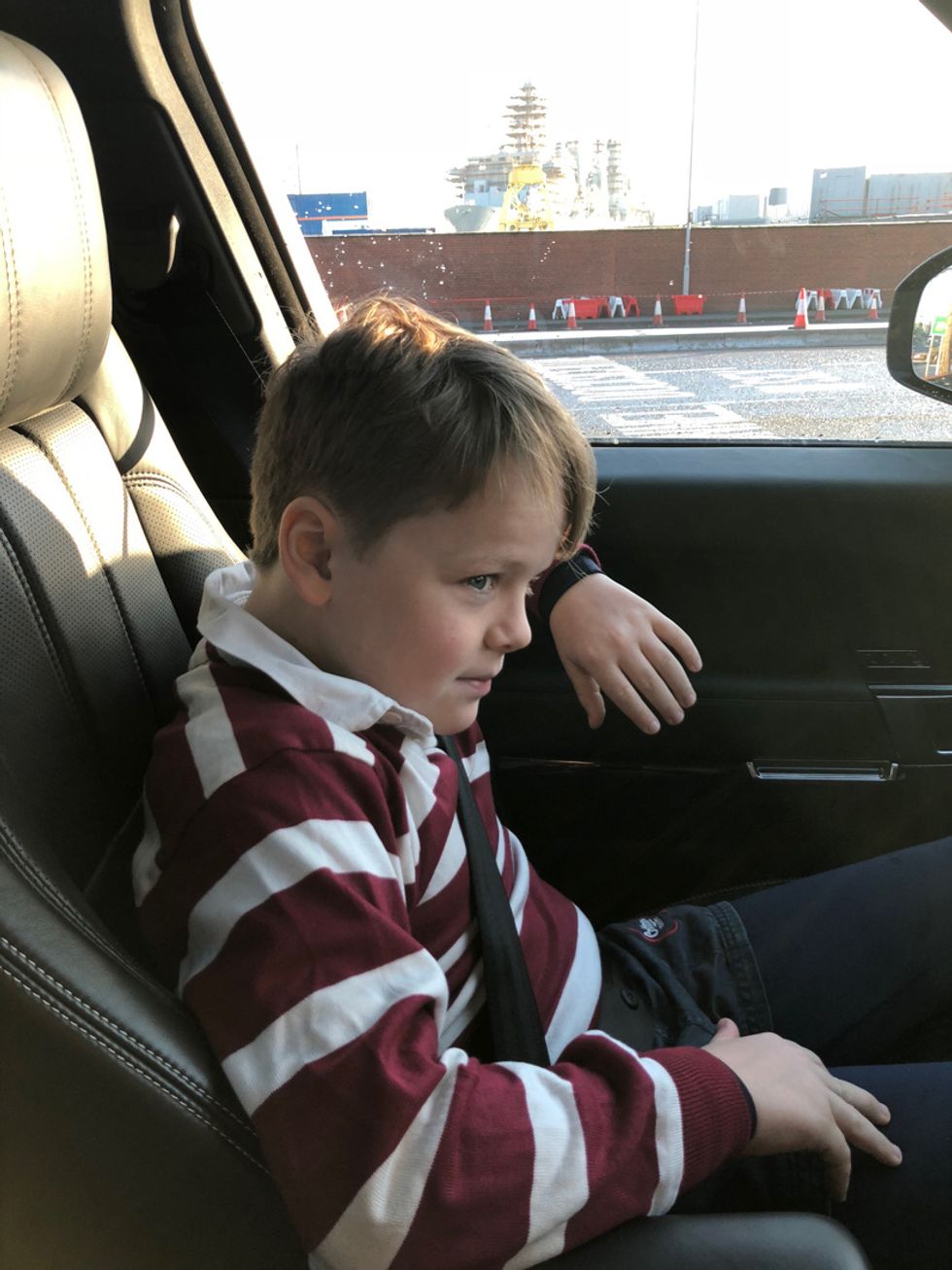 Gabe saved his dad's life (Collect/PA Real Life)
After his attempts to extinguish the flames himself failed, he crawled to the kitchen, screaming to Gabriel for help.
Drawing on his scouting skills, he filled pots and pans with water and threw them over his dad and the sofa, to put them both out.
Barry said: "I'd wanted to make it nice, so Claire could come home and put her feet up.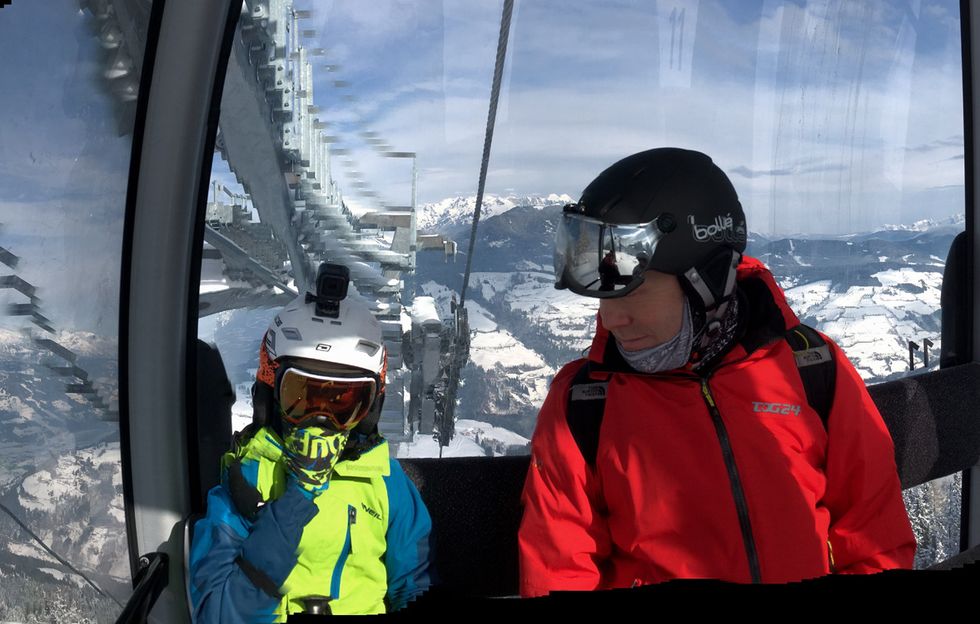 Barry and Gabe (Collect/PA Real Life)
He continued: "I had let the fire cool down and was just topping it up with bio-ethanol fuel, but I caught a glimpse of a spark, but it was too late. I'm not sure exactly what happened but I think it was just a freak accident.
"The fuel ignited, and the rest poured out all over my body, also catching fire. I threw myself against the sofa to try to put it out, but the fabric melted into my skin and the sofa was soon ablaze, too."
As he ran to the kitchen at the back of the house, he screamed for his son, the only person who could help.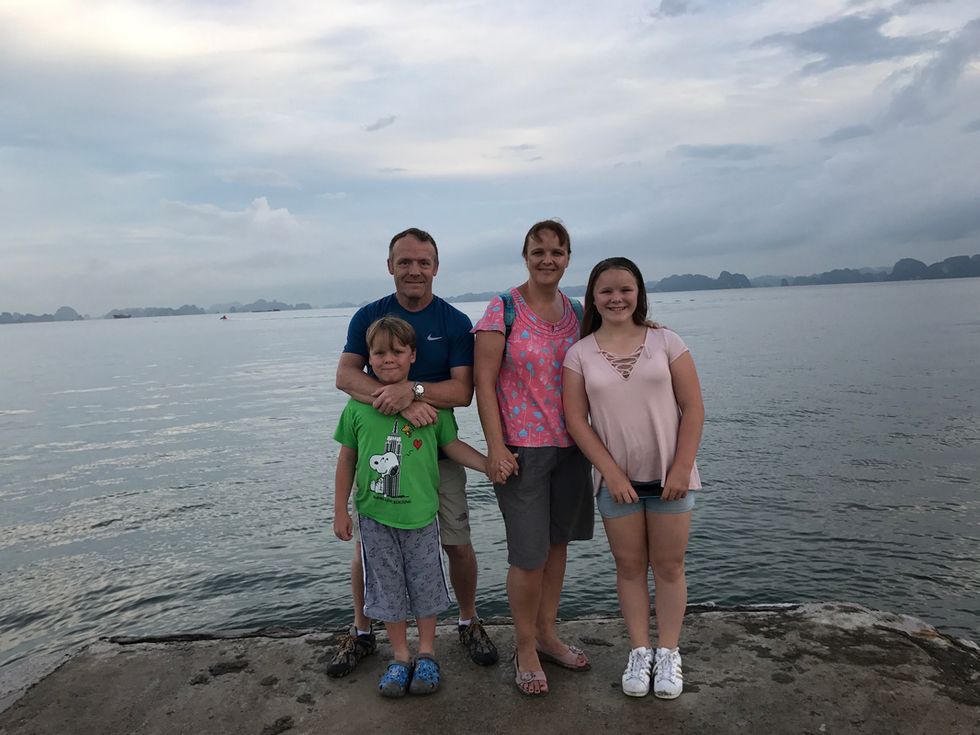 Barry, Gabe, Claire and Eleanor (Collect/PA Real Life)
He explained: "Gabriel walked into the horrible sight of me rolling around on the kitchen floor, still burning, but he knew what to do. A year earlier, he had got his fire safety badge at cubs and he was so calm."
"Then I went to pull the burning sofa into the garden and he put the last bits of fire out. He knew once we put the fire out, he needed to call the emergency services and he ran to find a neighbor.
"When the first neighbor was out, he kept trying until he found one. He was amazing."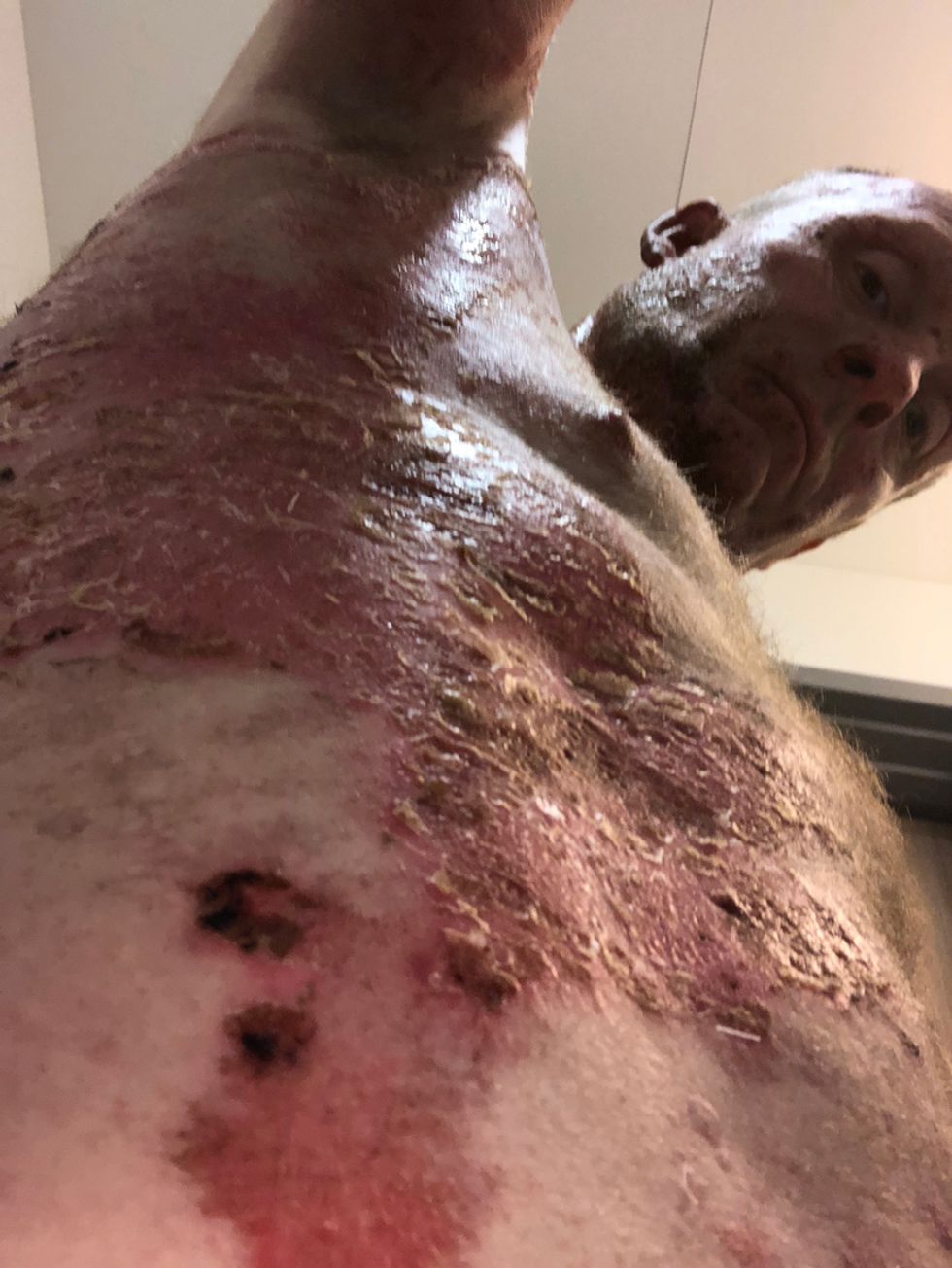 Barry's burns (Collect/PA Real Life)
Gabriel then called his mum, who arrived home just before the emergency services, to let her know what had happened.
Barry added: "Claire was incredibly shocked and just heartbroken to walk into that, but she was so proud of how Gabriel had acted."
Barry was taken by air ambulance to Merseyside Regional Burn Unit at Whiston Hospital, Prescot, while Gabriel was taken to nearby Arrowe Park Hospital, by normal ambulance, where he was treated for smoke inhalation.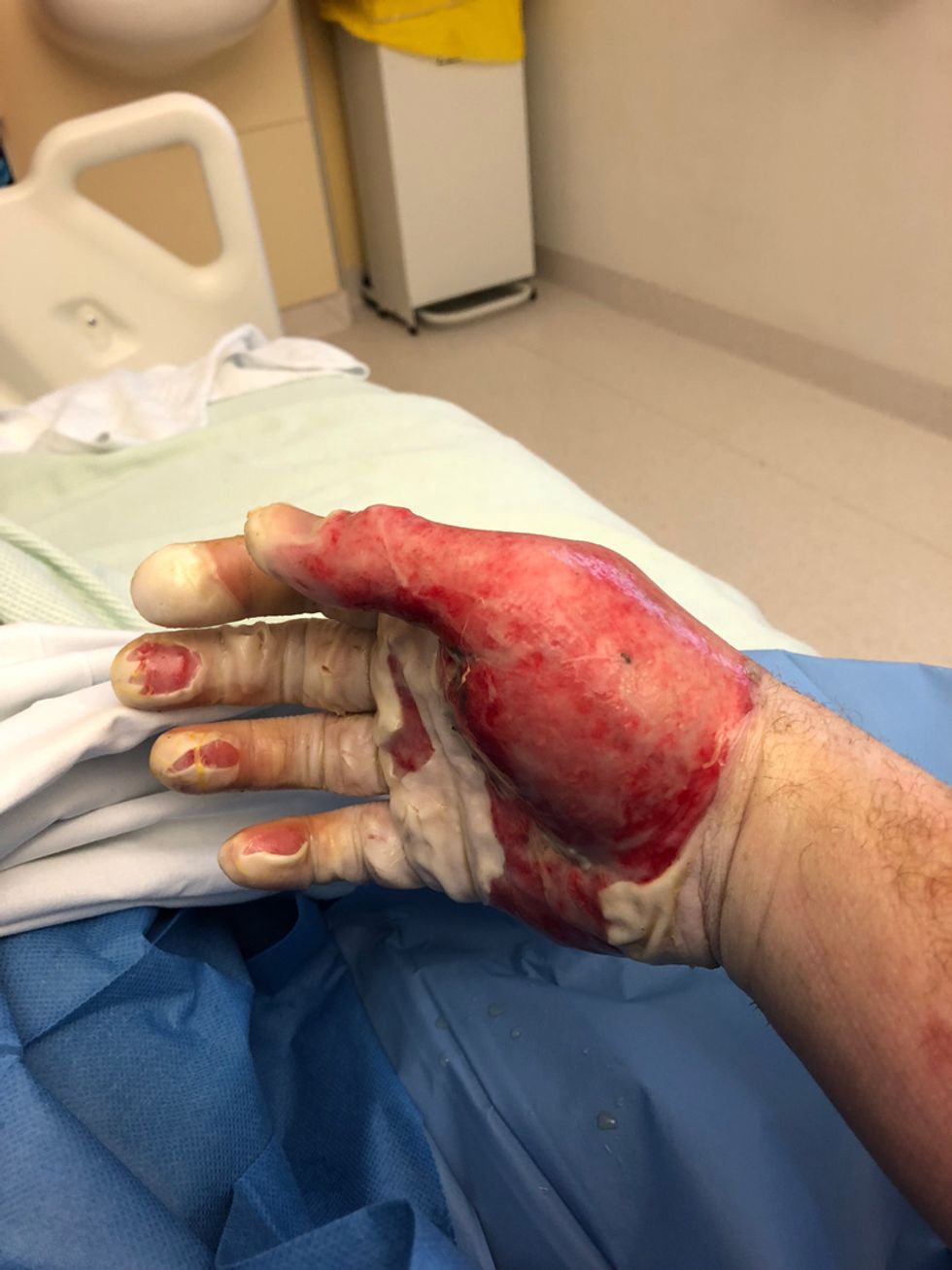 Barry's hand was burnt down to the muscle (Collect/PA Real Life)
While Barry was told he had suffered 20 per cent burns across his body, thanks to Gabriel, he was told his injuries were less severe than expected.
He said: "I was in a lot of pain and spent a difficult few weeks in hospital. My hands were so badly burnt, I lost almost all the skin and it was down to just muscle."
"Doctors basically had to remove all the burnt skin, which was one of the most painful things. They said I would be in hospital for at least a month, but I was determined to do anything to get home and was well enough to leave after 10 days."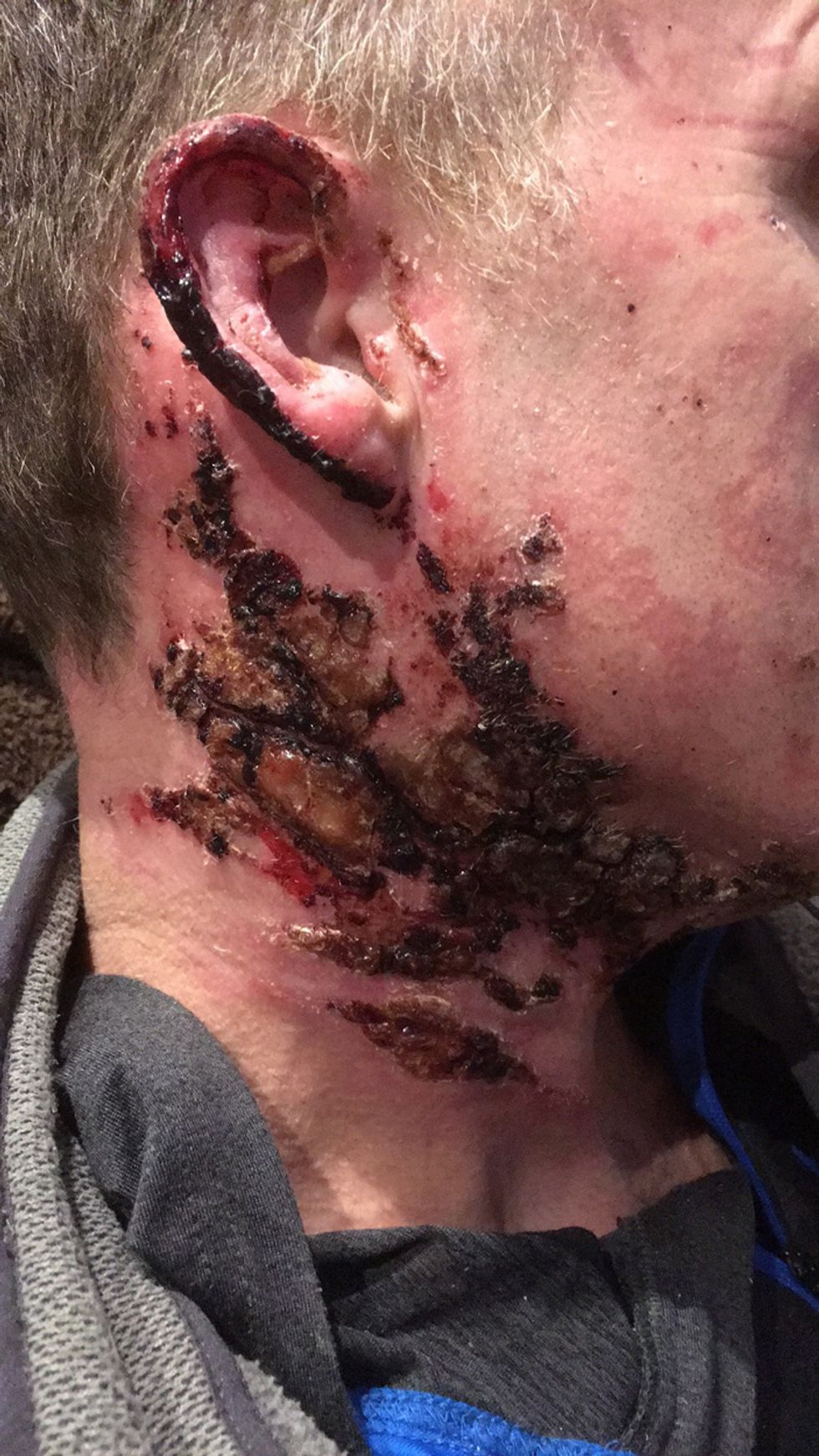 Barry's face after it started to heal (Collect/PA Real Life)
Still at home recovering, Barry knows he still has a long road ahead.
He continued: "At lot of my wounds are only healing over now. I have scarring over my legs, hands and face and know that will always be there now. I am so grateful, though, that it wasn't much worse and that's all down to Gabriel."
Keen to raise awareness of the dangers of bio-ethanol fires – Barry is aware that his own situation could have been far worse.
He said: "They are a relatively new type of fire and not everyone realizes how careful you need to be. There are currently no safety standards for bio ethanol fires and I think those need to be looked at.
"I also think we've learnt how important it is to keep a fire extinguisher and fire blanket in your house and to know how to use it. It's also important that kids are educated in how to help – we were lucky that Gabriel was a cub scout and knew what to do."
Dorset and Wiltshire Fire and Rescue Service said: "Bio-ethanol fuel is highly flammable and there have been incidents across the UK when people have been burned as a result of accidents when using these appliances. Most often it has been when re-fueling."
Beware of cheap sub-standard products.Follow manufacturer's safety advice.
Remember that bio-ethanol fuel is highly flammable.
Flame can be almost invisible, especially when the fuel level becomes low.Refuel only when the fire has been extinguished and is cold.
Top-Tips for bio-ethanol fires

Use approved small containers to refuel.
Wipe up any spillages before igniting the bio-ethanol.
Keep fuel away from clothes.
Don't refuel when under the influence of alcohol – spillages of fuel could more easily happen and go unnoticed.Light with a manual or electric taper.
Don't use a lighter, match or lit rolled-up paper.
Keep children and pets away from the fire.
Don't move the appliance with the fuel lit.
Store bio-ethanol in appropriate containers away from any naked flame and carefully consider where to keep fuel safely.
Do not use fires in a room with poor ventilation.
Installing a CO detector in room is recommended.
Make sure the fire is out before leaving the room or going to sleep.
A version of this article originally appeared on Press Association.