As if we didn't have enough reasons to not get out of bed without this added pressure.
---
Inc. is making some non-early risers on Twitter pull the blanket over their heads and go back to sleep with an article they published entitled, 5 Morning Rituals to Boost Your Productivity. Just to get people nice and cranky, they begin the piece by saying:
"The world's most successful people start their day at 4 a.m."
Um, no. Twitter was none too happy about this sweeping generalization. Although, to be fair the article goes on to give examples of four (Yes, four!) people who begin their days before or at 4 a.m., and have successful careers. Still, Twitter wasn't feeling it, and we all know, when Twitter isn't happy, no one is happy.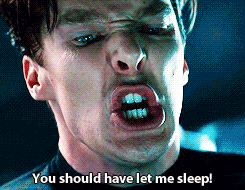 media.giphy.com
One person, some may say is a tad successful, Harry Potter author, J.K. Rowling, set the tone and if we didn't already love her as the Queen of Twitter, we certainly do now.
Took the words right outta our mouths.
Hey, it's always 4 a.m. somewhere.
There is only one thing happening at 4 a.m.
media.giphy.com
If only Rowling had tried a wee bit harder to be successful.
Better get those alarms set if you have any hope for success!