Motherhood is no joke—neither is being a pop diva—and P!nk is both. On Super Bowl Sunday, those two worlds collided for the singer in the most vicious of ways as she came down with the flu just in time for her performance of the National Anthem on live television—turns out a troll was waiting for her.
Citing her kids on Instagram as the culprits and cause of her game day malady...
...two small Petri dish kids who literally cough INTO MY MOUTH and rub their snot on my cheek.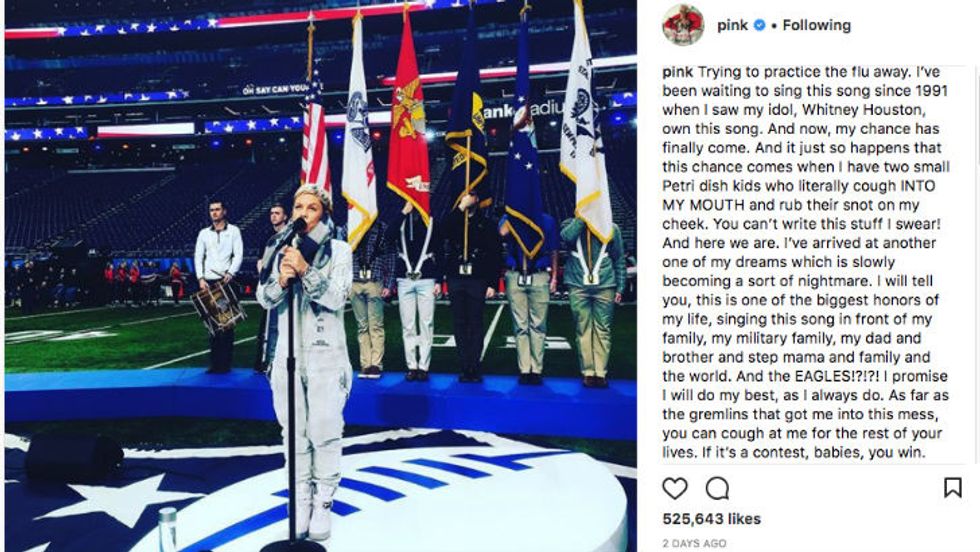 Pink performing the National AnthemPink/Instagram
...P!nk, a native of Philadelphia was super excited to be performing at Super Bowl LII and to see the Philadelphia Eagles go head-to-head with the New England Patriots. Not to mention walking in the footsteps of her idol, Whitney Houston, as she noted on her Instagram:
I've been waiting to sing this song since 1991 when I saw my idol, Whitney Houston, own this song. And now, my chance has finally come.

Ever the good sport,P!nk persevered, sucking on a lozenge on the field just moments before delivering a top notch vocal performance (save for maybe one impossibly high note).
Despite her best efforts and a throng of adoring fans and high profile supporters who were crazy for the performance, apparently P!nk's best just wasn't good enough for one particular troll who took the time to let everyone know how he felt and to say if you disagreed—you were, well—more than wrong.
For most performers that's where it would have ended but P!nk is no ordinary performer. Always outspoken and irreverent, she hit back and delivered a TKO to her troll...
...owning him in a way that Twitter applauded almost as much as her performance:
Even Comedian/Talk Show Host, Ellen DeGeneres showed her support:
Screenwriter/Producer, Richard Speight, Jr, joined folks in cheering her on:
In the end, @King_Sullivan of the Dirty Couch, admitted he hadn't even heard P!nk's performance before he tweeted his dissent:
But P!nk was over him just six minutes after her clap back and had moved on to better things—like her little "Petri dish kids":
Though her diehard fans had not:
Great job, P!nk!

H/T: Huffington Post, Twitter