Longtime sportswriter Peter Vecsey is facing a backlash after tweeting out a rap lyric using a censored N-word to comment on a scuffle between NBA players LeBron James and Enes Kanter.
---
During a tightly-fought game between the New York Knicks and the Cleveland Cavaliers Monday night, Cavaliers superstar James collided with Kanter's Knicks teammate, 19-year-old rookie Frank Ntilikina, prompting Kanter to get in James' face in defense of Ntilikina. The move ended up garnering technical fouls for both James and Kanter.
Frank Ntilinka & Enes Kanter stand up vs LeBron James https://t.co/wdI3oBvgDu

— NBA RETWEET (@NBA RETWEET) 1510622180.0
In response, Vecsey, who has previously been a sportswriter for the New York Post and an analyst for NBC, tweeted out a slightly-tweaked rap lyric from the Notorious B.I.G. track "N****s Bleed" off of his sophomore album Life After Death.
"Like Kanter is gonna 2B intimidated by LeBron, guy who stood up 2 Tayyip Erdogan. Imagine him being scared of a n***** who breathes the same air as him," the tweet read.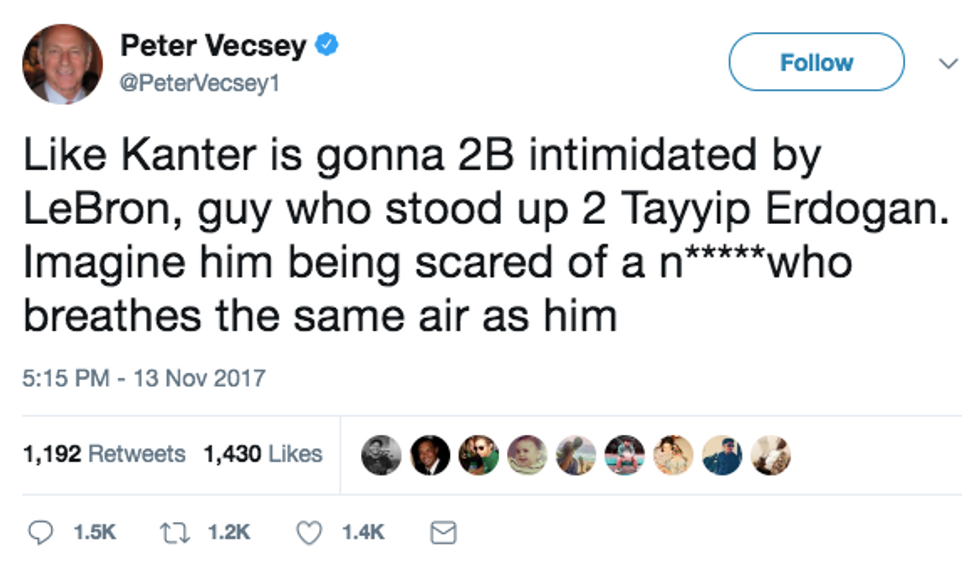 While a few on Twitter were impressed with Vecsey's reference:
@Sheglar_GD The Biggest!

— Peter Vecsey (@Peter Vecsey) 1510624435.0
@PhillyHotspur @Sheglar_GD Love 'em both, but, yes!

— Peter Vecsey (@Peter Vecsey) 1510625424.0
@PeterVecsey1 @PhillyHotspur @Sheglar_GD I'm shook!

— Steven Moffett (@Steven Moffett) 1510637057.0
...others cried foul, despite Vecsey's convictions:
@PeterVecsey1 Uh maybe rethink this one.

— Russ Bengtson (@Russ Bengtson) 1510622313.0
@sunnyd22dc Your problem, not mine

— Peter Vecsey (@Peter Vecsey) 1510623510.0
@thabigQ @PeterVecsey1 @sunnyd22dc Peter, no.

— YɘᴎAH doᴙ (@YɘᴎAH doᴙ) 1510623862.0
@PeterVecsey1 https://t.co/C5kx3IBznO

— Adachi (@Adachi) 1510622836.0
Especially considering the length of the censored N-word:
@thabigQ @RobbHaney @PeterVecsey1 @sunnyd22dc @PeterVecsey1 https://t.co/QXYO9GZdCZ

— DammitMeeks (@DammitMeeks) 1510624898.0
@DJNphared @russbengtson @YourManDevine Me after I️ counted those letters https://t.co/fO8uyHsMjI

— Felon Degeneres (@Felon Degeneres) 1510637360.0
Vecsey was not willing to back down, even as the backlash grew:
@swishforever9 says u

— Peter Vecsey (@Peter Vecsey) 1510628212.0
@SalMasekela dats sum original sheeeet!'

— Peter Vecsey (@Peter Vecsey) 1510631104.0
As of Tuesday afternoon, Vecsey had not taken down the offending tweet, nor had he issued an apology or any kind of statement.
Some Twitter users wanted to do it for him though:
@PeterVecsey1 https://t.co/0dJytLmxLT

— Kmarko (@Kmarko) 1510623202.0
In fact, Vecsey spent Tuesday morning retweeting the supporters who came to his defense.
Ryan Glasspiegel, a writer The Big Lead, criticized Vecsey for using the word in a post Monday night, although he did add that Vecsey is a known Biggie fan and a champion of black players. But Glasspiegel noted that despite this, white people should not use the N-word.
Vecsey called "bull s**t, however:
@sportsrapport So white people cant quote rap lyrics?!?! Cant sing them?!?! Bull shit!!

— Peter Vecsey (@Peter Vecsey) 1510626532.0
While it's unclear if his sportswriting career will suffer any adverse effects due to the controversy, perhaps Vecsey could still use it as a chance to educate himself:
@PeterVecsey1 @sportsrapport Seems like a good time to share this from @tanehisicoates: https://t.co/CKnDOf5rFv

— Adam Fromal (@Adam Fromal) 1510626966.0
Please SHARE this with your friends and family.
H/T: Huffington Post, Billboard, The Big Lead