For comedian Patton Oswalt and his daughter Alice, trimming the Christmas tree is a family tradition. But this year, they've introduced new family member Meredith Salenger, who married Oswalt last month, to join in the merriment.
---
Salenger, who is of Russian Jewish and Austrian Jewish descent, embraced the annual Oswalt Christmas tree trimming tradition. "My first ever very own 🎄Christmas Tree! Fun night in: trimming the tree and sending Christmas cards! Also something I've never done! #family," she wrote on Instagram.
The adorable photos show the trio adorned with golden crowns and cozying up to their tree festooned with colorful lights, gingerbread men, and candy canes.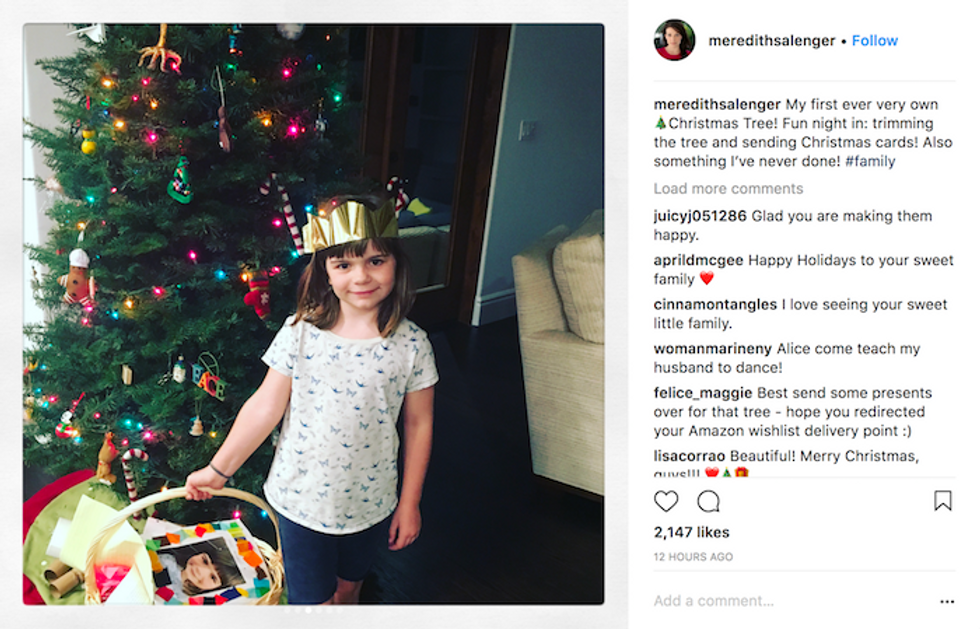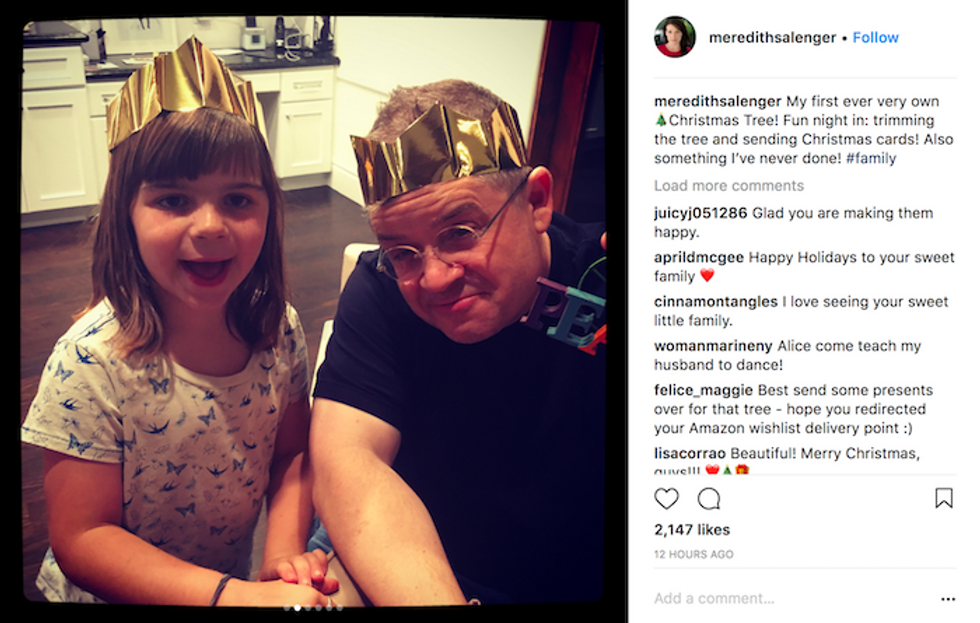 Tragedy struck back in April 21, 2016, when Oswalt's first wife, journalist Michelle McNamara, died suddenly in her sleep due to complications stemming from an undiagnosed heart condition and prescribed medicine.
Patton Oswalt: Heart condition, meds killed wife Michelle McNamara https://t.co/P5cIuABLDa via @usatoday

— karen ricks (@karen ricks) 1510022630.0
The comedian went public with his grief and coped with his loss through his standup appearances, as well as completing McNamara's non-fiction book about "The Golden State Killer," called, I'll Be Gone In the Dark.
We're delighted to be publishing I'll be Gone in the Dark by Michelle McNamara next year. 'A true crime narrative,… https://t.co/zjtsXrXVD1

— Faber & Faber (@Faber & Faber) 1510313189.0
Oswalt eventually found love again, and told People, "I've only ever felt that level of joy once before in my life, and it was so profound and perfect it felt greedy to ever wish for it again." He added, "But I did, so now all I can do is show Meredith a level of gratitude and love that's greater than the joy she's brought me, and my daughter Alice. Because this is a new level of joy, and a new life, and I'll always strive to deserve it."
The two tied the knot in November at the Jim Henson Studios in Los Angeles in front of family and friends.
Wedding joy! @pattonoswalt ties the knot with Meredith Salenger! https://t.co/XVgJB8gZCX https://t.co/GvHQXmc5ES

— ExtraTV (@ExtraTV) 1509988118.0
Closest friends firmly believe that McNamara had something to do with Oswalt meeting Salenger. Salenger recalled how her friendship with the comedian blossomed.
When I first starting talking with Patton on Facebook, it was just sort of witty banter. There was nothing to it, but as I started getting to know him better, I looked up Michelle on Facebook and I saw that we had like 15 mutual friends. One of them was my best friend since 7th grade. I called her and was like, 'Tell me about Michelle.' She was best friends with Michelle after college. She was like, 'I loved her. She's amazing. She's so funny and smart.'
The more Salenger found out about Michelle, it affirmed Oswalt's good taste in women. "That was something that made me think more highly of Patton because he loved a girl that was like us – me and my friends. My friend said, 'I think Michelle orchestrated this from heaven. She asked herself, who would be the best woman to raise Alice? And she picked you. And then, who would Patton love? You.'"
So precious! We're so happy for the Oswalts and wishing them the best holiday season! Look at how cute Alice looks! https://t.co/w0WfOtR2Yt

— Perez Hilton (@Perez Hilton) 1513273394.0
Please SHARE this with your friends and family.
H/T - Twitter, People, HuffingtonPost, Wikipedia