An Oklahoma movie theater has walked back its initial decision to fast-forward through a same-sex kiss featured in Disney's Toy Story spinoff, Lightyear following significant criticism online.
The management team of the 89er Theater in Kingfisher, Oklahoma posted a sign on the theater's front door warning parents about "a same-sex kissing scene within the first 30 minutes," promising to fast-forward through it while acknowledging its efforts to prevent patrons from seeing it "might not be exact."
An image of the sign—which quickly went viral—can be seen below.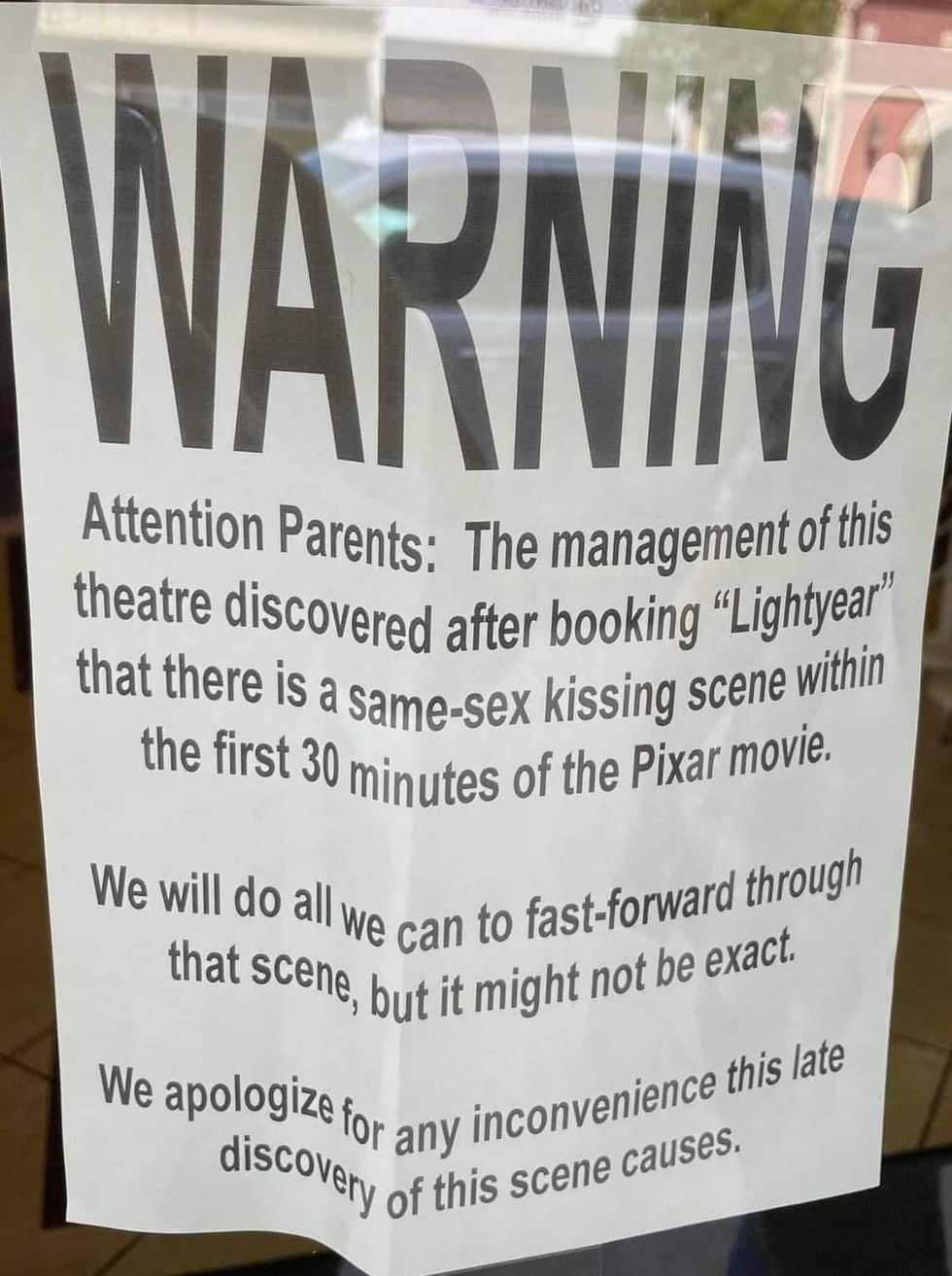 @FrancesMFDanger/Twitter
The theater's owner later told local news station KOCO 5 it would show Lightyear uninterrupted and the sign had been taken down.
At least one patron who spoke to the news outlet felt the fuss over the characters who share the same-sex kiss—one of which, Hawthorne, is voiced by Orange is the New Black actress Uzo Aduba—was overblown.
Jill Stuever, a woman who took her two sons to see the film, said the scene "was like two seconds, maybe like one second if you were really paying attention."
Stuever is correct, as you can see below.
The news the sign was removed was widely welcomed.
But the movie theater's owners were not above further criticism.
Disney had initially bowed to homophobic pearl-clutching over the scene.
They chose to restore it following pushback from LGBTQ+ employees of its Pixar division, who said they had "personally witnessed beautiful stories, full of diverse characters, come back from Disney corporate reviews shaved down to crumbs of what they once were."

Earlier this week, Texas Republican Senator Ted Cruz commented on the film by complaining about "lesbian toys."
Cruz added "last time I checked, most toys are kind of androgynous" and they are "usually without genitalia." He suggested if Disney must make films with such content, then it should choose to air it only on Cinemax, a network Disney does not own.