The nearing end of February also signifies the final days of Black History Month.
In schools, churches, performing arts centers and all sorts of other institutions across the US, February's final week so often includes a culminating send-off event for the month-long celebration of Black culture and influential Black figures of history, whose courage and creativity has deeply influenced the lives of Americans everywhere.
At least that's the plan.
But for the Oberlin Conservatory of Music at Ohio's Oberlin College, the culminating event has only prompted outrage and derision, with countless community members slamming the school's decision to include an array of only White performers on the event's flier.
As News 5 Cleveland reported, when the Oberlin Conservatory posted the flier--which has since been deleted--to Facebook, it quickly attracted over 2,000 comments and just as many shares.
Facebook users, upon seeing the all-White flier, were outraged.
One alum had this to say:
"Shameful. As an alumni of Oberlin Conservatory, I am very disappointed to see this. Every musician playing on this program knows better and knew better than to have no racial diversity in the ensemble of musicians performing..."
Someone else kept their anger short and sweet:
"This is stupid. You should be ashamed of yourselves."
Another person couched their criticism in a pun:

"Like for being a music conservatory y'all are pretty tone deaf."
One person could foresee the apology from a distance:
"I cannot wait for the 'apology' post. The typical 'We missed the mark. We hear you. We will do better.' Those never get old..."
Right on cue, the Oberlin Conservatory did publish an apology statement, also on Facebook.
In the statement, Oberlin apologized for the "problematic" flier, but went on to assure the event itself—and others throughout the month—included a diverse array of composers.
"While the program showcased Black composers, the flier featured only photos of the five white performers. We acknowledge wholeheartedly that this was problematic, and we accept and agree with the many critiques we have received in response..."
"...We acknowledge that it was a mistake to post this event out of context, and without pictures of the composers themselves, and we are deeply sorry. We will continue to be reflective and consider our policies moving forward in order to prevent a post of this nature from happening in the future."
After explaining the various diversity and inclusion efforts the school enstated over the last year, Oberlin closed the statement exactly as foreseen in that outraged comment:

"While these words guide our work always, this is clearly a day on which we misstepped. We want you to know that we hear you, and we will do better."
Many people didn't find the apology compelling.
They pointed to the real issue at play—while the school included works by Black composers they didn't include Black performers.

Patrick Schley/Facebook

Annie Smith/Facebook

Stephanie VanAlstine/Facebook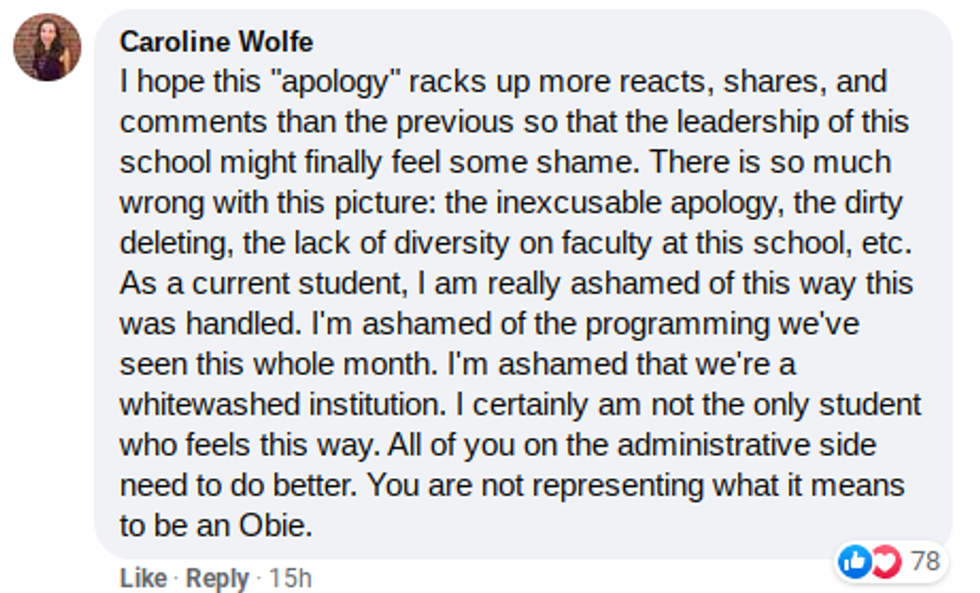 Caroline Wolfe/Facebook
And when the story made its way over to Twitter, the criticism continued in the form of memes, of course.

Oberlin be like "First day of rehearsal for The Wiz - Look at our amazing cast! ❤✊🏿" https://t.co/COjFdkFjOE

— James K Ballard (@James K Ballard) 1614613198.0
The oberlin thing reminds of me this video of Solange https://t.co/ErTxC0AKq4

— diane lockhart stan account (@diane lockhart stan account) 1614620842.0
Oberlin Con: don't worry, we have the perfect thing to end black history month https://t.co/2FnGietkhh

— otter of late capitalism (@otter of late capitalism) 1614563947.0
With Black History Month coming to its close, it's unlikely Oberlin Conservatory will turn the ship around and win back the favor of people before the celebration is over.

Fortunately, the school can work on being inclusive in literally every other month too, beginning immediately.