On Sunday night, veteran actor Morgan Freeman was honored at the 24th Annual Screen Actors Awards with the Lifetime Achievement Award.
After a standing ovation, Freeman was introduced by fellow Lifetime Achievement Award honoree Rita Moreno, who Freeman just happened to present the award to five years ago. The 86-year-old Moreno worked with Freeman 50 years ago on the acclaimed children's tv show The Electric Company, and the two have remain close ever since. She even told a story about Freeman playing Dracula on the show that had the audience chuckling.
---
This woman's reaction to Rita Moreno telling the audience she's known Morgan Freeman for 50 years https://t.co/I9hqDFc2jt

— Born Salty (@Born Salty)1516587301.0
After a montage of Freeman's work, it was time for the actor to head to the stage and accept his award. Moreno playfully ribbed Morgan about his baseball hat covering his face, and he teased back, "You got no idea how long I had to put up with that."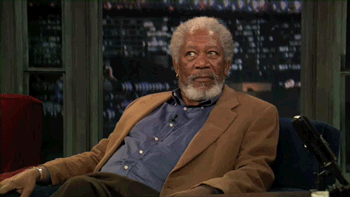 50 years, perhaps?
And after thanking SAG/AFTRA for bestowing the honor on him, Freeman paused for a moment before saying, "I wasn't going to do this; I'm going to tell you what's wrong with this statue."
"It works from the back, but from the front, it's gender specific," he noted, which was met with laughter from the audience. "Maybe I started something," he quipped to applause.
Change starts NOW. Equality for all #sagawards https://t.co/aqE6gt86c2

— SAG Awards® (@SAG Awards®)1516588100.0
Now, Freeman wasn't talking about the Lifetime Achievement Award, which depicts the traditional comedy/tragedy masks, but rather the award given to other recipients, which is simply called "The Actor."
You can see that the statuette is clearly male:
Morgan Freeman calls out #SAGAwards statue for being "gender-specific" from the front. https://t.co/gVAKWylRnK

— Jillian Sederholm (@Jillian Sederholm)1516587451.0
Many were happy that Morgan called out the statue for being sexist:
Ohhhh watch out!! Not to be undone, #MorganFreeman calls out @sagawards "actor" trophy, stating "from the back it w… https://t.co/N4EhZkSXTt

— Lizza Monet Morales #ClassyChingonas (@Lizza Monet Morales #ClassyChingonas)1516587471.0
Thank you #MorganFreeman for "starting something" #Maestro 👏🏻👏🏿👏🏾👏🏼 #SAGAwards #KM😈 https://t.co/lWtXfKZI9M

— Fernanda Kelly (@Fernanda Kelly)1516597422.0
When Morgan Freeman is out here dropping knowledge bombs that even award show statues are sexist #SAGAwards https://t.co/Cqxpv5RU7R

— 🙅🏾‍♂️avier Harding (@🙅🏾‍♂️avier Harding)1516588123.0
Others seemed to think that notion of a statue being sexist was a bit extreme:
@JillianSed Thoughts on the emmys clearly being a female? https://t.co/1ISIMsbpXo

— tam (@tam)1516623855.0
@JillianSed You've got to be fucking kidding me?

— Kayode Modupe-Ojo (@Kayode Modupe-Ojo)1516617119.0
@JillianSed https://t.co/8UIrDbMdEZ

— ⓗⓔⓐⓣⓗⓔⓡ (@ⓗⓔⓐⓣⓗⓔⓡ)1516612796.0
@JillianSed Well, it looks like we've lost Morgan. RIP.

— ꜱᴍᴇɢ🗿 (@ꜱᴍᴇɢ🗿)1516623827.0
But perhaps the most important revelation is that Morgan wasn't actually the first person to point out the gender specificity of the statue. And in fact, it was a woman: Dame Helen Mirren.
The Oscar winner noted in her win last year for the TV movie Phil Spector that the statue was male, but joked about it in a lighthearted way, saying, "I love this little guy. He's so sexy, isn't he? You know, sort of naked, but not quite. And...quite exciting."
MORGAN FREEMAN: "I'm going to tell you what's wrong with this statue, from the back it works but the front is gende… https://t.co/QRjBVyfM8T

— FLARE (@FLARE)1516587803.0
We'll have to wait and see how the SAG Awards responds to Freeman's observation. We may be seeing a decidedly less-masculine statue at next year's awards.
To see the rest of Freeman's introduction and speech, check out the video below: