A mom has described how her "bubble of pure joy" was cruelly burst when her baby girl was diagnosed with Rett syndrome, a brutal genetic illness causing her to regress.
---
Lifelong family friends when, in July 2017, former HR manager, Carrie McSwan, 42, and civil ground worker Simon Everitt, 47, admitted their feelings had blossomed into love, she was already a mom, with a grown-up daughter, Ella, 21, and two sons, Jack, 10, and Harry, four.
But it was still a "delightful shock" when, in November, Carrie, of Fareham, Hampshire, England, discovered she was pregnant – although her happiness was short-lived, as she soon experienced cramping and bleeding and believed she had miscarried.
So, when she complained to her GP of abdominal pains on December 19, 2017, she was further astonished to discover she was still pregnant and had probably miscarried a twin, but one baby had most definitely survived.
Going on to enjoy a smooth pregnancy, before giving birth to 7lb 9oz Lara on July 26, 2018, at Hampshire's Queen Alexandra Hospital, she said:
"Lara did have a bit of a flat head and was given a special helmet to wear for the first few months, but apart from that we were in a bubble of pure joy for the first six months."
But in May 2018, just weeks after fighting a bout of chicken pox, Lara's loving parents noticed a drastic change in their daughter, who appeared to be visibly regressing.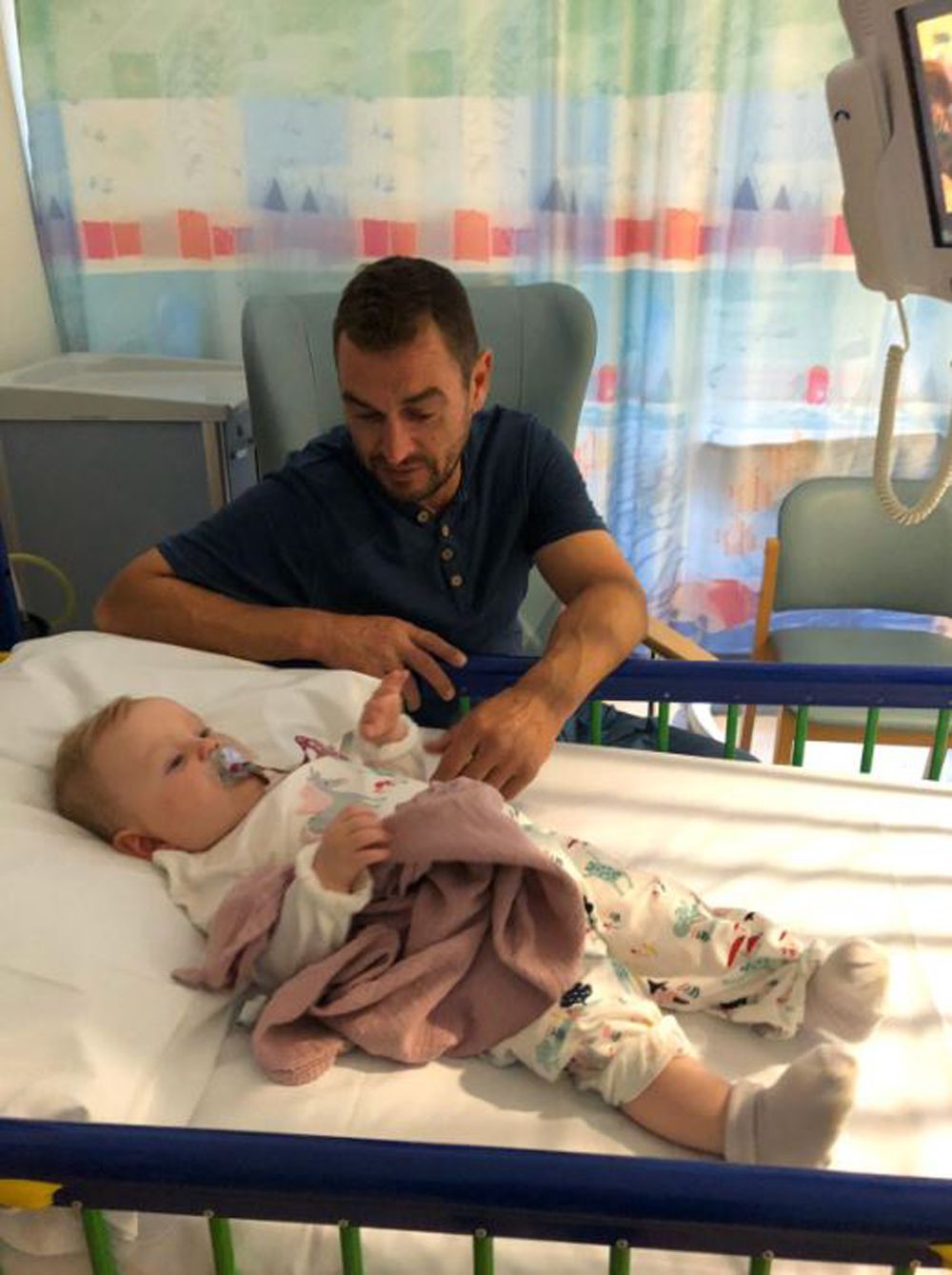 Lara and Simon in the hospital (PA Real Life/Collect)
And, following lengthy investigations, in November 2019, she was finally diagnosed with Rett syndrome – a rare genetic disorder affecting brain development, resulting in severe mental and physical disability, which, according to the NHS, is seldom seen in boys, but affects one in 12,000 girls born in the UK each year.
Now her full-time carer, told her daughter will need 24-hour care for the rest of her life, Carrie, who is determined to make Lara's experiences as "positive and fabulous as they can possibly be," is speaking out to raise awareness of Rett syndrome.
Carrie, who has launched a GoFundMe page, hoping to raise money towards the cost of raising her youngest daughter, said:
"We knew something was wrong as, after the chicken pox, it was as if someone had swapped Lara with another baby – we didn't recognize her at all."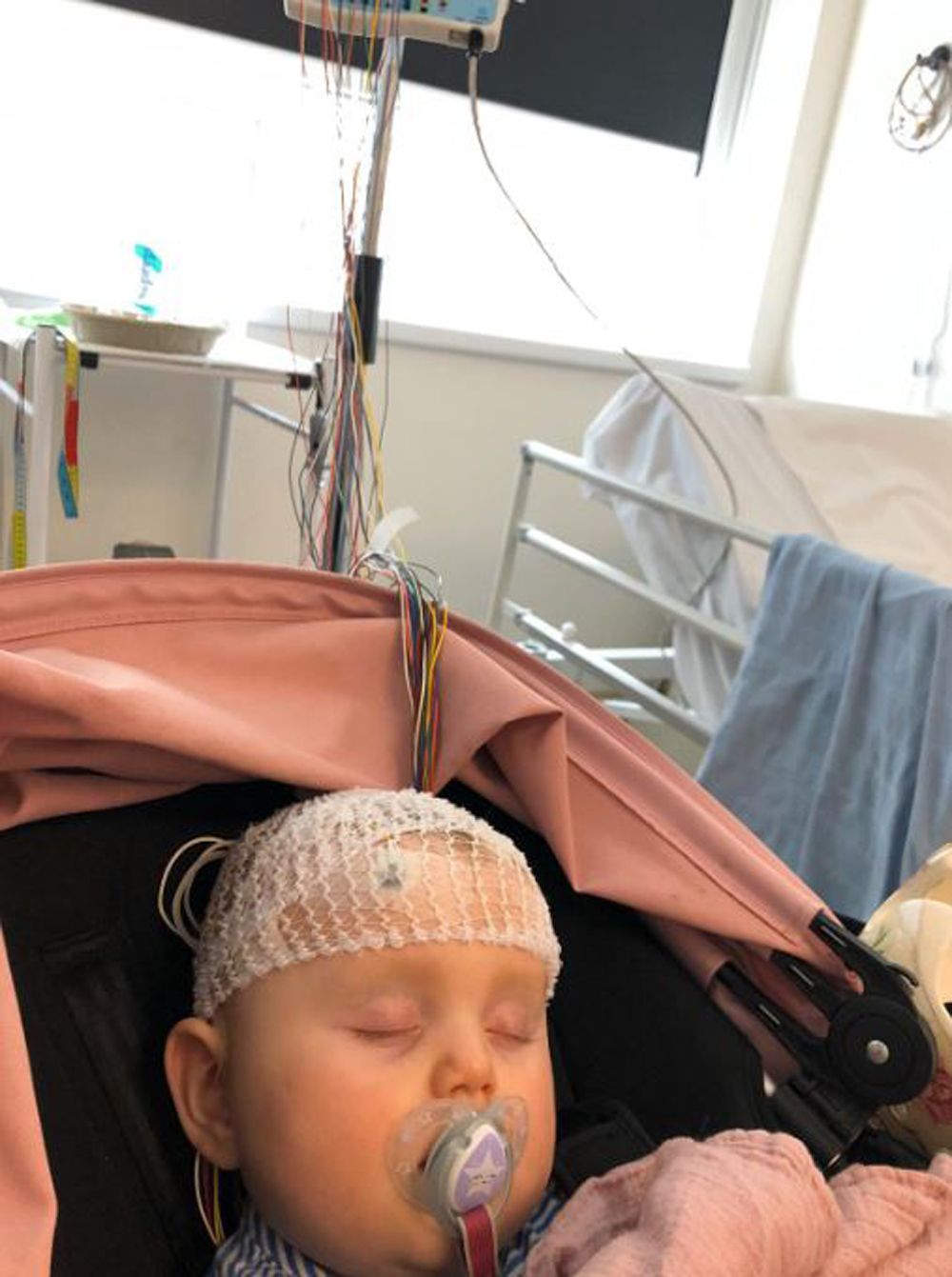 Lara in the hospital (PA Real Life/Collect)
"She was crying all the time, she was ringing her hands, grinding her teeth, hyperventilating, holding her breath for long periods of time and having awful night terrors," she continued.
"It was like someone dimmed the lights in her and they'd nearly gone out."
When Carrie first started seeing Simon, back in July 2017, life could not have seemed more perfect.
She recalled:
"I'd always known him and always fancied him, but nothing had ever come of it because of timing."
"Everyone had known we had a soft spot for each other. Then, all of a sudden, after nearly three decades, it was finally the right time and the right place, and we fell in love overnight."
But when they talked about having children, Carrie made it clear that she was "quite happy" with the three she already had and that, despite Simon never becoming a dad, she was not looking to have any more.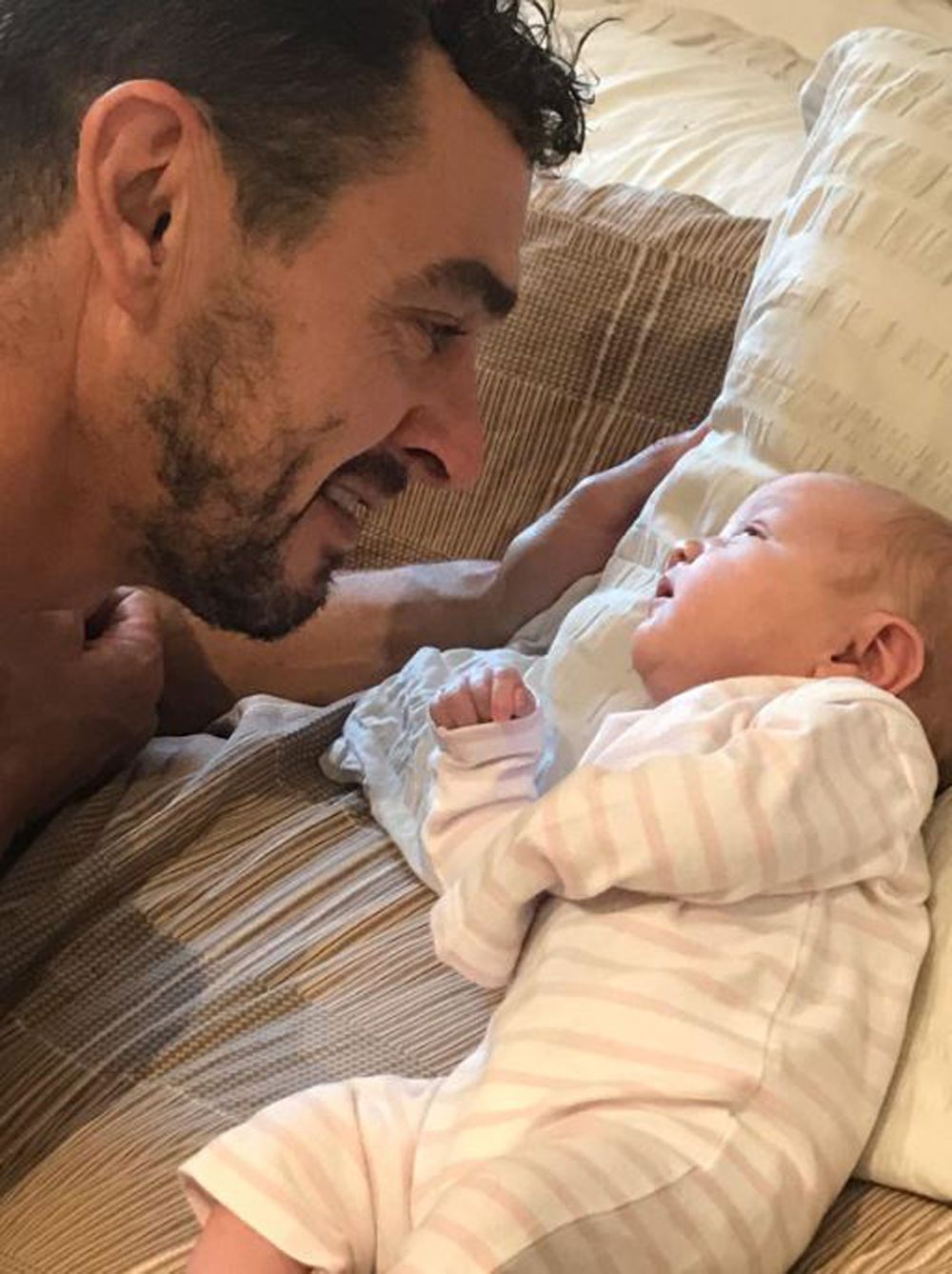 Simon and Lara (PA Real Life/Collect)
She admitted:
"I thought that might be a deal breaker, but he just accepted it."
Still, when she fell pregnant, despite using protection, they were both delighted and felt seriously disappointed when she believed she had miscarried soon after.
She said:
"I've had miscarriages in the past and I knew straight away what it was – nature was taking its course."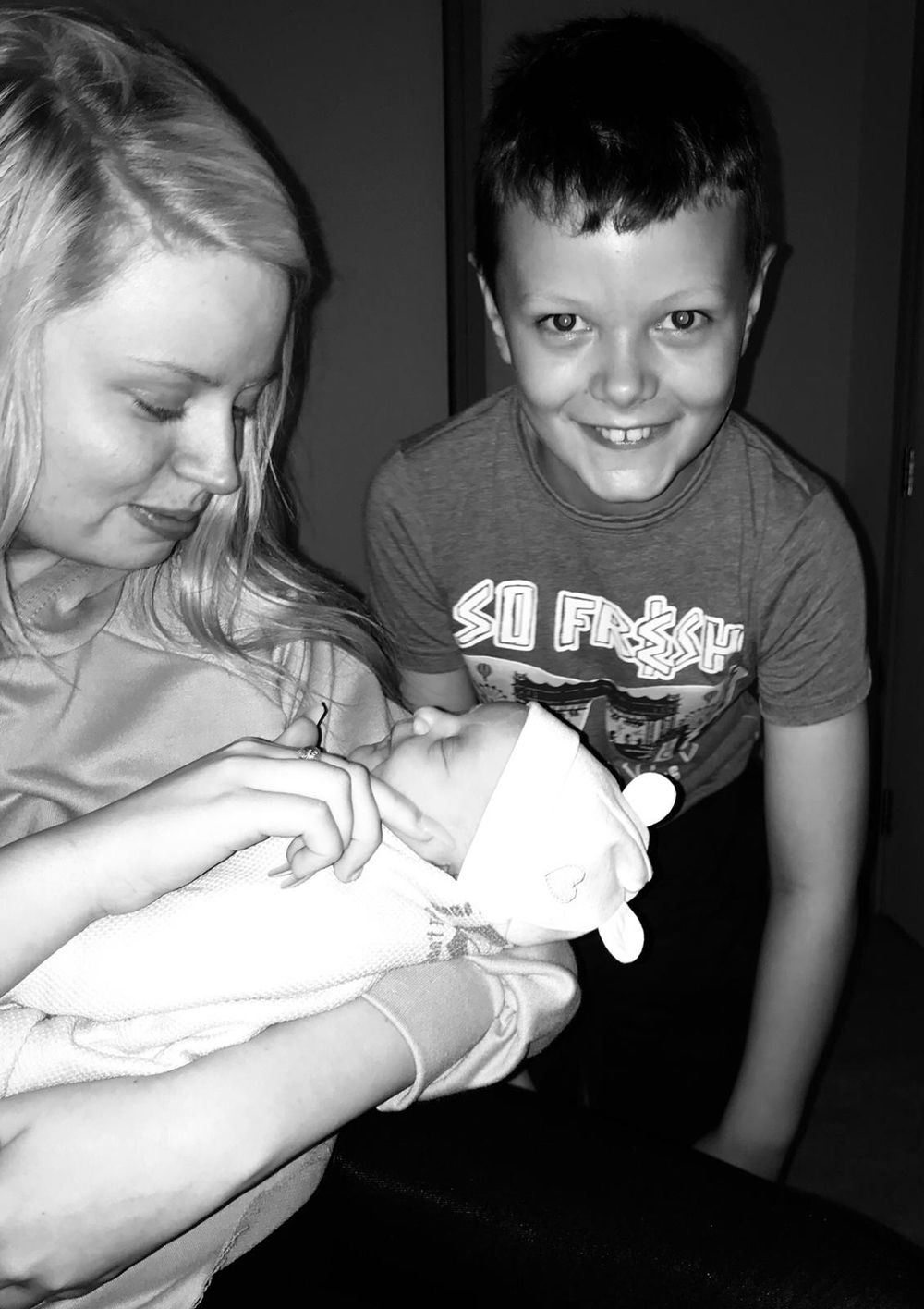 Ella, Lara and Jack (PA Real Life/Collect)
"Of course, it was very sad, but sometimes these things aren't meant to be," she added.
Then, a few weeks later, when she saw her doctor about a few "niggling pains" in her abdomen and was told to take a pregnancy test, even when it was positive, she found it hard to believe.
She said:
"I didn't believe it until they did a scan."
Latest version of Rett News is out now >> https://t.co/HNoVGoO2MB https://t.co/wj6RFZ2ekb

— info@rettuk.org (@info@rettuk.org) 1575809317.0
"The working theory is that I was originally carrying non-identical twins, who were in separate sacs, and one had miscarried, and the other hadn't," she continued.
"It was just days before my 40th birthday party. It was such a brilliant birthday present, finding out I was pregnant, but I did have to cancel my party out of shock."
"Simon was absolutely over the moon, his friends could hardly believe it. Six years as a George Clooney-style bachelor and suddenly he was an expectant dad."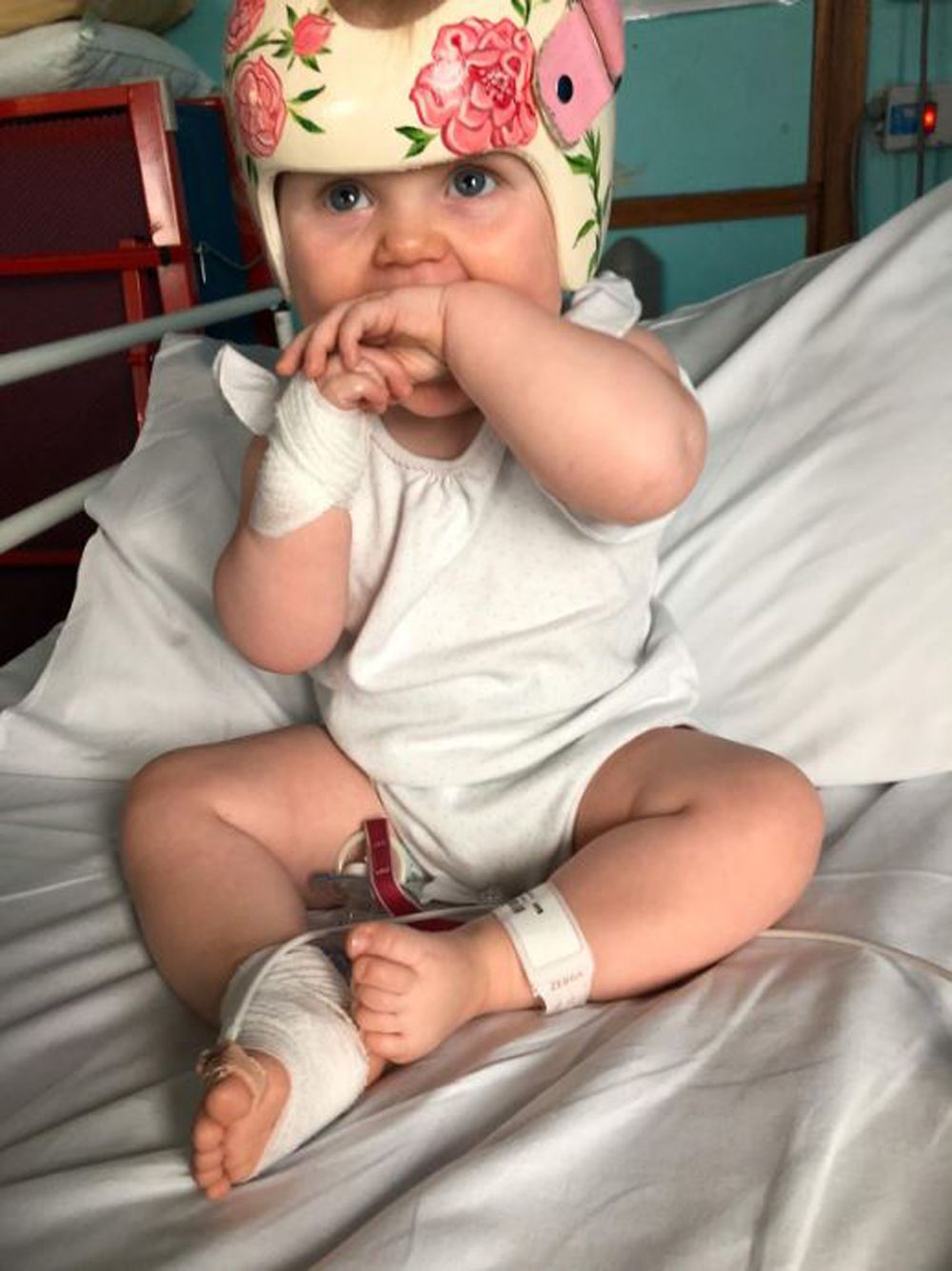 Lara in the hospital (PA Real Life/Collect)
"He's such a great step-dad too – we still joke that he bought one and got three free," she added.
Describing the rest of the pregnancy as "completely smooth," on July 26, 2018, Lara was born without complication and mother and baby were discharged the next day.
By the time Lara was eight months old, Carrie could proudly tick off a handful of milestones the tot had reached.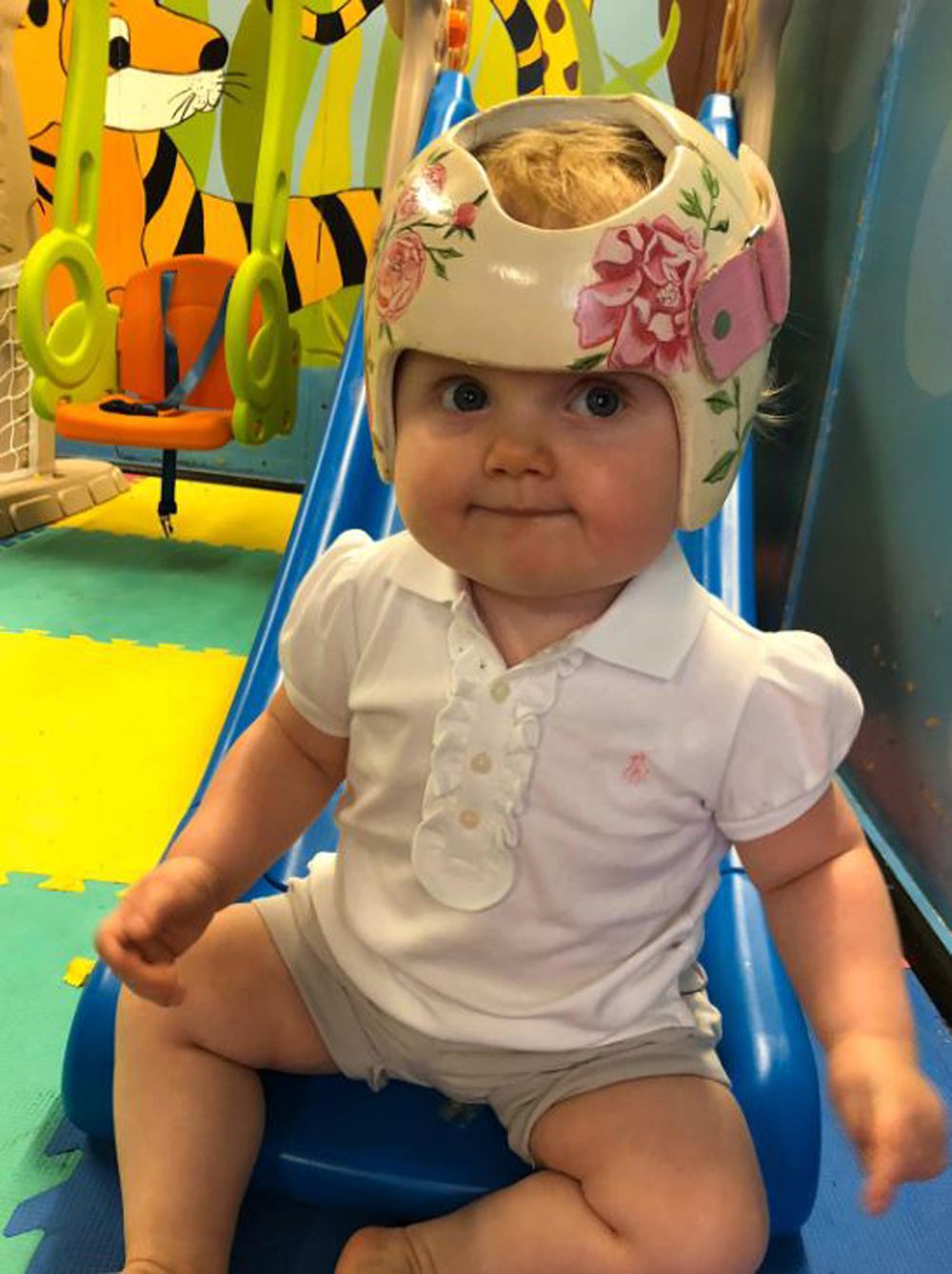 Lara at fun for all (PA Real Life/Collect)
"She was sitting up, rolling over, clapping, playing with toys, and really bubbly and sociable," she explained.
"Her personality really came through in the tone and inflection of her voice and she had just started saying 'Daddy.'"
Then, in May 2018, within weeks of fighting off chicken pox, Lara seemed to be regressing.
"At first we noticed her sitting and staring a lot more than before," said Carrie.
"It was like she wasn't engaged at all, but we put it down to the chicken pox."
When she was still behaving oddly at the end of the month, Carrie took her to Queen Alexandra Hospital, where the pediatric consultant could see straight away that something was wrong.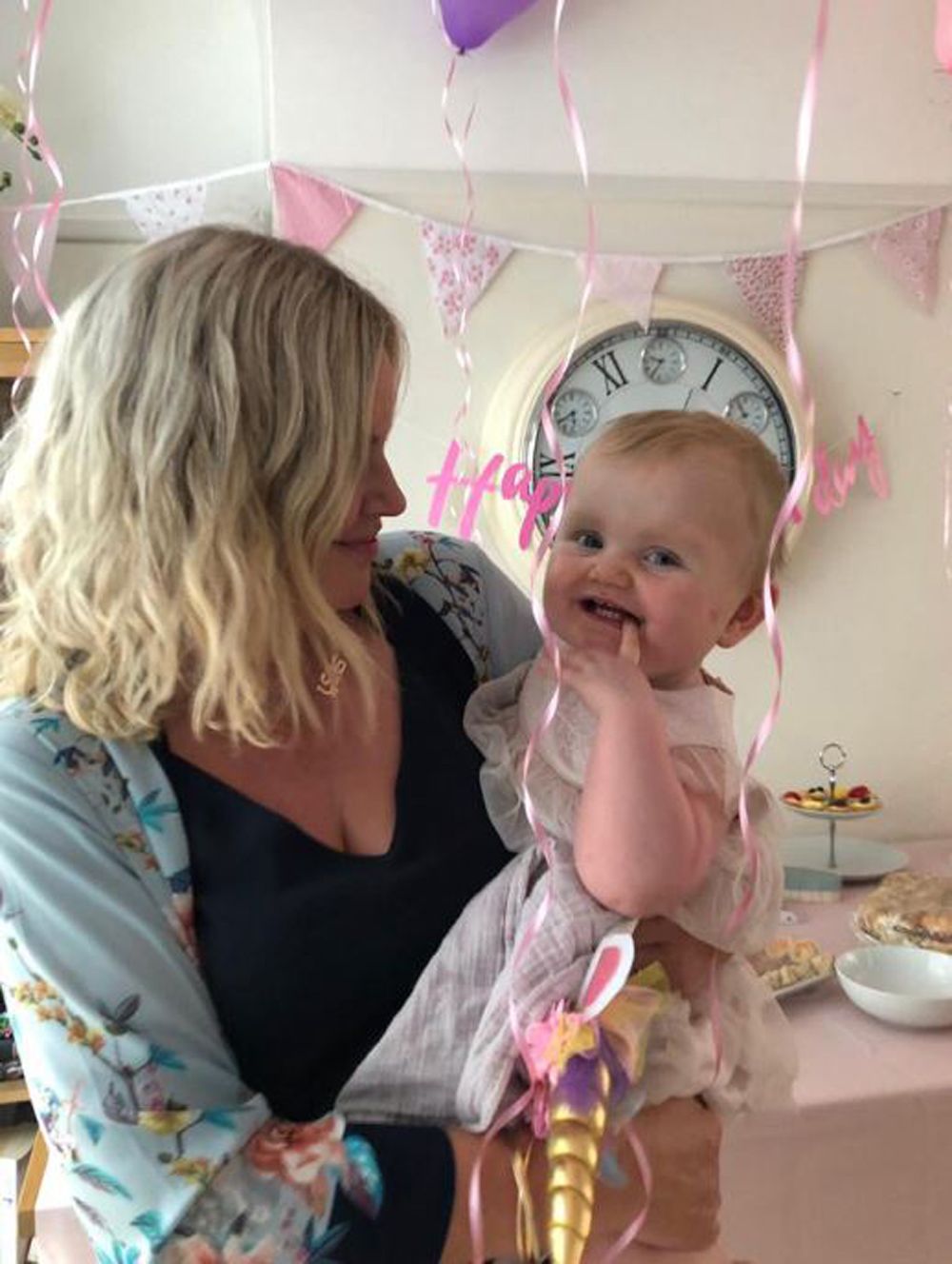 Lara's first birthday (PA Real Life/Collect)
"The consultant had helped treat Lara's misshapen head, so could see there was a huge shift in her personality and abilities," she added.
Initially suspecting encephalitis – an inflammation of the brain that can be caused by chicken pox – doctors performed an MRI scan and lumbar puncture, to test spinal fluid, which ruled it out.
Then suspecting the cause might be genetic, she was referred to Hampshire's Southampton General Hospital for genetic testing in July 2019, although her parents were warned the results could take over a year to provide conclusive results.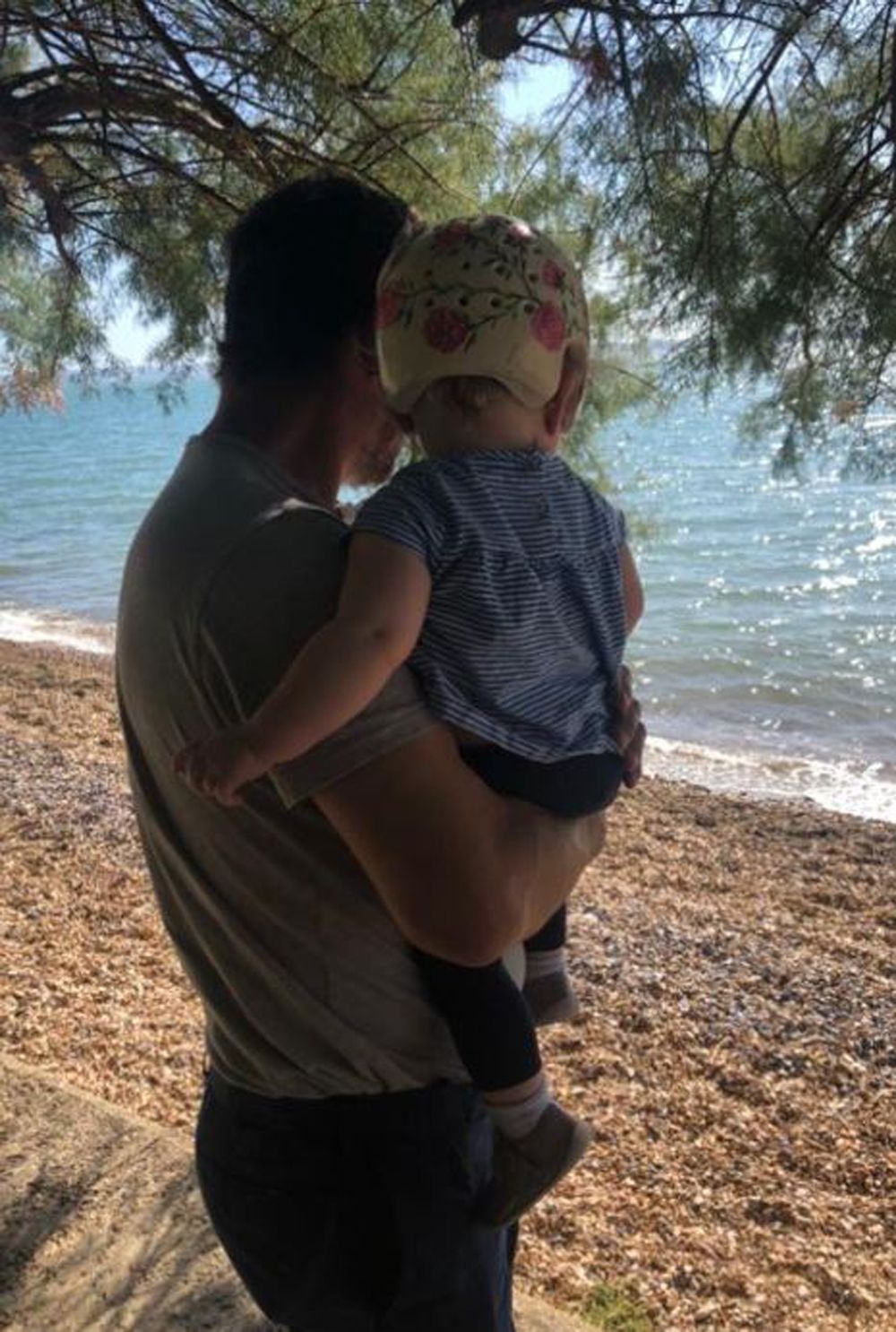 Simon and Lara at the beach (PA Real Life/Collect)
Desperate for answers, Carrie said:
"I spent all my free time browsing the internet for any possible clue to what was wrong."
"Something in my gut told me it had to be genetic and that's when I eventually came across a YouTube video about Rett syndrome and it stuck in my mind."
Meanwhile, doctors wanted to rule out the childhood cancer neuroblastoma.
Babies with Rett syndrome appear to develop normally for the first year or eighteen months but may be quite floppy… https://t.co/yWTLs8i58e

— info@rettuk.org (@info@rettuk.org) 1571468706.0
"Part of me was wishing Lara had it," said Carrie. "It sounds awful, but cancer is something you can fight and treat, whereas a genetic condition is for life."
With a CT scan at Southampton General Hospital ruling out a tumor, in November 2019, Lara was finally diagnosed.
"The consultant told me that, after ruling out other possible causes, they had come to the conclusion that Lara's condition fell under the Rett syndrome umbrella," said Carrie.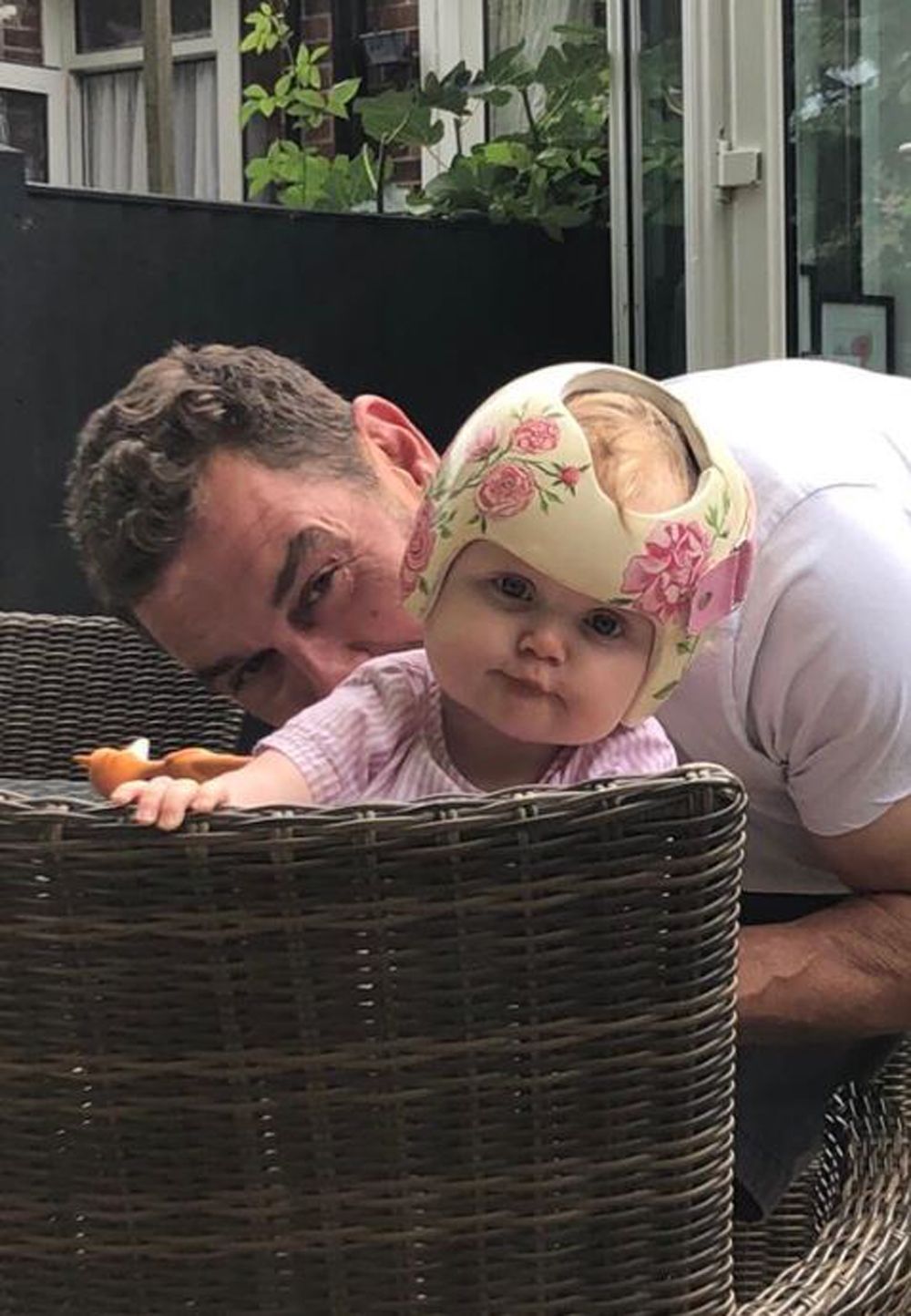 Simon and Lara (PA Real Life/Collect)
"In my heart of hearts, I had known that was the case and, in a sense, it was a relief – the whole diagnosis journey had come to an end," she continued.
Told there is no cure for the condition, Lara is now having weekly physiotherapy to build her muscle strength and Carrie hopes money raised using GoFundMe could pay for further treatment privately.
"I'm desperate to provide Lara with the specialist treatment she needs," she said.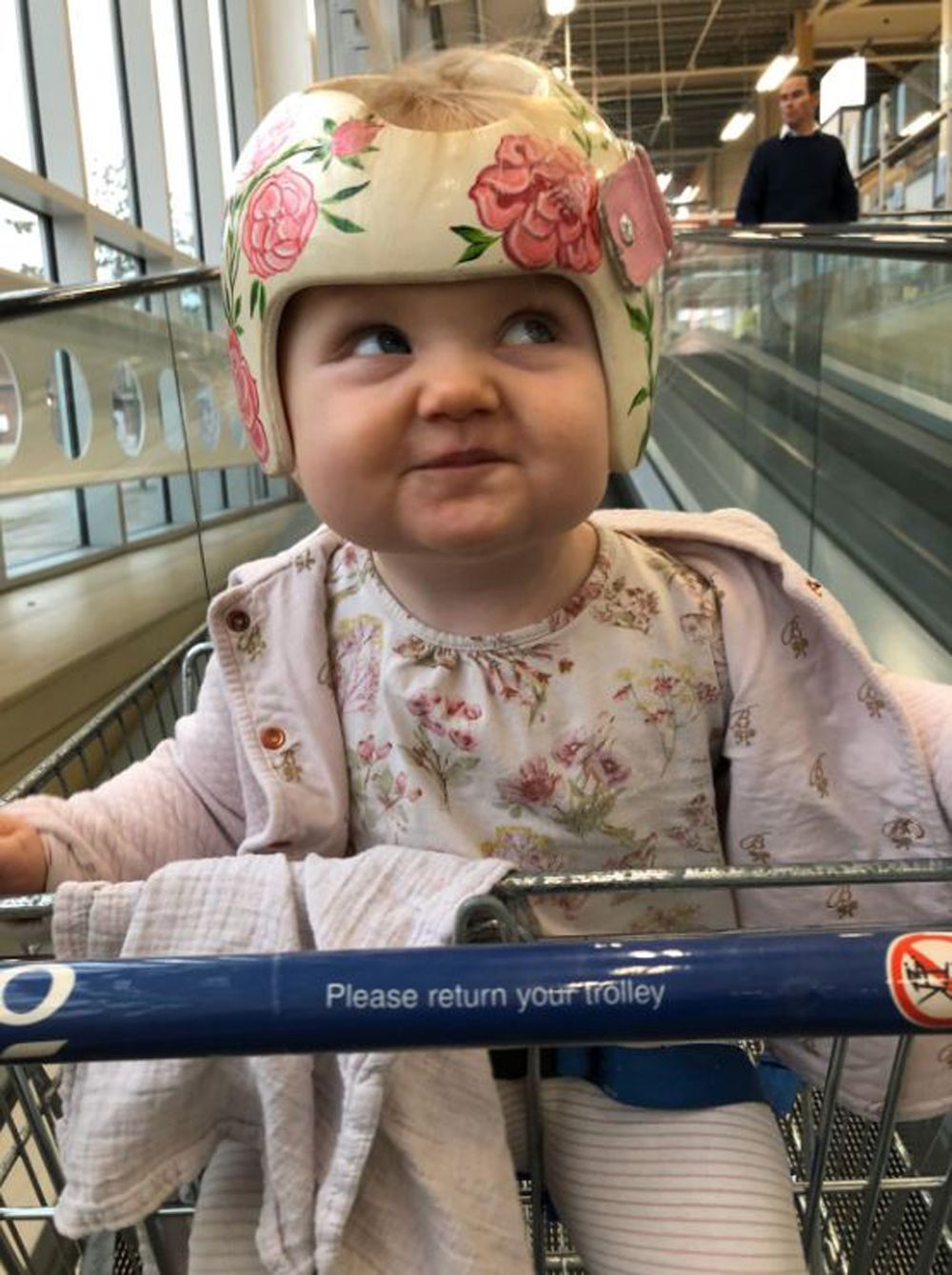 Lara shopping (PA Real Life/Collect)
She added:
"Currently, she has physiotherapy on the NHS, which is brilliant, but I want to provide hydrotherapy, horse riding and as many trips to a private Rett specialist as I can."
Told her daughter will need 24-hour care for the rest of her life, Carrie, who is still waiting for results from the genetic screening, has little certainty about what they face.
"Every child is different, and we don't know how this is going to pan out," she said.
"Lara most likely won't be able to walk or talk properly and she might regress even more than she has already," she added.
"But we're very much 'glass is half full' kind of people."
"This has become our normal and this is something we have to live with."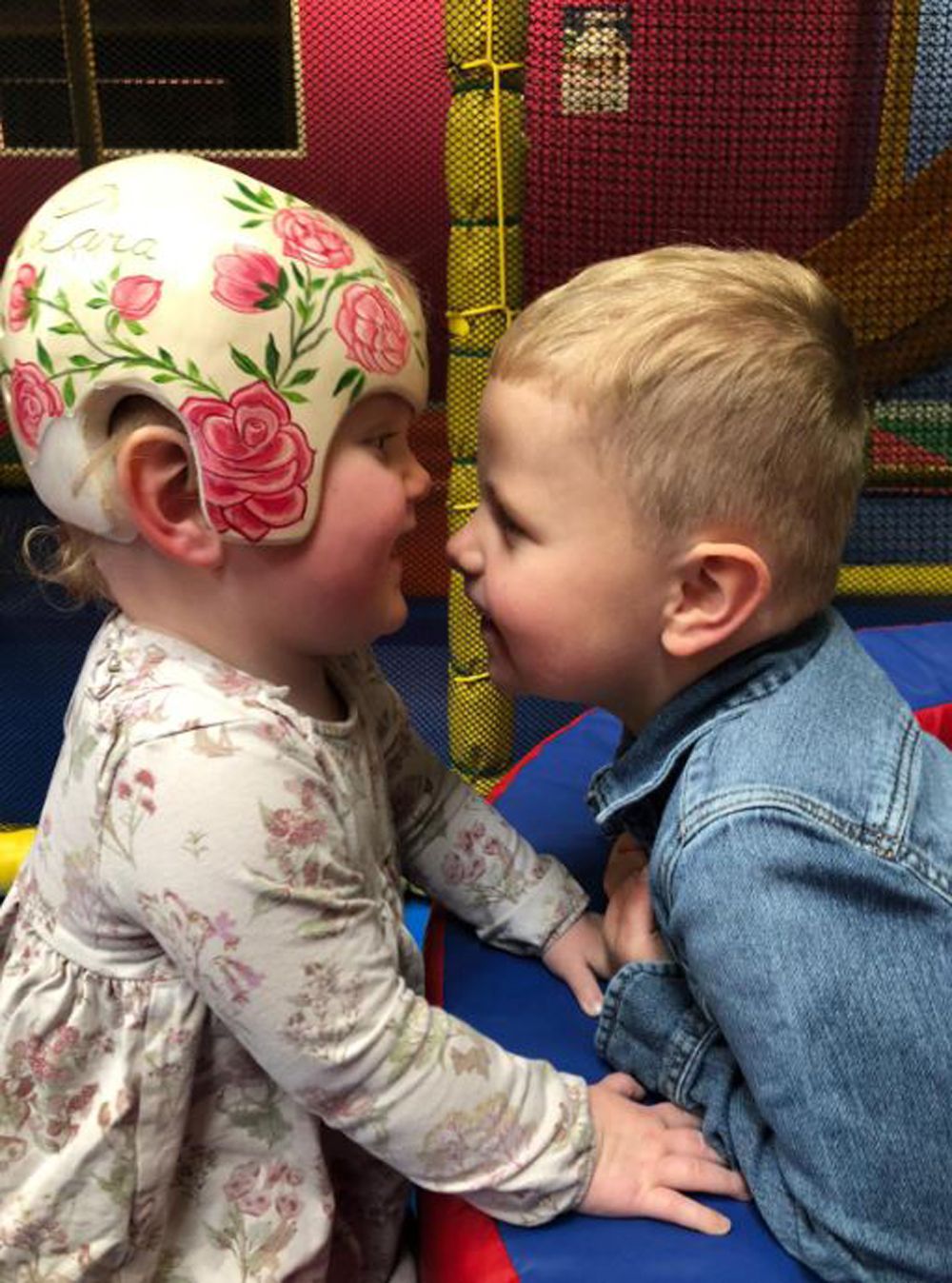 Lara and Harry (PA Real Life/Collect)
She continued:
"It's devastating and heartbreaking. All you want is for you child is to grow up and have a fulfilling life, but if I thought about that for much longer than 10 minutes, I probably wouldn't get out of bed every morning."
And, despite everything she is going through, Lara remains a lovely child.
"She's such a beautiful little girl and people do stare, especially because of her helmet," she said.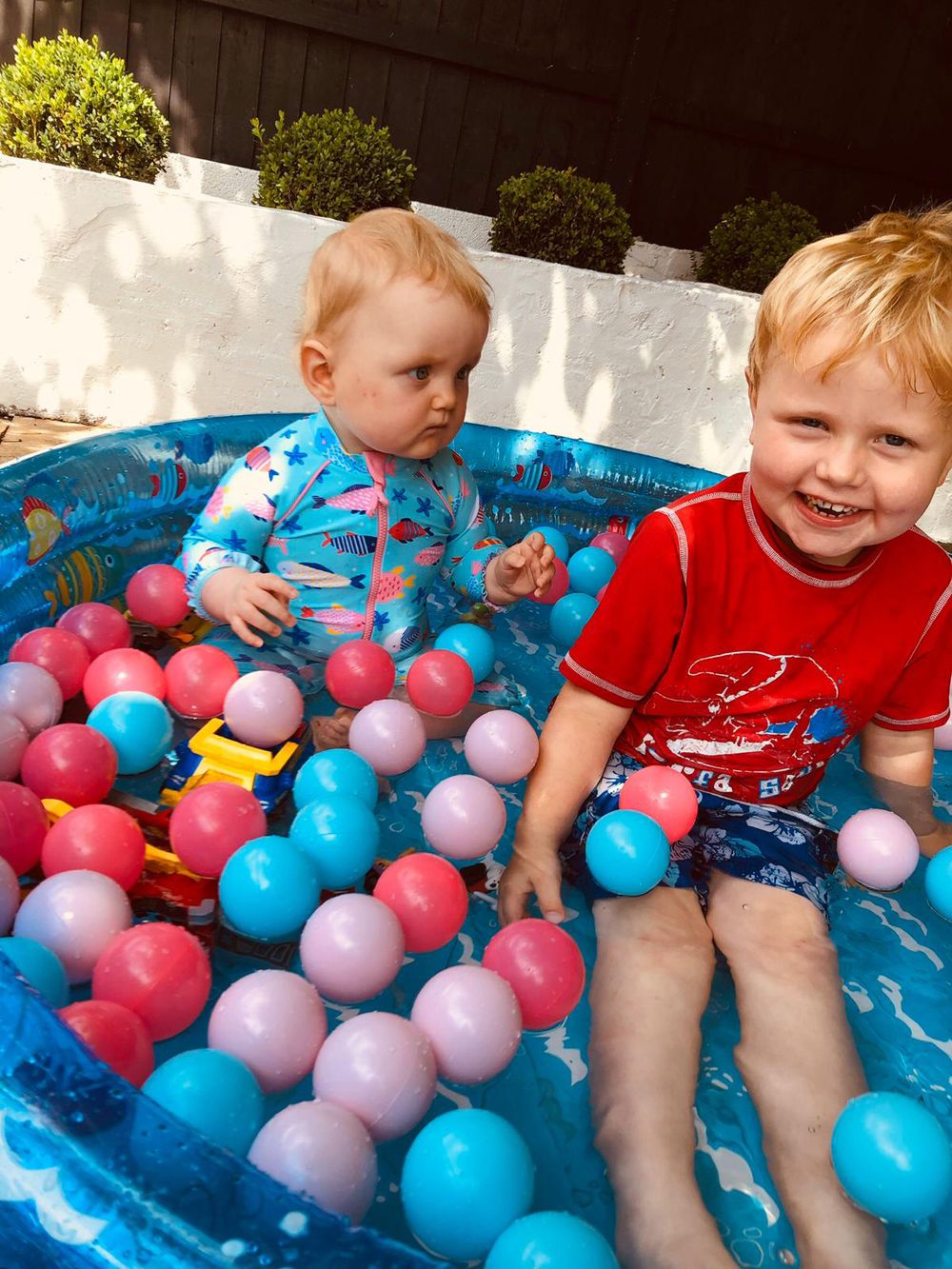 Lara and Harry (PA Real Life/Collect)
"But in a way it's a positive, as it offers a segue into talking about her condition, and raising awareness of Rett syndrome – which can only be a positive," she continued.
"And as Lara's very clever big brother Jack says: 'The world needs children like Lara, as it teaches people to be kind and compassionate.'"
"I tell people she might look 18 months old, but she has regressed to being a baby again and that's something that might never improve."
She concluded:
"There's so much more to her than this condition, though. She enjoys listening to nursery rhymes, watching 'Peppa Pig' and loves spinning things around with her hands – especially her toy abacus."

"Most magical of all, though, she's recently started to laugh again."
"We're getting more of the Lara we knew before – finally she's shining through."
To donate to Carrie's GoFundMe visit, www.gofundme.com/laras-shining-light-trust