A devoted mom has told how she believes RuPaul's Drag Race saved her son's life – as the gender-bending performance art helped him realize that he is transgender.
Though assigned female at birth, Bailey Larsen, now 14, grew up feeling as if he did not belong, cutting off his long, blonde hair and wearing boyish clothes in a bid to feel more comfortable.
Eventually, in 2017, aged 11, he came out to his mom, child therapist Dana Larsen, 41, as non-binary – a person who does not identify rigidly as either a male or a female.
Keen to encourage him to explore who he is, she decided to start watching RuPaul's Drag Race with him, a VH1 show that sees fierce queens compete for the title of America's next drag superstar.
Buoyed by the confidence of the performers he saw on screen, Bailey, who has now decided he would like to transition to male, and is taking hormone blockers, felt gradually more comfortable showing his true self to the outside world.
And now, he even has a sassy drag alter-ego of his own, Nemo.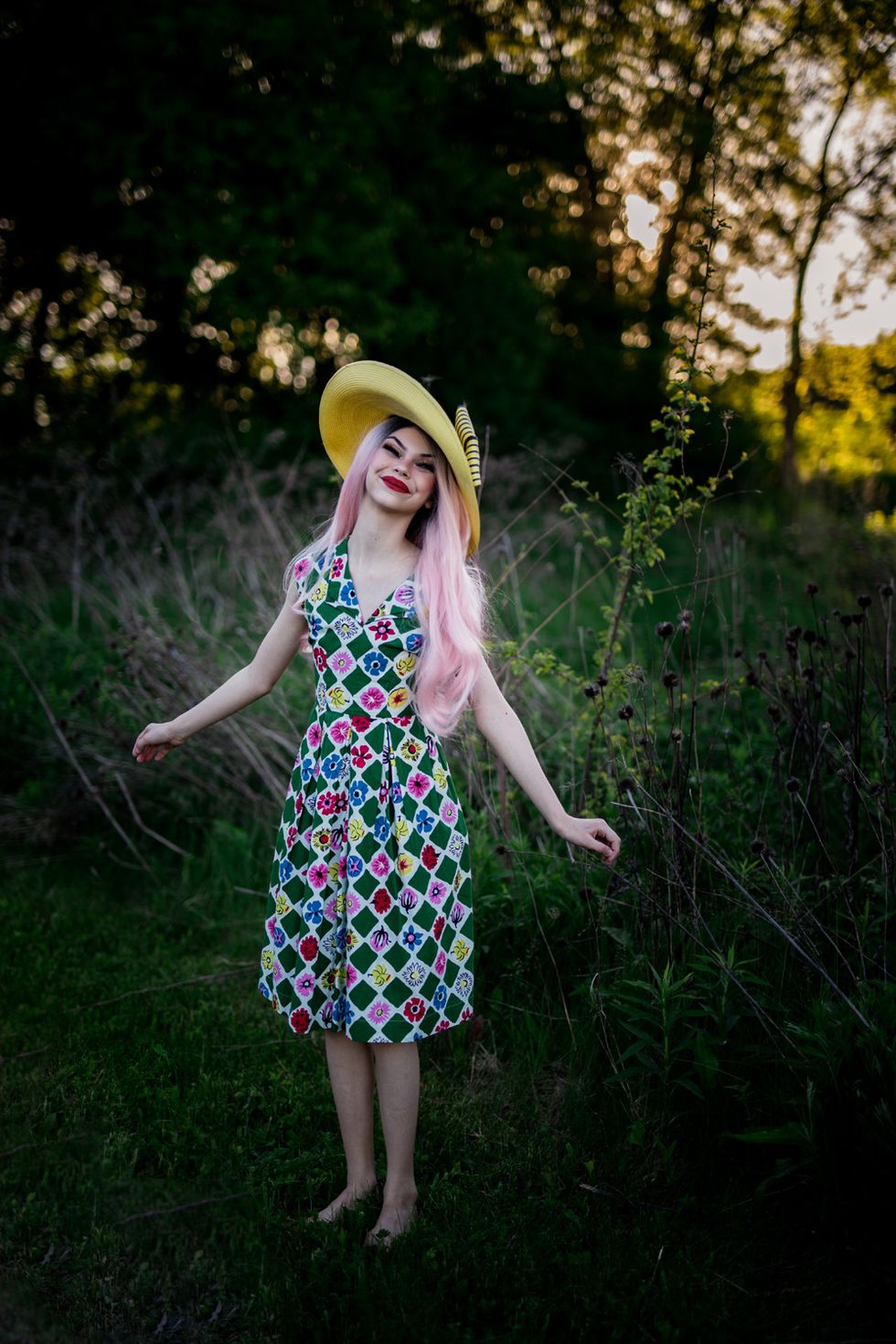 Bailey showcasing his drag alter-ego, Nemo (Dutcher Photography/PA Real Life)
Speaking out during June's annual LGBTQ Pride month, Dana, of Madison, Wisconsin, said:
"I wanted to help Bailey find his tribe – people he could relate to – so I suggested we watch 'Drag Race' together."

"Without a doubt, the show helped him navigate his own gender identity. It helped him understand social norms and gave him the opportunity to play with them himself."
"RuPaul is all about playing with femininity and exploring different forms of gender expression. What could be more therapeutic for a young boy who was assigned female at birth?"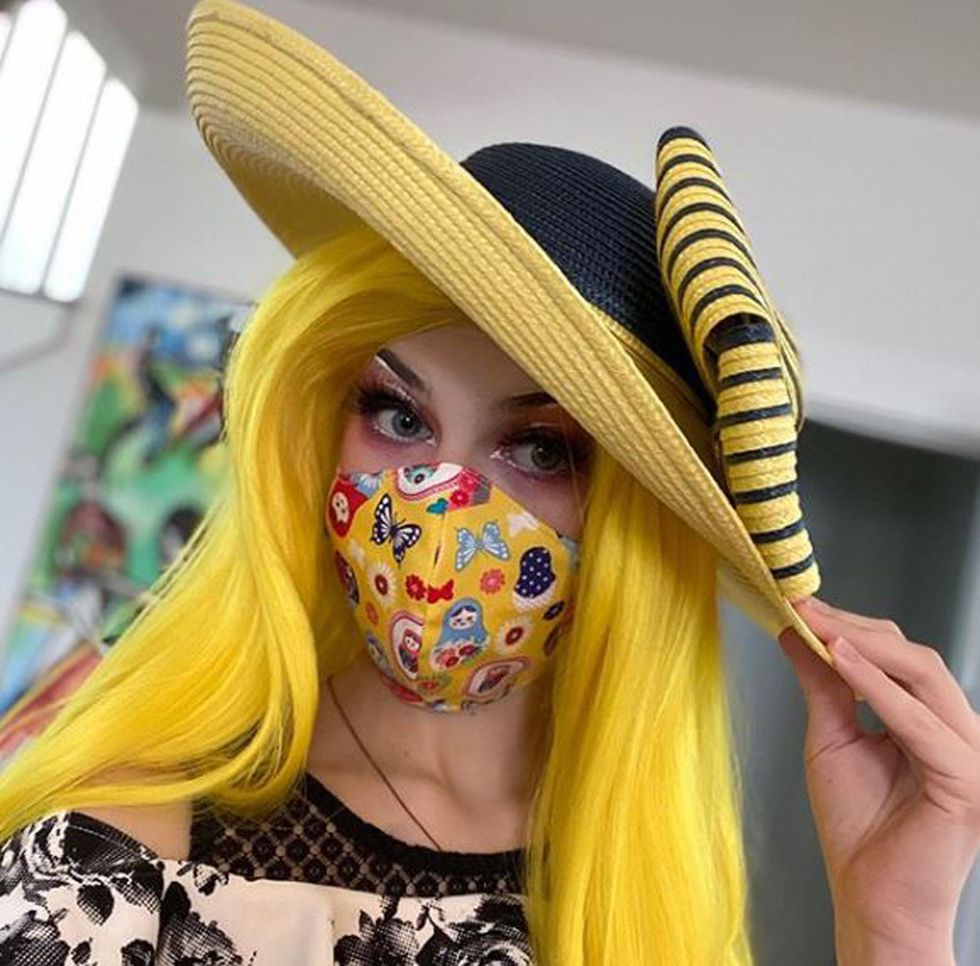 Nemo showcasing her look during lockdown (PA Real Life/Collect)
Dana, who has another son, Logan, 16, with her graphic designer husband Luke, also 46, explained how, growing up, Bailey never seemed comfortable with being feminine.

She continued:
"Bailey really struggled growing up, especially at primary school, where he had to wear a gendered uniform."
"When he started middle school aged 10, he cut all his hair off and started wearing boyish clothes."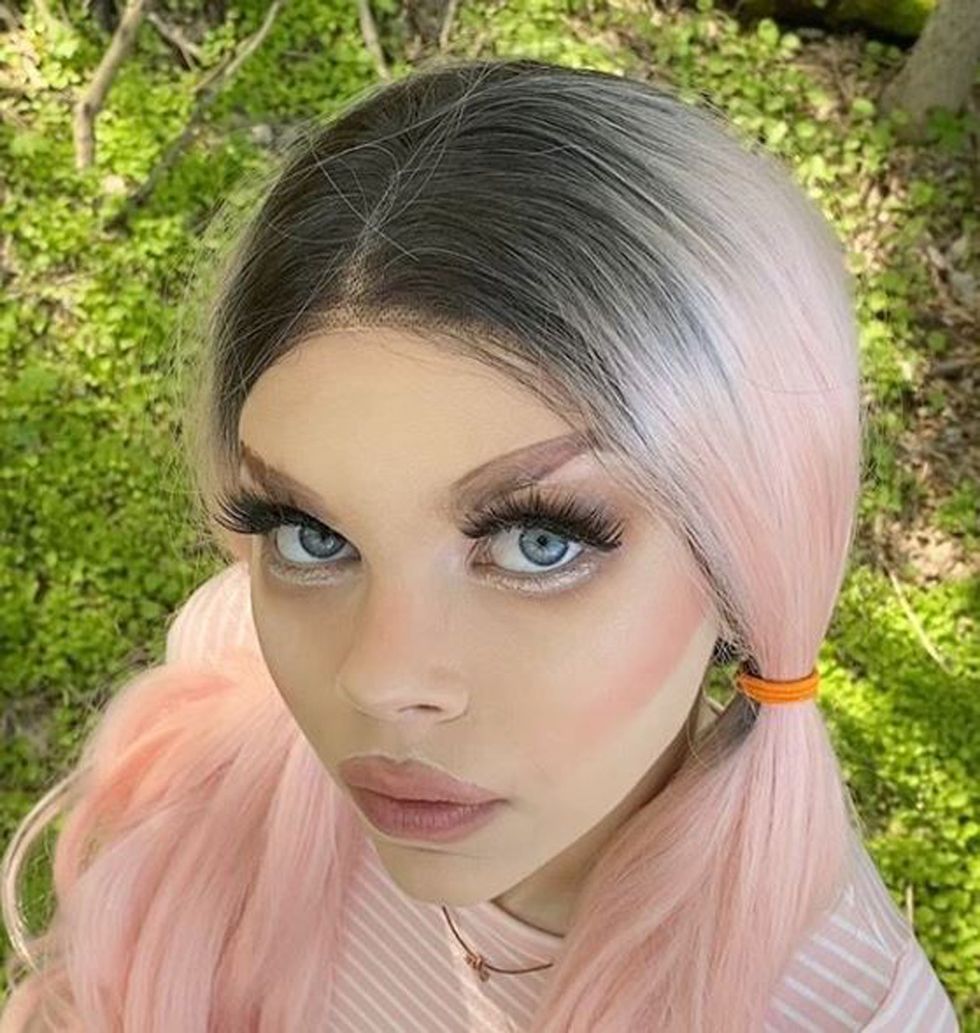 Bailey has been dabbling in drag for the past year (PA Real Life/Collect)
She continued:
"We're a very progressive household, so were supportive. But, unfortunately, not all of Bailey's peers have been as understanding."

"The more he was able to be himself, the more he stood out as different – making him an easy target for bullies."
Then, in 2017, at the age of 11, Bailey told his parents that he identified as non-binary and did not believe he was born to be a woman.
Dana explained:
"Bailey had read a book called 'Symptoms of Being Human', and he related to a character who is gender fluid and thought, 'Oh this is happening to me.'"
"The book became a way for him to talk about his experience and one day he told me he'd like me to read it."
"I could totally see Bailey's experiences being the same as the character's and that's how it unfolded."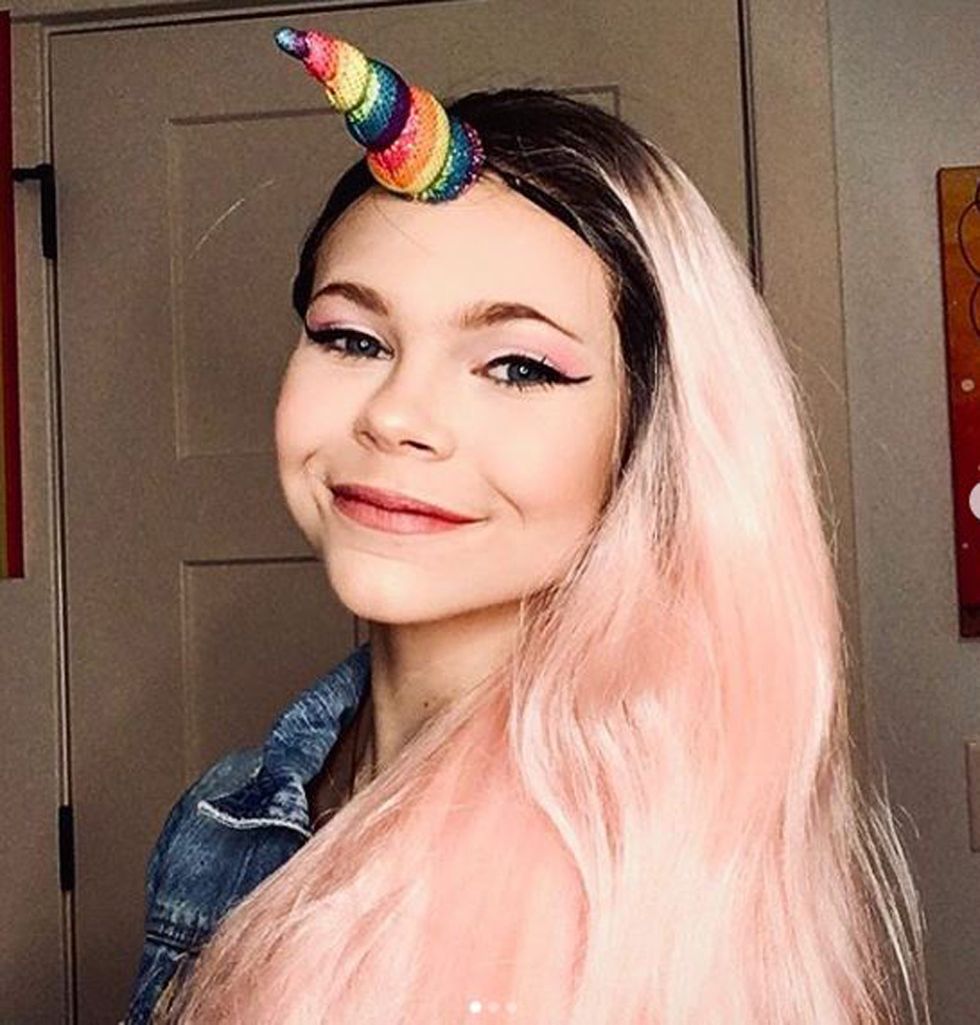 Bailey sporting a unicorn's horn (PA Real Life/Collect)
Shortly afterwards, Dana hit upon the idea of taking a family tradition and using it to help Bailey navigate the next chapter of his life.

"We definitely aren't what you'd describe as a 'TV family,'" she explained. "But Bailey and I did develop a tradition of watching a series together over the years – just us two."
"After he came out as non-binary, I suggested that we started to watch RuPaul. Immediately he thought the show was crazy, and within a few episodes, he was hooked."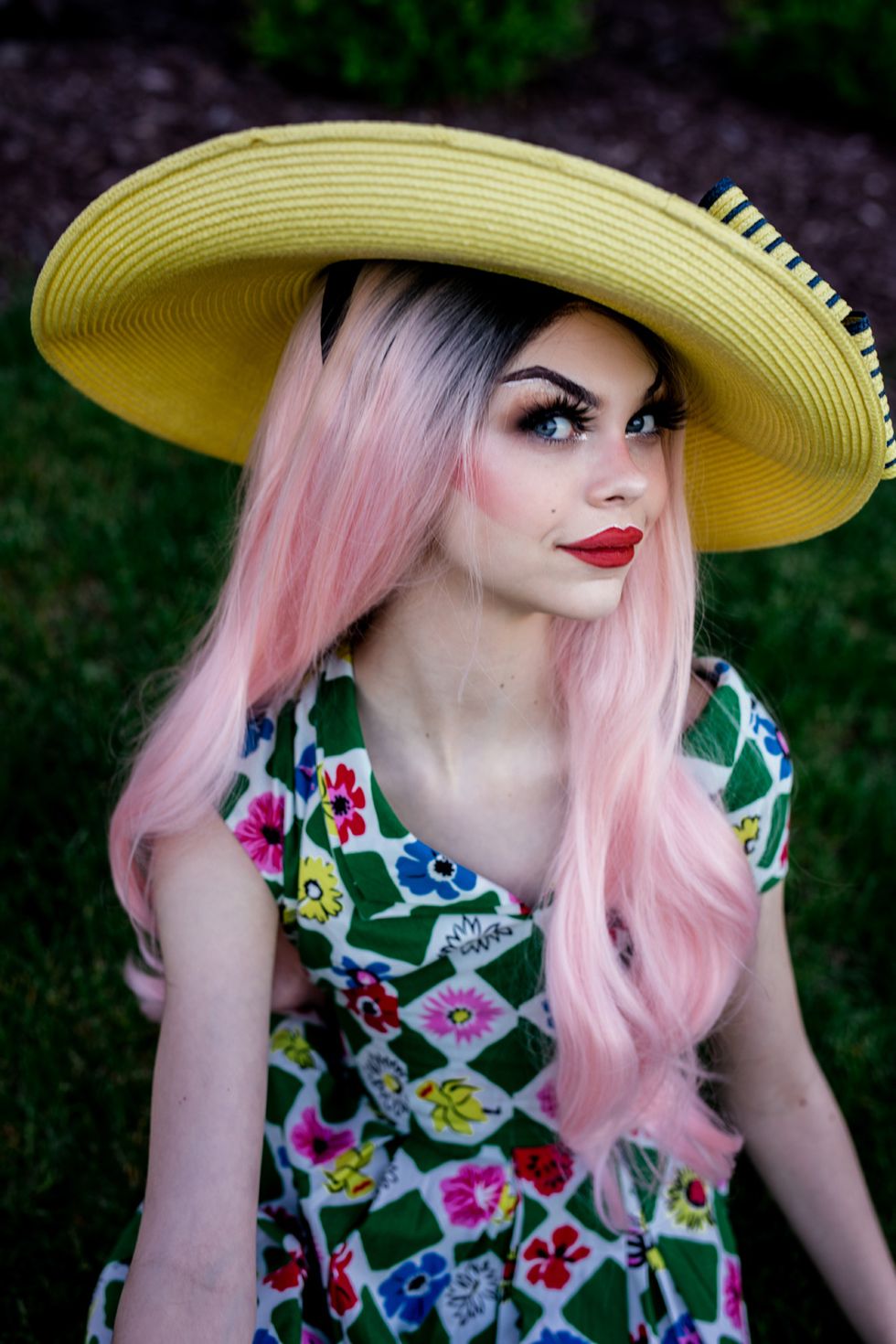 Bailey's drag alter-ego, Nemo (Dutcher Photography/PA Real Life)
But the program, which has just finished its twelfth series, was not just light entertainment for the mother-son duo – Dana describes the experience as educational.

She added:
"Bailey started researching the back stories of the queens, and watching old episodes."
"The show refers to itself a lot, especially with inside jokes, and that spurred him on even more – he got lost down the rabbit hole."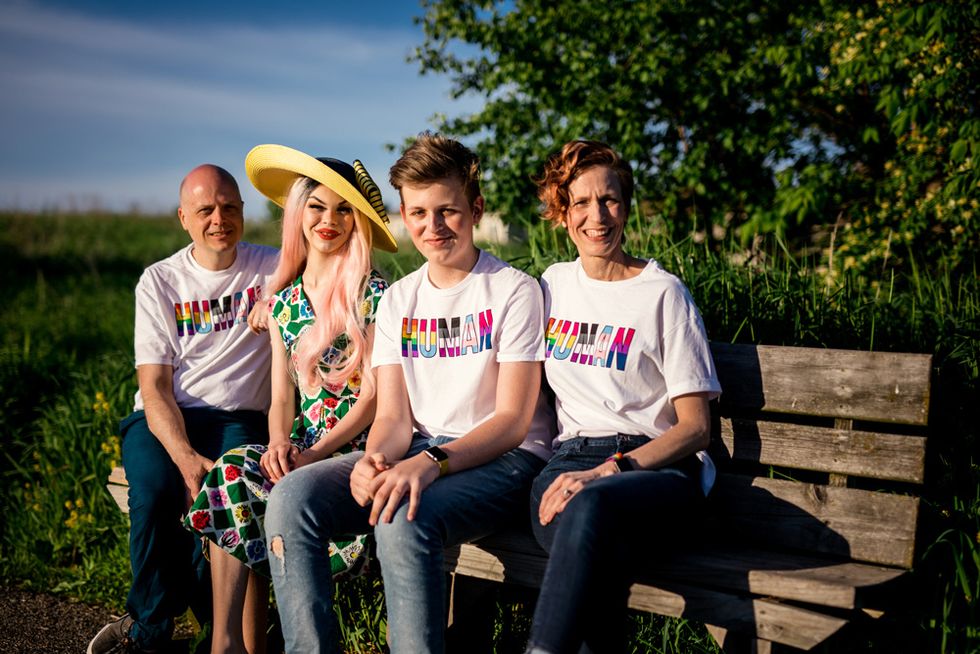 Luke, Bailey, Logan and Dana (Dutcher Photography/PA Real Life)
Then, in 2018 – a year into his weekly RuPaul viewings with his mom – Bailey took the plunge and began dabbling in drag himself.

Using YouTube tutorials to teach him how to perfect his look, he was soon showcasing his efforts.
"It was awesome to witness," Dana explained. "The reaction was, 'Holy cow – did you do this yourself?'"
Dana continued:
"He'd been up in his bedroom and done all this by himself, I couldn't believe it. I felt so lucky to have such a talented kid."

"He definitely took a shine to hyper-feminine looks at first."
"He would wear heavy make-up and over the top colored wigs – it was basically his way of making fun of the gender rules."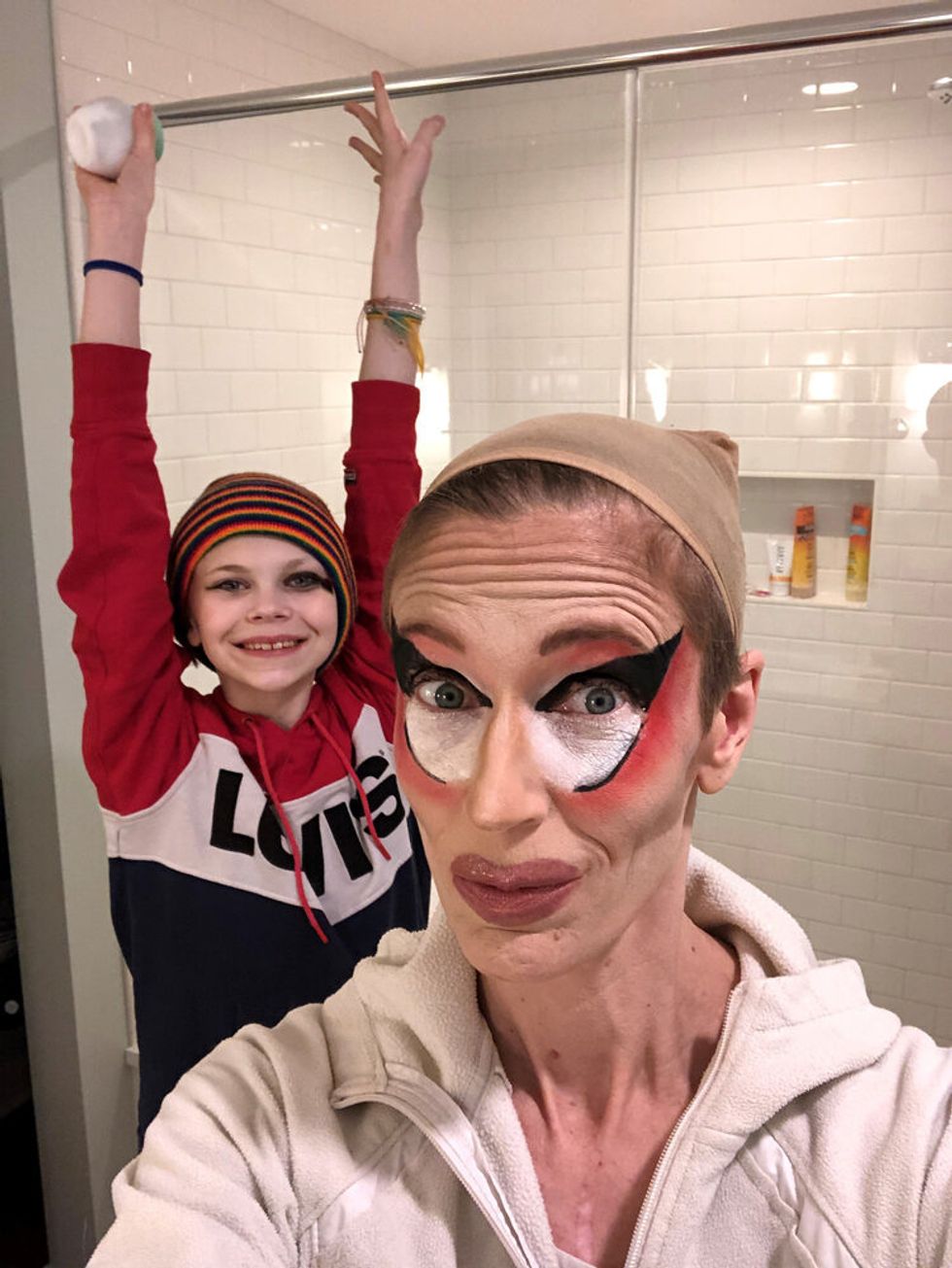 Baily dragging up his mom, Dana (PA Real Life/Collect)
Dana explained:
"He's always been artsy, and this is the next step in his creative direction. He'll always say, 'I'm a walking piece of art.'"
By that point, Bailey was living as a male, but in time he felt comfortable enough to let the world see his drag persona, too.
Dana added:
"By Christmas 2019, we'd be out walking our French bulldog, Lily. We'd all be in jeans and shirts, and Bailey would be dressed head to toe in drag."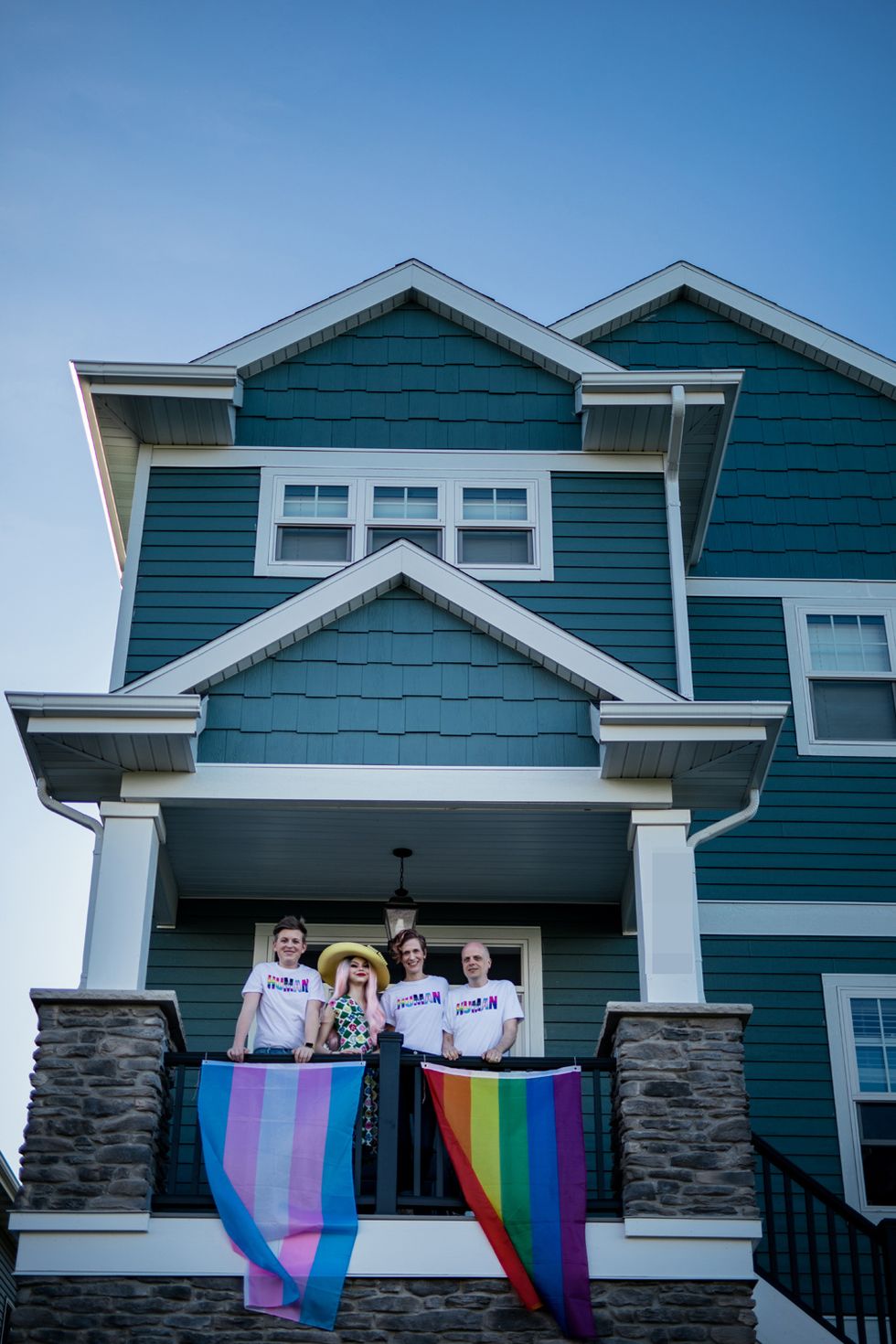 Logan, Bailey, Dana and Luke (Dutcher Photography/PA Real Life)
"People definitely look as if to say, 'What is going on?' But I've never seen anything remotely negative or hurtful. People mostly just smile and wave," she said.

In January 2020, Bailey sat his parents down once more, this time to tell them that, instead of non-binary, he had realized he was transgender and wanted to being taking hormone blockers to stop him from going through puberty.
And Dana believes that giving him the space to explore his gender identity through drag was a crucial component in his decision.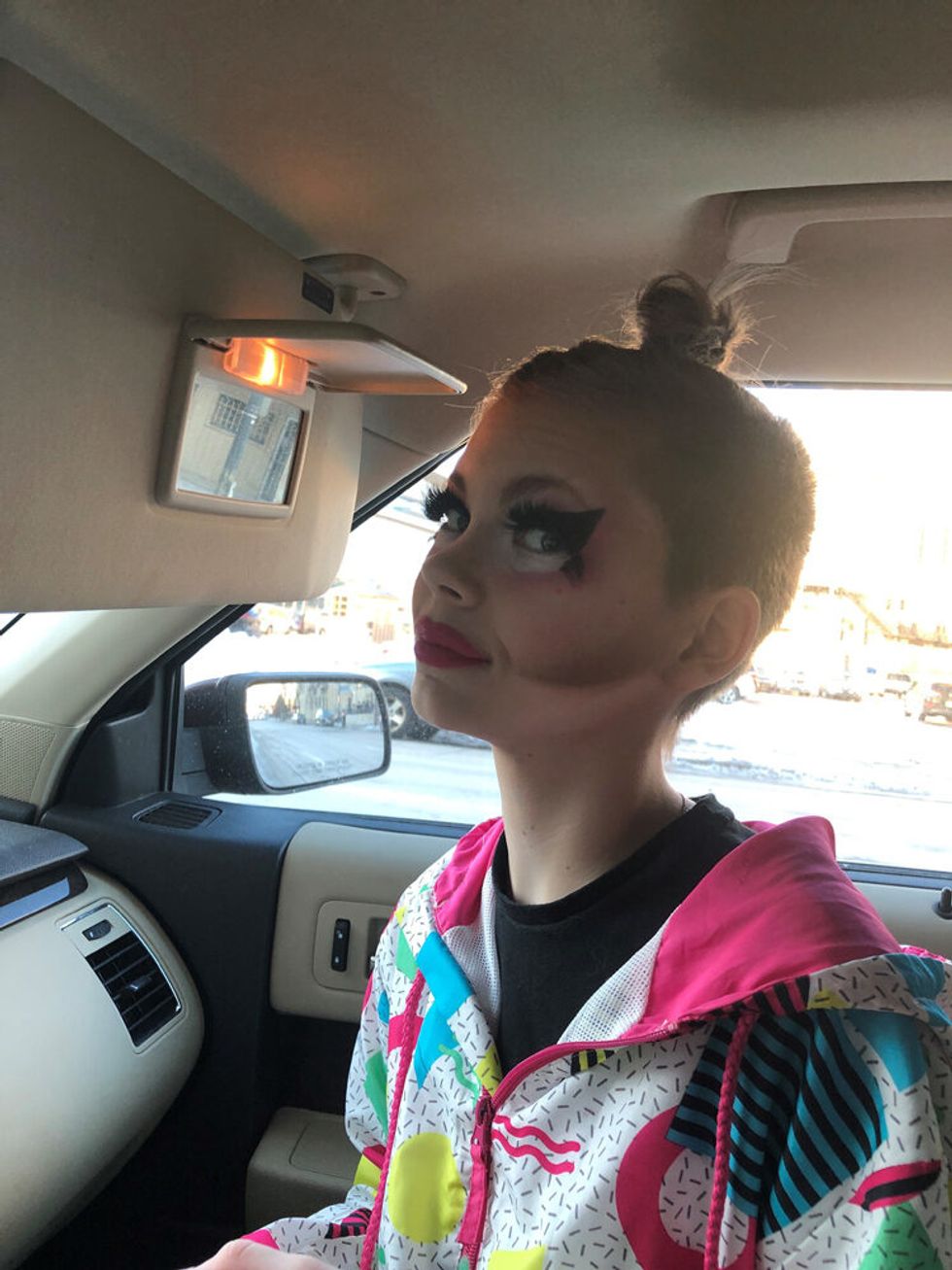 Bailey mid-transformation (PA Real Life/Collect)
She said:
"We were always aware of Bailey one day telling us that he is transgender being an option."

"We sat down and talked about hormone blockers together. We made sure we did a lot of research and were very educated so we could give him all the information to make the decision himself."
"I truly believe that, by exploring his gender through drag, he was able to come to his own decisions about his identity."
She continued:
"When he turns 16, he will make the final decision whether to transition fully to male, and take testosterone to encourage male puberty, or come off the blockers and go through a delayed female puberty."
"This is something Bailey is very sure about. He tells us he is a boy, and has always identified as a boy. All we can do is follow his lead and help him along the way."
The start of 2020 also marked another turning point for Bailey.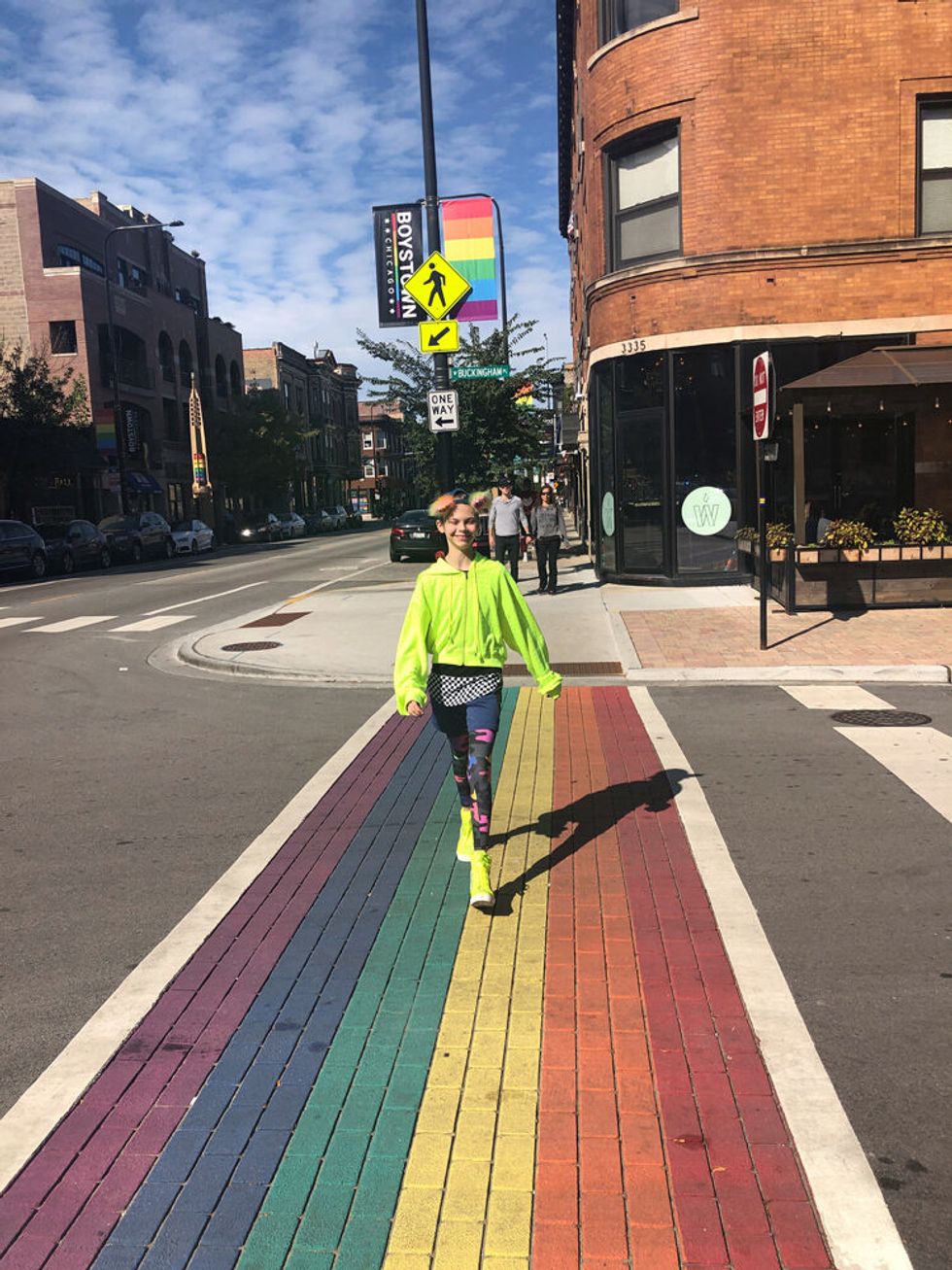 Bailey (PA Real Life/Collect)
Having perfected his drag style, there was only one thing left for him to do – decide on a name.

After reading a story about a transgender hate crime called "The 57 Bus", he decided to name his alter-ego after one of the main characters, Nemo.
Ready to show Nemo off to the world, Bailey and Dana setup an Instagram account, where then teen is able to share his "living artwork" to a wider audience.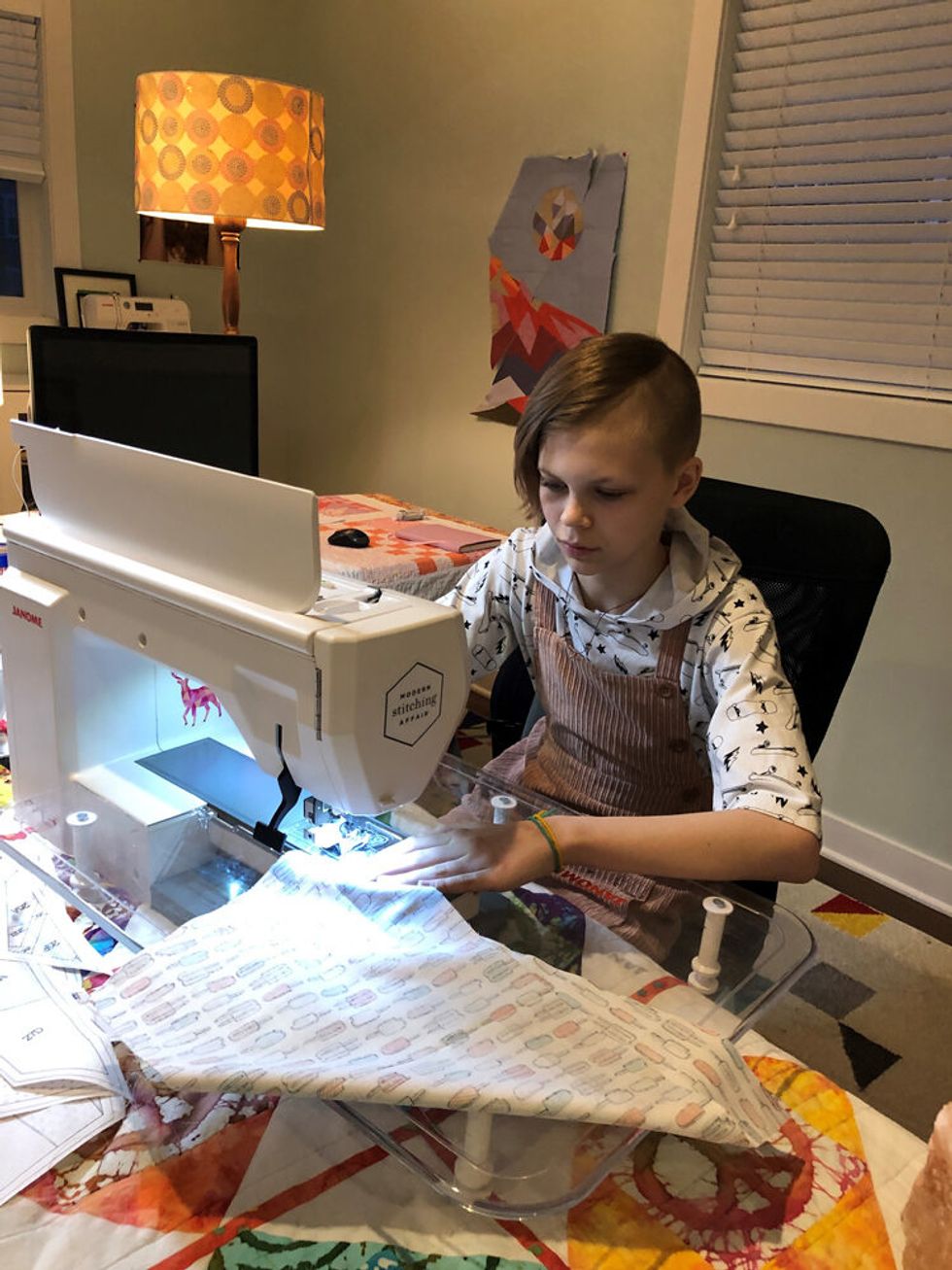 Bailey sewing a costume for Nemo (PA Real Life/Collect)
"Some of Bailey's friends had no idea about this side of his life, so it felt like a big step," said Dana.

"The feedback has been so positive. The kids love it, and so far we've had no negative reactions."
"Of course, you get the occasional question – especially because Bailey was assigned female at birth. It can be confusing for some people, which is understandable."
"But our motto is we'll answer any questions – as long as it comes from a place of love," she added.

With aspirations to become a full-time drag performer when he is an adult, Bailey hopes his art will continue to capture hearts and imaginations around the world.
Dana concluded:
"Bailey's hopes are to break down barriers surrounding drag, in particular around people who are assigned female at birth, but identify as men."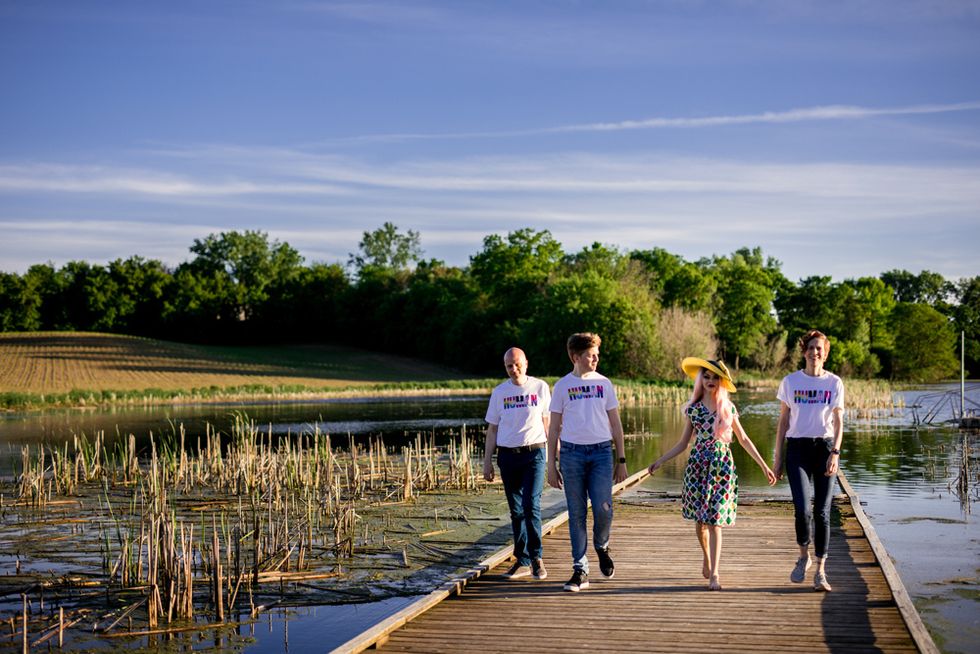 Luke, Logan, Bailey and Dana (Dutcher Photography/PA Real Life)
Dana added:
"There's not yet a platform for drag artists like that, and he hopes to be one of the ones to lead the way."

"Art is about pushing boundaries and great art pushes people out of their comfort zone. He's only 14 and he's already broken so many of these barriers – I can't wait to see what he achieves in the future."
Follow Nemo on Instagram at www.instagram.com/nemo_drag